Bills Pull Off Upset Of World Champions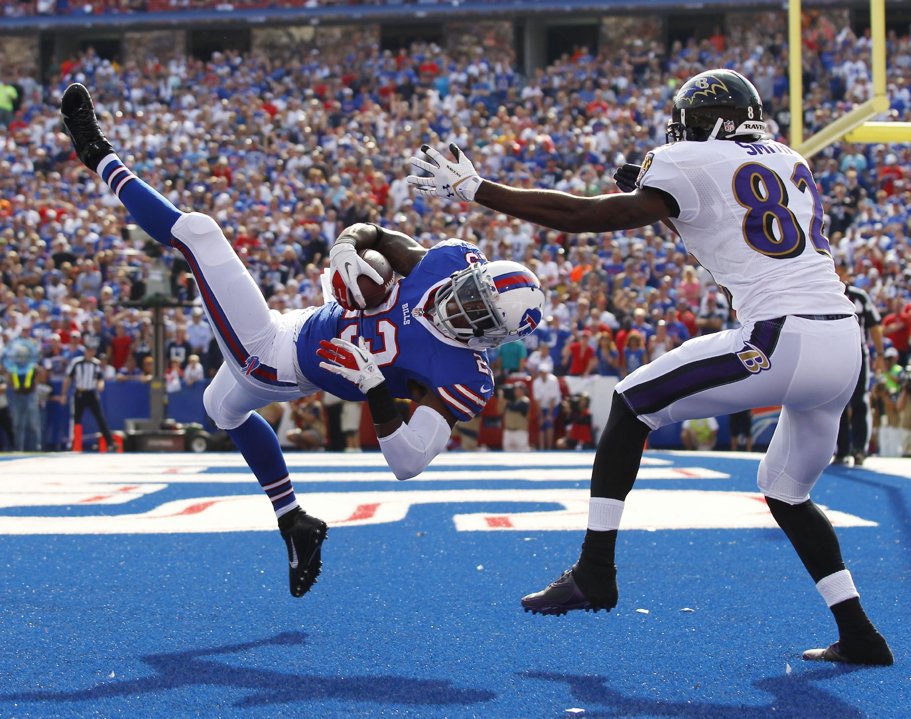 Bills Banged Up At RB: The Bills have to get past this win quickly with another game coming up Thursday night and they may be without their top two running backs for that game. Fred Jackson said after the game he has a sprained MCL but it isn't significant and he thinks he'll be ready for the game but acknowledges it will be hard. C.J. Spiller suffered an ankle injury and had x-rays after the game. No word on if he'll be ok or not. Injury Page.

Gameday Grades: The defense led the way to the upset win over the Ravens with a huge assist from the Bills running game. The defense played well without several players in the secondary who were down, or went down, with injuries. The Bills were able to move the ball efficiently on the ground to win a game where EJ Manuel only completed 10 passes. Gameday Grades.

Bills Pull Off Upset: Kiko Alonso picked off Joe Flacco putting an end to the Ravens comeback hopes as the Bills pulled off a 23-20 upset win over the defending league champions. Alonso had two of the five interceptions the Bills defense had against Joe Flacco. The Bills played a stellar first half in opening up a 20-7 lead thanks to a 42 yard touchdown pass from EJ Manuel to Robert Woods and a 16 yard touchdown run by Fred Jackson. The Ravens fought back with a touchdown and two late field goals to pull within three. They got the ball back and moved past midfield before the biggest turnover of the game. Aaron Williams also had two interceptions for the Bills. Bills Blitz.

Injury Update: The Bills had several players banged up but only two players left for good. C.J. Spiller had the biggest injury as he left the game in the third quarter with a left ankle injury. He returned for a few plays but then sat out the rest of the way with a noticeable limp. Aaron Williams went off with an apparent stinger. He returned quickly from that and but left the game for good in the fourth quarter with an abdomen injury. Fred Jackson limped off but returned after getting re-taped but he was also limited. Nickell Robey was shaken up in the first half and Kraig Urbik re-aggravated his knee injury and went to the locker room in the second quarter but both quickly returned. Injury Page.

McKelvin, Byrd, Legursky Inactive: Leodis McKelvin, Doug Legursky, and Jairus Byrd are all inactive for today's game against the Ravens. McKelvin was listed as questionable and went out for pregame warmups to see if he can go on his injured hamstring. He was not ready to play. Aaron Williams will start opposite Justin Rogers at corner. Da'Norris Searcy and Jim Leonhard will start at safety. It was not a surprise that Byrd was inactive but it is a bit of a surprise Legursky is. He was upgraded to probable this week. Also inactive with injuries after being ruled out on Friday once again are Marquise Goodwin, Stephon Gilmore, Dustin Hopkins, and Ron Brooks. There are no healthy inactive players for today's game. Ray Rice will start for the Ravens.

Perfect Weather For Today's Game: Three September home games and three perfect weather days as today's game will be played under sunny skies with a gametime temperature of 70°. Some clouds are expected to develop throughout the afternoon and it will be a bit breezy with the wind coming out of the south southwest at 13mph.

For in game commentary

follow us on twitter!
Friday September 27, 2013
Friday Practice Report: The Bills hit the practice field for the final time before Sunday's game. Leodis McKelvin was limited again but reports say that Mario Williams, Marcell Dareus, and Doug Legursky were all moving around well. Jairus Byrd was working with the scout team once again. Stephon Gilmore, Ron Brooks, Dustin Hopkins, and Marquise Goodwin are not practicing as usual and have been ruled out. McKelvin and Byrd are questionable and the rest of the banged up players are listed as probable. Injury Page.
McKevlin A Gametime Decision: Leodis McKelvin will be a gametime decision on Sunday. Doug Marrone was on WGR this morning and said he has a shot at playing. They will warm him up on Sunday morning and see if he can go. Marrone also said Jim Leonhard will once again handle punt return duties if McKelvin can't.
Thursday September 26, 2013
Thursday Practice Report: Kyle Williams, Mario Williams, Stevie Johnson, Leodis McKelvin, and Kraig Urbik all returned to practice Thursday on a limited basis after not practicing on Wednesday. Jairus Byrd remained limited along with Marcell Dareus. Byrd did a little bit more with the defense and some light jogging which he had not done before. Dareus did some work before going to the locker room with trainers. Dustin Hopkins, Ron Brooks, Marquise Goodwin, and Stephon Gilmore remain sidelined. Injury Page.
Ravens Preview: The Bills head back home licking their wounds after a very poor showing in New Jersey against the Jets last week. The Bills are battling several injuries as they welcome the defending world champions to Orchard Park. The Ravens are coming off a big win against a quality opponent in the Houston Texans. Game Preview.
Wednesday September 25, 2013
Spiller Full Go: C.J. Spiller practiced fully today and says his thigh feels good but just a little sore. If it is good tomorrow he will practice again. He doesn't expect it to be any issue at all by Sunday. Mario Williams told the media he will definitely be ready on Sunday and there is no worry that he won't be. He suffered an ankle injury against the Jets. Kyle Williams was getting a day of rest for his surgically repaired Achilles. Injury Page.
Wednesday Practice Report: As expected several players were limited or did not practice with the team today after all the injuries suffered against the Jets. According to tweets from media members in attendance Stevie Johnson, Stephon Gilmore, Ron Brooks, Kraig Urbik, Mario Williams, and Kyle Williams all are not practicing. Gilmore and Mario were stretching but not taking part in drills. Leodis McKelvin and Marquise Goodwin are limited as Goodwin is making progress in returning from a hand injury.
Tuesday September 24, 2013
Ross Brought Back: The Bills have brought back defensive tackle Jay Ross two weeks after he was released. He was re-signed to take the roster spot of Alex Carrington when he was placed on injured reserve. Alan Branch and Corbin Bryant now have moved to end with Carrington's injury creating the need for a backup tackle. The team also released DE Izaan Cross from the practice squad and added DE Adewale Ojomo to that unit. Ojomo was undrafted out of college in 2012 and signed with the Saints where he appeared in one game. Front Office Page.
Same Old Bills: The ups and downs of an NFL season happen quickly, last week everyone was optimistic after the comeback win over Carolina. This week everyone crashed back to earth after the loss to the Jets. Tony Bogyo is one of those people who went from optimistic to realizing it may be the same old Bills. Complete Story.
Monday September 23, 2013
Carrington Done For Year: Doug Marrone announced today that Alex Carrington has a quadricep tear and is undergoing surgery. He has been placed on injured reserve ending his season. The status of Leodis McKelvin is up in the air as they will wait to see him at practice before determining his status. Besides the good news on C.J. Spiller, Marcell Dareus and Mario Williams are also expected to be fine after suffering ankle injuries in the loss to the Jets. Injury Page.
Spiller Expects To Play Sunday: C.J. Spiller said while he's sore he thinks he will be ready to play on Sunday. He hurt his leg late in the first half against the Jets and tried to play through it but had no explosivenes so he came out of the game. The Bills called it a knee injury but Adam Schefter says it's a thigh injury either way it's not serious. He said he will come out Wednesday and test it but needs to be ready to go on Thursday and he thinks he will be. Injury Page.
Mario Also Hurt: It will be an interesting day today at One Bills Drive as we wait for updates on all the injuries suffered in yesterday's debacle in the Meadowlands. Mario Williams didn't play much down the stretch as he was also battling an injury. Doug Marrone didn't know immediately know what injury he had but said he was being looked at. He was seen leaving the locker room after x-rays with a bad limp but not on crutches. Updates will be forthcoming today hopefully on the injuries to Alex Carrington, Leodis McKelvin, Kraig Urbik, C.J. Spiller, and Marcell Dareus. It appears the Bills may have more injured players for next week's game than the seven inactive spots a team gets for each game. Injury Page.
Gameday Grades: The Bills were thoroughly beat physically by the Jets and that is why New York was able to overcome 20 penalties and beat the Bills in a messy affair in New Jersey. Buffalo was dominated on both sides of the line of scrimmage as the Jets had a huge offensive performance on the ground and through the air while the Bills were busy doing nothing offensively thanks to eight sacks given up by the offensive line and EJ Manuel holding the ball too long. Gameday Grades.
---
News Archives index
Latest News Section
Archives Library
Back to Bills Daily Homepage