Bills Lose Ugly In New Jersey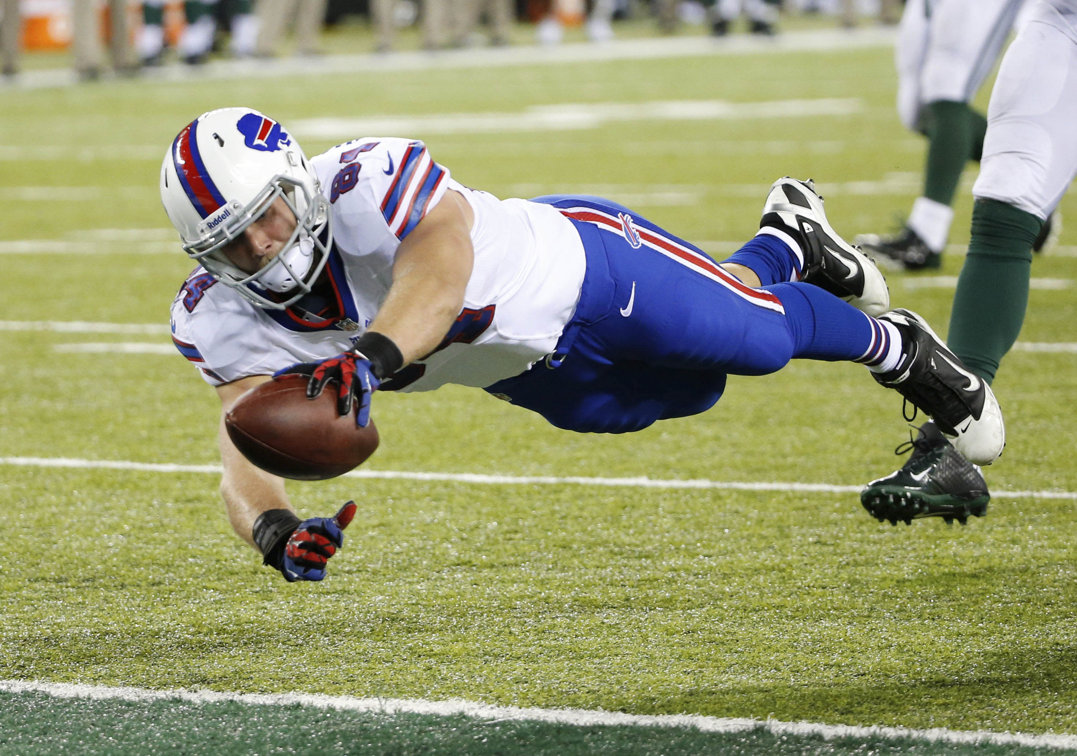 Bills Lose To Jets 27-20: Geno Smith connected deep downfield against the depleted Bills secondary early and often as the Jets put on an offensive show on their way to a 27-20 win over the Bills. Smith hit Santonio Holmes for a 69 yard touchdown pass 1:16 after the Bills had somehow tied the game early in the fourth quarter to lift New York to the division win. The Jets dominated both sides of the ball all game long but several penalties helped the Bills tie the game at 20 on their only touchdown drive of the game. EJ Manuel hit Scott Chandler for a 33 yard score on a third down pass. Stevie Johnson caught the two point conversion to tie the game momentarily. Stephen Hill caught a 51 yard touchdown pass and Geno Smith had an 8 yard TD run as the Jets built a 20-6 lead. Dan Carpenter hit four field goals and Kiko Alonso picked off a pass to lead a brief comeback in the second half. Bills Blitz.

A Rash Of Injuries: The Bills suffered another rash of injuries in the loss to the Jets. Leodis McKelvin suffered a right hamstring injury in the opening drive of the game and did not return. Marcel Dareus came out of the game in the first half with an arm injury but returned with a brace on it. He then left again with an ankle injury and did not return from that injury. C.J. Spiller had only one carry in the second half with a knee injury. He had it wrapped on the sidelines and did not return. Alex Carrington was carted off in the final minute. Kraig Urbik also suffered a knee injury but did return. Stevie Johnson hurt his hand going up for a deep pass on the Bills first possession and was bothered by it but continued playing. He then was bothered by what looked like a cramp of his calf and missed some plays in the fourth quarter. Injury Page.

Byrd, Legursky Sit: Jairus Byrd and Doug Legursky are inactive for today's game despite both being listed as questionable. Also inactive with injuries after being ruled out on Friday are Marquise Goodwin, Stephon Gilmore, Dustin Hopkins, and Ron Brooks. That leaves Chris Gragg as the only healthy inactive player for today's game.

Clearing Skies For Game: Overnight rain will give way to partly cloudy skies for today's game in New Jersey. The gametime temperature should be right around 70° with the wind out of the Northwest at 12mph. Tempeartures will dip into the mid to low 60s as the game winds down.

For in game commentary

follow us on twitter!
Friday September 20, 2013
Manuel Honored: EJ Manuel was named the Pepsi NFL Offensive Rookie of the Week in fan voting on NFL.com. He won it for his comeback performance against Carolina on Sunday. He finished 27 of 39 for 296 yards in that game and led the final game winning drive with no timeouts and went 80 yards in 1:38.
Byrd Upgraded To Questioable: Jairus Byrd is listed as questionable for Sunday's game against the Jets. This is an upgrade after being listed as doubtful the first two weeks. Doug Legursky is also listed as questionable and both players will travel to New Jersey and will likely be gametime decisions. Marquise Goodwin, Ron Brooks, Stephon Gilmore, and Dustin Hopkins have been ruled out again. Gilmore is the only one of the three that is expected to travel with the team for the game. Injury Page.
Schedule Altered: The Bills altered their practice schedule yesterday so Doug Marrone could go back to Syracuse to serve as a pall bearer for his close friends funeral. Marrone first spoke emotionally about the death of former Syracuse University administrator Rob Edson after Sunday's win over Carolina. He drove to Syracuse on Wednesday evening to attend the viewing than drove back to Buffalo late Wednesday night to hold meetings on Thursday morning. He then flew back to Syracuse for the funeral and returned in time for the 3pm practice yesterday.
Thursday September 19, 2013
Jets Preview: The new era Bills hit the road for the first time as EJ Manuel and Doug Marrone face a hostile environment in New Jersey against the Jets. Rex Ryan's crew is off to a 1-1 start and have a near upset of New England like the Bills do. The Jets defense is very solid and will keep them in most games. Game Preview.
Wednesday September 18, 2013
Legursky Practicing: The Bills hit the practice field today as they begin preparations for Sunday's game with the Jets. They got some good news on the injury front with the return to practice of Doug Legursky. Marquise Goodwin and Stephon Gilmore also took the field in helmets and jerseys but just did work on the side with the trainers. It is an important first step for both players as they look to return from hand and wrist injuries. They were still listed as not participating in practice. Fred Jackson did practice despite his wife giving birth to their fourth child within the past day. Jairus Byrd was working with the scout team and Doug Marrone said he's getting closer each day to returning. Ron Brooks remains out. Injury Page.
Williams Honored: It is no surprise that Mario Williams has been named the AFC Defensive Player of the week. He had a team and personal record 4½ sacks in the win over the Panthers on Sunday. He is the first Bills defensive lineman to get the award since Aaron Schobel in 2006.
Tuesday September 17, 2013
Reason For Optimism: The Bills dramatic win on Sunday will even allow the most cynical of Bills fans to get optimistic about the future. Tony Bogyo checks in with his latest column where he talks about what he likes about EJ Manuel. Complete Story.
Monday September 16, 2013
Three Closer To Returning: Doug Marrone said today the team came out of the win over Carolina as healthy as possible. There is good news elsewhere on the injury front as well. Marrone said Dustin Hopkins, Doug Legursky, and Jairus Byrd are getting closer to returning. They are taking each of their situations day by day. Hopkins kicked today with a nerf football which is part of his rehab assignment. Injury Page.
---
News Archives index
Latest News Section
Archives Library
Back to Bills Daily Homepage