Bills Beat The Dolphins 29-10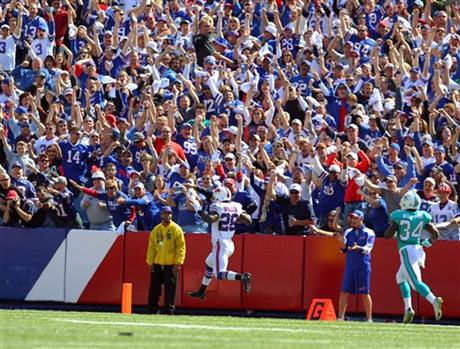 It was a festive playoff atmosphere all week in Buffalo and it spilled into Ralph Wilson Stadium all afternoon long helping the Bills take early control of the Dolphins enroute to a 29-10 victory to push the Bills to the top of the AFC East with a 2-0 record. Sammy Watkins had a huge day despite battling his ongoing rib injury all day long. He caught 8 passes for 117 yards and his first NFL touchdown. C.J. Spiller broke open a close game in the third quarter when C.J. Spiller returned a kickoff 102 yards for a touchdown. Dan Carpenter hit five field goals as the special teams had a huge game that included a blocked punt and fumble recovery and solid coverage. The defense had four sacks as they were in control most of the afternoon. Several players got banged up but they all seemed to return to the game. The atmosphere was electric thanks to the ceremony prior to the game where the team put Ralph Wilson's name in gold on the wall of fame and Jim Kelly received a two minute standing ovation before talking about Wilson. Kelly and Thurman Thomas gave Mary Wilson Ralph's Hall of Fame ring in an emotional ceremony that fed into the victory. Check out our Bills Blitz and our player gameday grades on our gameday homepage! Tony Bogyo has his weekly column out figuring out where the Bills go from here after their great start. More...

---
Latest Reports From Inside Bills Daily

So Much Good News New Article!


Gameday Grades New Article!


Bills Blitz New Article!


Injury Page: September 14

Follow us on twitter! Your quickest way to get breaking Bills news!

Monday September 15
The 2-0 start has Tony Bogyo wondering how we should handle the good fortune

Sunday September 14
Total team effort in victory as special teams were really special in the win
Bills knock off Dolphins 29-10 as they move to 2-0 and first place in AFC East
Several players get banged up but return; Dareus left the game with cramps
No surprises on inactive list; Three draft picks among four healthy scratches
Beautiful weather for today's home opener against the arch rival Dolphins

Saturday September 13
RV lots filled for first time in Ralph Wilson Stadium history a day before the game
Kelly weighing surgery as an option for point of concern according to Rochester D&C



Friday September 12
Aaron Wiliams is probable for Sunday's game; Rivers is out with groin injury
Report says Rivers will miss two games with his groin injury suffered an opener



Thursday September 11
Smith returns to practice field; Rivers sits for a second straight day
Ralph Wilson to be honored in pregame ceremony of soldout opening day
The Ralph will be fired up for home opener against the Dolphins Sunday



Wednesday September 10
Aaron Williams, Gilmore back on the field; Rivers, Smith sit out practice
Carpenter named AFC Special Teams Player of the Week for win
Kelly, Gundlach release statements regarding the sale of the Bills



Tuesday September 9
Sources now say the deal for the Bills is worth around $1.4 Billion
Donald Trump releases his statement congratulating the fans of the team
Pegula wanted the team because of the family's passion for the people of WNY
Bills make it official releasing a statement on the sale to the Pegula family
Senator Chuck Schumer released a statement saying Pegulas are the perfect choice
Bon Jovi releases short statement congratulating the Pegulas on the winning bid
Governor Cuomo releases a statement; looking forward to working with Pegulas
Reports say deal is done pending league approval. The Pegulas win bid!
Win in Chicago is something to build on. Tony Bogyo talks about the win
Reports say Pegulas on the verge of getting the team as early as today
So Much Good News
(9/15) What Do We Do?
Special Teams Were Real Special
(9/14) Big Plays By Special Teams Led Dominating Effort On All Sides.
Bills Get Electric 29-10 Win Over Miami
(9/14) Bills Honor Ralph Wilson's Memory With Solid Performance.
Dolphins Game Preview
(9/11) The Ralph will be rocking for home opener.
Bills Find a Way to Win
(9/9) Huge Win in Chicago Something to Build Upon.
Bears Game Preview
(9/4) Bills face tough matchup to start the season on the road in Chicago.
2014 Schedule
Click on the final score for Bills Daily review/analysis of the game.
| | | |
| --- | --- | --- |
| Sept. 7 | @ Chicago | W 23-20 OT |
| Sept. 14 | Miami | W 29-10 |
| Sept. 21 | San Diego | 1:00 |
| Sept. 28 | @ Houston | 1:00 |
| Oct. 5 | @ Detroit | 1:00 |
| Oct. 12 | New England | 1:00 |
| Oct. 19 | Minnesota | 1:00 |
| Oct. 26 | @ NY Jets | 1:00 |
| Nov. 2 | Bye | |
| Nov. 9 | Kansas City | 1:00 |
| Nov. 13 | @ Miami | 8:25 |
| Nov. 23 | NY Jets | 1:00 |
| Nov. 30 | Cleveland | 1:00 |
| Dec. 7 | @ Denver | 4:05 |
| Dec. 14 | Green Bay | 1:00 |
| Dec. 21 | @ Oakland | 4:25 |
| Dec. 28 | @ New England | 1:00 |