Manuel Benched; Orton To Start Sunday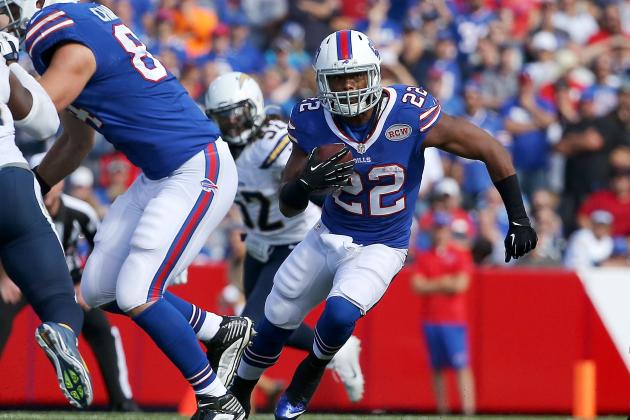 Doug Marrone announced that the Bills have benched EJ Manuel and Kyle Orton will start Sunday against Detroit. The coach said the move isn't just for this week but it isn't necessarily for the rest of the season. Seems like Orton will be have to prove he should have the job long term. The coach said they have a playoff caliber team and they need to do what gives them the best opportunity to win and he came to the decision this afternoon that this is best for the team. Marrone said it was his call but that Doug Whaley is in full agreement. They are all in to win now the coach said and they weren't headed in the right direction. Marrone said EJ handled it well but has a tough road ahead to see if he's mentally tough enough to handle the move. The coach said this is a great time for Manuel to sit back and work on correcting his issues. This move shows once again that the pressure is to win now with the ownership change about to happen next week. Orton is the highest paid backup in the league, the move to sign him before the season showed that Manuel would have a short leash this year. In any other year he likely would have been given more time. Check out Tony Bogyo's latest column about the change at quarterback. In injury news, there is no update on the knee injuries suffered by Kyle Williams and Nigel Bradham. They underwent MRIs and their conditions will be updated on Wednesday. Our injury page is updated. More...

---
Latest Reports From Inside Bills Daily

Bills Move On From Manuel New Article!


Injury Page: September 30

Gameday Grades

Bills Blitz

Follow us on twitter! Your quickest way to get breaking Bills news!

Tuesday September 30
Fans excited over QB change but it's sad that another top pick has failed

Monday September 29
Manuel benched; Marrone says not a one week move but may not be for the season

Sunday September 28
Offense was horrendous for most of the game; Defense gave up some plays as well
Bills lose to Texans 23-17 as Manuel throws late interception to thwart comeback
Kyle Williams, Bradham leave with knee injuries; Brooks goes out with shoulder injury
Four players inactive after being ruled out leaves just three healthy inactives
Hot weather in Texas for today's game but retractable roof will be closed

Saturday September 27
Chris Williams, Goodwin downgraded to out as neither makes the trip to Houston



Friday September 26
Chris Williams sits out practice again; Ron Brooks latest to sit out practice



Thursday September 25
Goodwin going through the NFL concussion protocol program and misses practice
Interesting matchup in Houston as the Bills face an old friend in Fitzpatrick



Wednesday September 24
Rivers returns to practice but is limited; Three players sit with injuries


Bills Move On From Manuel


(9/30) Hallelujah?


Offense Horrendous For Most Of the Loss


(9/28) Defense couldn't make enough plays to overcome offensive woes.


Bills Lose Ugly In Houston 23-17


(9/28) Bills lose second straight as Watt dominates the Bills offense.


Texans Game Preview


(9/25) Bills face familiar face in Ryan Fitzpatrick down in Houston.


Bills Beaten By Better Team


(9/23) Can We Blame EJ Manuel?


Chargers Dominate Bills 22-10


(9/21) Defense wakes up too late; Offense can't get rolling.


Chargers Knock Off Bills 22-10


(9/21) Dominating effort by San Diego gives the Bills their first loss.


Chargers Game Preview


(9/18) The Ralph should be rocking again as Bills look to stay undefeated.


So Much Good News


(9/15) What Do We Do?
2014 Schedule
Click on the final score for Bills Daily review/analysis of the game.
| | | |
| --- | --- | --- |
| Sept. 7 | @ Chicago | W 23-20 OT |
| Sept. 14 | Miami | W 29-10 |
| Sept. 21 | San Diego | L 22-10 |
| Sept. 28 | @ Houston | L 23-17 |
| Oct. 5 | @ Detroit | 1:00 |
| Oct. 12 | New England | 1:00 |
| Oct. 19 | Minnesota | 1:00 |
| Oct. 26 | @ NY Jets | 1:00 |
| Nov. 2 | Bye | |
| Nov. 9 | Kansas City | 1:00 |
| Nov. 13 | @ Miami | 8:25 |
| Nov. 23 | NY Jets | 1:00 |
| Nov. 30 | Cleveland | 1:00 |
| Dec. 7 | @ Denver | 4:05 |
| Dec. 14 | Green Bay | 1:00 |
| Dec. 21 | @ Oakland | 4:25 |
| Dec. 28 | @ New England | 1:00 |