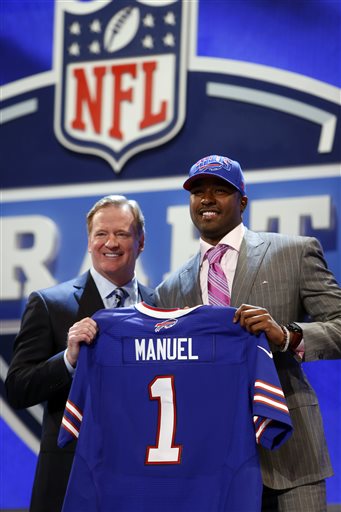 The Bills now have officially signed both 2nd round picks. They announced the signing of Robert Woods on Monday. That would leave just top pick EJ Manuel unsigned. Woods took the field with the veterans for the first time as week two of the organized team activities got underway. EJ Manuel said he is doing a good job learning the offense and has spent around 6 or 7 hours a day with Marquise Goodman in the playbook. Players who did not practice on Monday were Stevie Johnson, Brandon Kaufman, Jordan Dangerfield, Keith Williams, Marcus Easley, Scott Chandler, Alan Branch, Manny Lawson, Kyle Williams, and Marcell Dareus. Johnson was working with trainers on the side as he has missed all offseason workouts with a strained back. Other players are rehabbing injuries from last year. Ex-Jaguars RB Montell Owens visited but left without a contract. Russ Brandon tweeted on Saturday that the opening day game against the Patriots is soldout. Individual game tickets don't go on sale until July but season ticket holders get early access to extra seats. Doug Whaley was named the general manager of the team officially on Thursday. They also hired Jim Monos as directior of player personnel and Kelvin Fisher as director of college scouting. More...

---
Latest Reports From Inside Bills Daily

Front Office Page: May 21

Depth Chart: May 15

2013 Draft Page With Grade & Capsules


Follow us on twitter! Your quickest way to get breaking Bills news!

Tuesday May 21
Monday OTA notes

Monday May 20
Woods signing is official
Week two of OTAs underway with visitor
Woods reportedly signed

Saturday May 18
Opening day game agaist Pats soldout

Thursday May 16
Bills hire two in front office
Consistency in challenging for championships is goal
Whaley named general manager

Wednesday May 15
Alonso signs contract
Report says Whaley to be named GM tomorrow
Kolb got first reps in yesterday's workout
Bills Got Much Faster In Draft
(4/29) Success or failure of draft lies with Manuel.
The Time Is Now To Take A QB
(4/24) QB options make draft very intriguing for Buffalo.
Bills Seven Round Mock Draft
(4/23) Bills should go heavy on offense in draft.
1st Round Mock Draft
(4/23) Bills likely to take Nassib at number eight.
2012 Players of the Week
(1/13) Spiller wins the award five times.