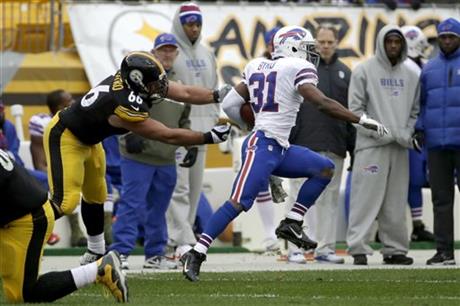 Free agency is underway and the Bills have locked up one of their unrestricted free agents and their only restricted free agent while releasing a player. The team announced they have re-signed Dan Carpenter. They couldn't get a deal done until today since he played under a one year veteran minimum contract last year. He had a fantastic year after being signed days before the opener hitting 33 of 36 field goals. The Bills locked up a restricted free agent on Tuesday by re-signing Mike Caussin who missed last year with a torn ACL. They had tendered all of their exclusive rights free agents last week. The team has officially released Kevin Kolb after he failed a physical. He was due to receive a $1 Million roster bonus on Thursday so the move is not a surprise as he likely has played his last football game after suffering too many concussions. The team would still like to have Jairus Byrd and Scott Chandler back but they are both testing the market. In other news, The Bills added one more coach to the staff by hiring Thad Bogardus to be the Defensive quality control coach. He will enter his first year in the NFL after spending the past three years as a graduate assistant at Ball St. More...

---
Latest Reports From Inside Bills Daily

Follow us on twitter! Your quickest way to get breaking Bills news!


Bills Free Agents

2014 Front Office Page: March 11

Offseason Depth Chart: March 11

Tuesday March 11
Carpenter re-signs with Bills
Bills officially release Kolb
Bills re-sign Caussin
Free agency set to begin

Monday March 10
Bills add defensive quality control coach
Bills lose out on Brinkley

Friday March 7
Erie County appoints 7 to stadium committee

Thursday March 6
Bills introduce variable pricing plan
Team locks up exclusive rights free agents
Team hosts linebacker for second straight day

Wednesday March 5
Aaron Williams signs contract extension
Brandon said organization structure is clear
Bills won't play in Toronto this year
McClain expected to visit the Bills today
2013 Player of the Week Winners
(1/10) Spiller won the award three times.
2013 Final Goat Tally
(1/9) Gilmore leads the way with four goats.
2013 Final Gameball Tally
(1/8) Jackson leads the way with 6 gameballs.
2013 Was A Year Of Culture Change
(1/7) Defense grades out strong in transition season.
Bills Terrible in the Bitter End
(12/31) Leaving a Bad Taste in my Mouth.
Defense Disappoints On The Ground
(12/29) Special teams gaffes also cost Bills a chance to win.
Pats Knock Off Bills 34-20
(12/29) New England runs wild in soggy Foxboro.