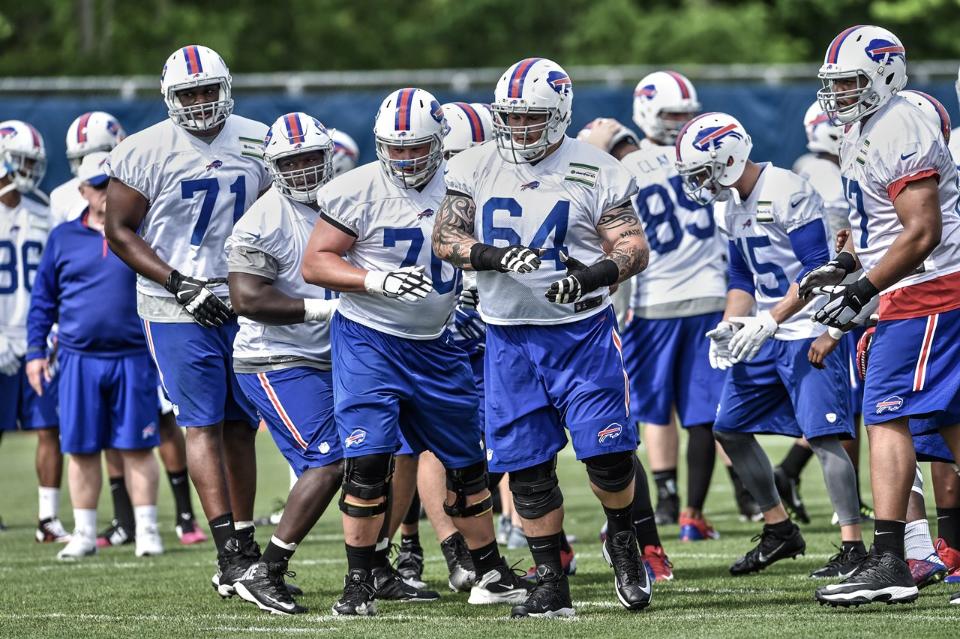 The Bills opened up a spot on their 90 man roster by releasing DE Bryan Johnson. He was signed by the team as an undrafted free agent last offseason and spent the majority of the year on the practice squad. The open roster spot may be used to sign former Jets OT Wayne Hunter. He was in for a tryout during minicamp and Rex Ryan indicated he would be signed by the team before training camp. Marquise Goodwin is using his time off to get back to his roots. He is participating in this weekend's 2015 U.S. Outdoor Track and Field Championships. This appearance does not conflict with his duties with the Bills but if he finishes in the top three he would qualify for the World Championships. That would conflict with the end of training camp and the final preparations for the season as they take place August 22nd to 30th in China. It bring speculation that Goodwin is worried about his future with the Bills and the NFL in general. His world class speed has allowed him to flash some solid skills in the NFL but he has been unable to stay healthy in the first two years of his career and is certainly on the bubble as the team goes to training camp. The commissioner will hear Tom Brady's appeal of his four game suspension for deflate gate today in New York. If more than a day is needed the appeal will be concluded on Thursday with a decision expected in a reasonable amount of time. That means Bills fans may know within a week or so if they will face the Patriots QB week two at Ralph Wilson Stadium. Most speculate the suspension will be reduced on appeal but will it be reduced all the way to one game or cut in half meaning he would still miss that pivotal game. More...

---
Latest Reports From Inside Bills Daily

Depth Chart: June 24

2015 Front Office Page: June 24

Injury Page: June 11

Follow us on twitter! Your quickest way to get breaking Bills news!

Wednesday June 24
Bills release DE Bryan Johnson

Tuesday June 23
Brady to have his appeal heard by commissioner today

Monday June 22
Goodwin goes back to his roots to take part in track and field even this weekend

Saturday June 20
Bills make organizational changes to scouting department

Friday June 19
Bills wrap up minicamp and head for a six week break

Thursday June 18
Bills add former Jet tight end; release CB
Bills wrap up minicamp and are expected to sign former Jets tackle Hunter
Henderson back for day two of minicamp but clearly in the doghouse
Deflategate – Make It Stop!
(5/13) A Tale From A Bills Fan In Boston.
Quiet Draft Used To Draft Best Available Players
(5/5) Most New Players May Not Have Big Impact In 2015.
1st Round Mock Draft
(4/29) No first round pick for the Bills.
Bills Look To Add Depth With Limited Amount Of Picks
(4/29) Busy offseason helped Bills meet most needs prior to draft.
2015 Bills Seven Round Mock Draft
(4/27) Bills should look at an offensive lineman in the second round of the draft.