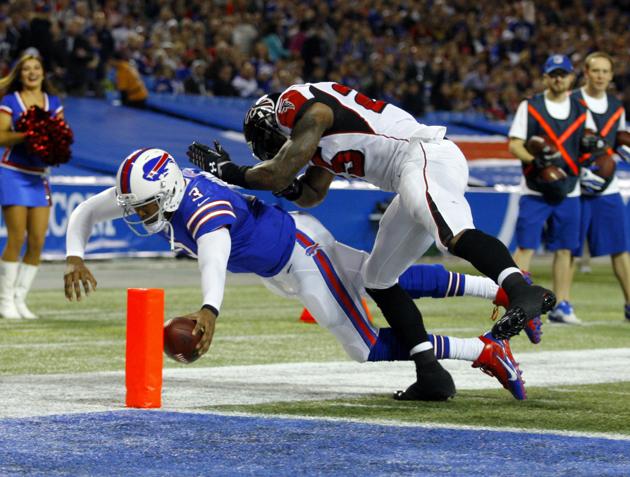 The Bills played their worst game of the season as the Buccaneers blew out Buffalo 27-6 in a very ugly game in Tampa Bay. Third string running back Bobby Rainey ran 80 yards for a touchdown :18 into the game and it went downhill from there. Mike Glennon threw a 38 yard touchdown pass to Vincent Jackson and a 5 yarder to Timothy Wright to give the Bucs a 24-3 halftime lead. EJ Manuel could get nothing going offensively as he faced heavy pressure all day and was sacked seven times. He threw four interceptions although two of them were the fault of his receivers. A dejected Doug Marrone said after the game that it is time to simplify things for Manuel. They had been giving him more and more and going faster with progressions but they now need to re-evaluate that. The team captains addressed the team following the game. The coach allowed the captains and other players to speak and clear the air about what has happened and what they need to do going forward. They talked about accountability and needing to improve. Check out Tony Bogyo's latest column and what this loss means. More...

---
Latest Reports From Inside Bills Daily

Terrible Loss New Article!


Gameday Grades

Bills Blitz

Injury Page: December 8

Follow us on twitter! Your quickest way to get breaking Bills news!

Tuesday December 10
What does the loss to Tampa Bay mean?

Monday December 9
Marrone to simplify things for Manuel
Captains address the team after loss

Sunday December 8
All three phases were awful in the rout
Bills blown out by Bucs 27-6
Team comes out of game ok health-wise
Westerman, Asper, Summers lead inactive list
Bills prepared for warm weather

Friday December 6
Every player practices today

Thursday December 5
Goodwin leaves practice early
Bills look to bounce back against Bucs

Wednesday December 4
TE Moeaki signed
Kyle Williams sits out practice
Bills release Tashard Choice
Brandon says everything to be re-evaluated
Terrible Loss
(12/10) Was early optimism unwarranted?
All Three Units Awful In Rout
(12/8) Nobody showed up for the Bills in this one.
Bucs Blowout Bills 27-6
(12/8) Pathetic performance by entire team.
Buccaneers Game Preview
(12/4) Bills look to bounce back against Bucs.
The Bon Jovi Bills?
(12/3) Thoughts on the Post-Wilson Era.
Bills Show They Don't Know How To Win
(12/1) Offensive miscues killed them down the stretch.
Bills Collapse And Lose In OT 34-31
(12/1) Two costly fumbles give the Bills a gut wrenching loss.
Falcons Game Preview
(11/27) Bills face disappointing Falcons team.