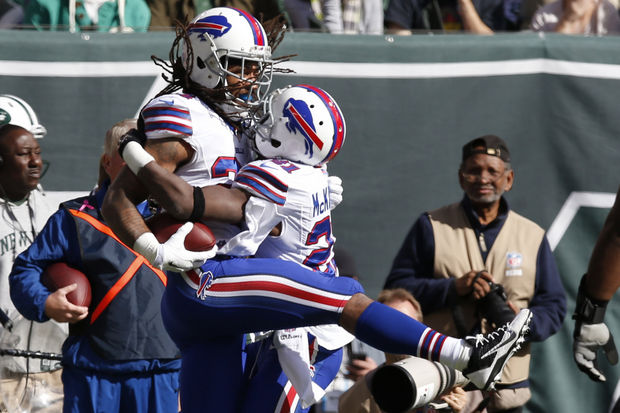 The Bills held a press conference on Tuesday and announced that Ralph Wilson Stadium is ready for Sunday's game against Cleveland. They will have all official stadium parking lots ready to go as well. The Ralph did suffer some minor damage including some burst pipes but it would have been much worse before the renovations. There was no structural damage ot the facility or the fieldhouse where practice will take place this week beginning tomorrow. The Bills took all the emotion of a very unusual week and took it all out on the New York Jets as the Bills won a "home" game in Detroit 38-3 on Monday night. Kyle Orton completed 24 of 32 passes for 230 yards including touchdown passes to Robert Woods and Scott Chandler. Woods made four fantastic catches including a David Tyrell type catch and a great acrobatic catch for his touchdown. Boobie Dixon blocked his second punt of the season that was recovered by Manny Lawson for a touchdown. A Duke Williams interception setup a Fred Jackson touchdown run in the rout. The Bills defense had seven sacks including two each by Mario Williams and Jerry Hughes. Chris Gragg suffered a knee injury in the win. More...

---
Latest Reports From Inside Bills Daily

Gameday Grades New Article!


Bills Blitz New Article!


Injury Page: November 24

Follow us on twitter! Your quickest way to get breaking Bills news!

Tuesday November 25
Ralph Wilson Stadium officially ready for Sunday's battle with the Browns
Total domination as the Bills beat the Jets for a second time this year

Monday November 24
Bills blow out Jets 38-3 to give Western New York just what they needed
Gragg suffers knee injury in blowout win; No other big injuries suffered
Jackson, Brooks active; Summers, Goodwin inactive; Mike Williams to play
Browns game to be plays at Ralph Wilson Stadium; Shovelers no longer needed

Sunday November 23
Bills planning on playing at the Ralph next week; 2 workouts today
Bills looking for shovelers to get the stadium ready for next week's game

Saturday November 22
Game expected to be a "sellout" as all free tickets were gone by noon
Jackson, Brooks both listed as questionable; 8 listed as probable; Wynn out
Bills to hit the practice field again today at 4:45pm as they continue to prepare

Friday November 21
Entire team now in Detroit as game tickets are free to everyone
All the players are expected to make the flight to Detroit
Bills gave out wrong number for refunds
Bills hoping to practice tonight in Detroit; All players may not make it

Thursday November 20
Bills to play Jets in Detroit Monday night at 7pm; Hope to leave tomorrow
Bills make a roster move claiming a tight end off of waivers; releasing Tanner
Game officially moved date, time, and location to be announced by league
Game will almost certainly be moved to alternative site for Monday night game
Bills unable to practice for a second straight day.
Bills at a competitive disadvantage whenever this game is played

Wednesday November 19
Bills release projected injury report if there was a practice Wednesday
Bills looking to get stadium cleared in time for Sunday game
Bills begin clearing parking lots anticipating to play on Sunday
Polian a finalist for the hall of fame in the new contributor category
Players and coaches deal with major snowstorm putting practice in jeopardy
Bills Get Dominating Win Over Division Rival
(11/25) Total team effort gives Buffalo something to smile about.
Bills Blowout Jets 38-3
(11/24) Team wins game for battered Western New York fans.
Jets Game Preview
(11/20) Bills at a competitive advantage whenever this game is played.
Going Backwards
(11/16) Bills revisit their past.
Team Loss As Bills Playoff Hopes Dashed
(11/14) Defense struggles while offensive red zone woes continue.
Bills Lose To Miami 22-9
(11/13) Dolphins take control of the game in the 2nd half.
Dolphins Game Preview
(11/11) Must win battle ahead in prime time against division rival.