Bills Get Roster To 62 As Moorman Leads Cut List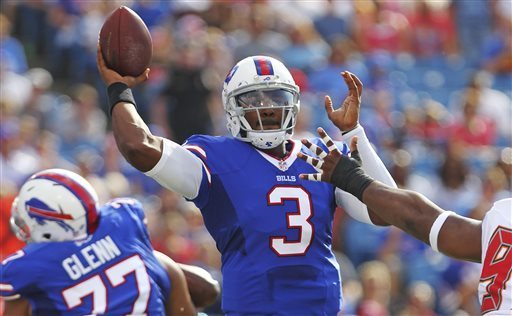 The Bills got their roster down to 62 players as they released 10 players led by veteran punter Brian Moorman. Also released were LB Xavius Boyd, DT Landon Cohen, TE Dominique Jones CB Kamaal McIlwain, CB Sam Miller, QB Jordan Palmer, FB Evan Rodriguez, and WR Naaman Roosevelt. They also placed Mario Butler, Tony Moeaki, and Bobby Felder on the reserved/injured list. The team has until Saturday afternoon to get the roster down to 54 men as they have a one week roster exemption for Nigel Bradham as he serves his suspension in week 1. They will then have to make another move after the Bears game. Even after the cuts the roster won't be set as Doug Marrone said they may look for another quarterback after yesterday's 23-0 shutout loss to the Lions. Sammy Watkins left the game after aggravating his rib injury but reports say he should be ok for the opener. The Bills extended the contract of long snapper Garrison Sanborn for three years worth $3.3 Million. He was due to be a free agent after this season. He has played all 80 games since he has been with the team in 2009. EJ Manuel and most of the starters played the entire first quarter but struggled hitting just 3 of 7 passes for 56 yards. Jordan Palmer took it the rest of the way and did his best Matt Leinart impression going just 9 of 22 for 73 yards and three interceptions. He was in a nearly impossible situation playing after just signing on Tuesday. There was nothing good in this game as the Bills struggled throughout. Boobie Dixon led the way with 46 yards on 8 carries. Robert Woods caught a team tying high two catches for 36 yards. More...

---
Latest Reports From Inside Bills Daily

Depth Chart:

August 29


Front Office Page:

August 29


Injury Page:

August 21


Follow us on twitter! Your quickest way to get breaking Bills news!

Friday August 29
Bills extend the contract of long snapper Garrison Sanborn
Bills get roster down to 62 men before final cuts do tomorrow
Cuts loom as Bills have until tomorrow to get roster down to 54

Thursday August 28
Bills shutout by Lions as preseason comes mercifully to an end
Several players sit out preseason finale but Watkins active
Bills Final Preaseason Game Tonight



Wednesday August 27
Bills Awarded Punter
Alonso Placed on IR
Stadium Finalists



Tuesday August 26
Bills Sign Quarterback; Cut Thad Lewis
Game Blacked Out
Watkins Returns

Monday August 25
Bills Make Cuts

Sunday August 24
Bills Look Bad in Preseason Defeat
DT Branch Arrested; Released

Saturday August 23
Bills Play at Home
Conflicting Information About Bid Values
Open Letter To Bon Jovi
(8/4) Tony Bogyo's response to Bon Jovi's letter to Bills fans.
Whaley Wheels And Deals During The Draft
(5/13) Bills also add three big offensive linemen.
The Draft Is Almost Here
(5/6) Believe the Suspense, not the Rumors.
Bills Seven Round Mock Draft
(5/5 Tight end and tackle should be in their crosshairs.
1st Round Mock Draft
(5/1) Bills could move up draft board for Watkins.
Don't Complain to Me
(4/25) Musings on the 2014 Schedule.
2014 Schedule
| | | |
| --- | --- | --- |
| Sept. 7 | @ Chicago | 1:00 |
| Sept. 14 | Miami | 1:00 |
| Sept. 21 | San Diego | 1:00 |
| Sept. 28 | @ Houston | 1:00 |
| Oct. 5 | @ Detroit | 1:00 |
| Oct. 12 | New England | 1:00 |
| Oct. 19 | Minnesota | 1:00 |
| Oct. 26 | @ NY Jets | 1:00 |
| Nov. 2 | Bye | |
| Nov. 9 | Kansas City | 1:00 |
| Nov. 13 | @ Miami | 8:25 |
| Nov. 23 | NY Jets | 1:00 |
| Nov. 30 | Cleveland | 1:00 |
| Dec. 7 | @ Denver | 4:05 |
| Dec. 14 | Green Bay | 1:00 |
| Dec. 21 | @ Oakland | 4:25 |
| Dec. 28 | @ New England | 1:00 |