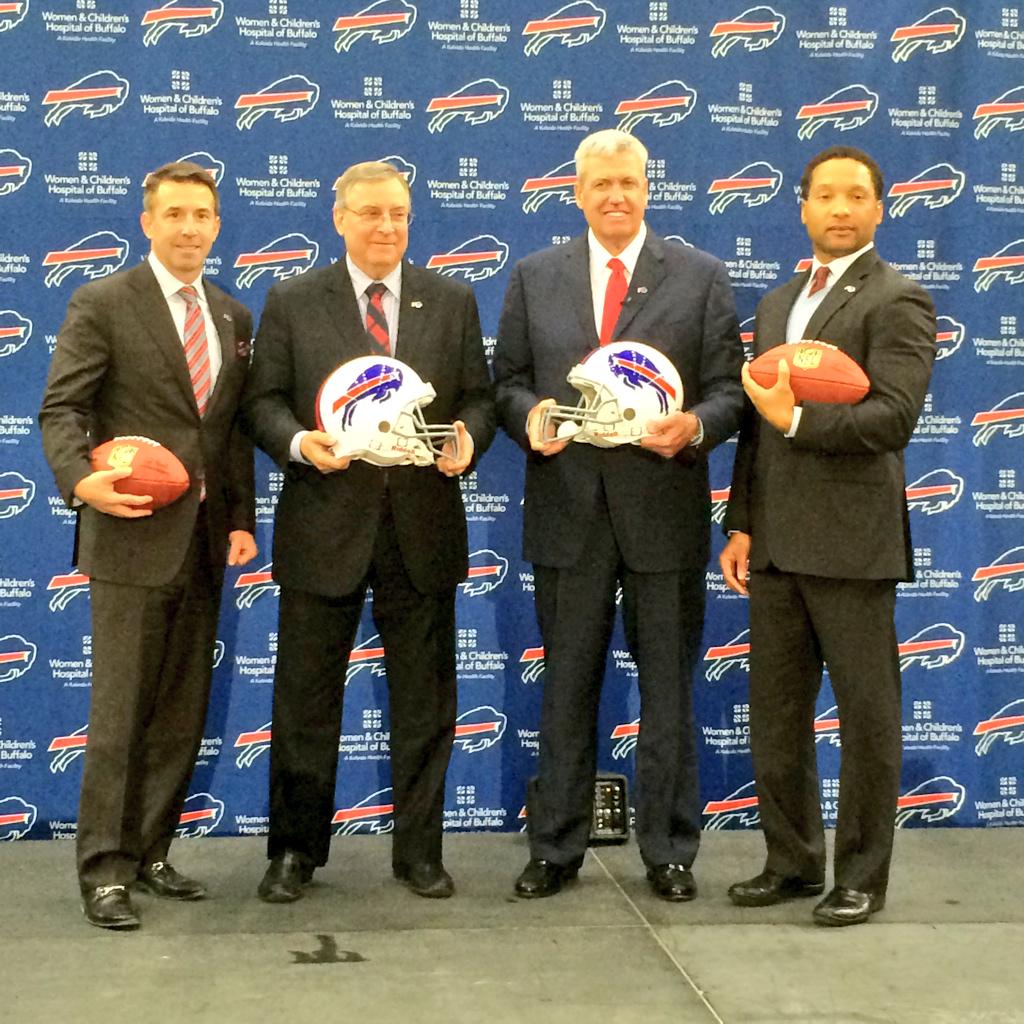 Pepper Johnson is the first of Doug Marrone's old assistants to get a new job. He has been hired as the defensive line coach of the New York Jets. The rest of the coaches that were not retained are still looking for jobs although they may not have been officially released from their Bills' contracts yet. The Bills reportedly have hired Anthony Lynn as their assistant head coach and running backs coach. He is the latest of a number of coaches who came over from the Jets where he coached the position from 2009 to 2014. He was the assistant head coach there as well the past two years. John Kryk of the Toronto Sun reports that the Bills have fired Tom Gibbons as the director of pro player personnel. He has held that position since 2011 and his contract was set to expire in June. The team officially hired David Lee as the QB coach and are expected to hire former Bears offensive coordinator Aaron Kromer as their new offensive line coach. Lee was with the Bills before joining Rex Ryan's staff with the Jets. Doug Whaley basically confirmed the hiring on WGR yesterday. Kromer loves the power running game the Bills are looking to install. The team has already hired Dennis Thurman as the new defensive coordinator, Greg Roman as the new offensive coordinator, and retained Danny Crossman as the special teams coach. They have already announced the hiring of seven new assistants and that they are retaining Donnie Henderson in a new role as co-DBs coach. Henderson worked with Ryan in Baltimore. The other new assistants are: LB coach Bobby April III, DL coach Karl Dunbar, DB coach Tim McDonald, Asst. Strength and Conditioning coach Jason Oszvart, Asst. Special Teams coach Eric Smith, TE coach Tony Sparano, Jr. and Asst. DL coach Jeff Weeks. More...

---
Latest Reports From Inside Bills Daily

2015 Front Office Page: January 25

New Coaching Hires: Updated January 22

Depth Chart: January 16

Follow us on twitter! Your quickest way to get breaking Bills news!

Sunday January 25
Pepper Johnson hired by the Jets as their defensive line coach

Thursday January 22
Bills reportedly hire RB coach Anthony Lynn and give him assistant head coach title

Wednesday January 21
Bills let director or pro personnel Gibbons go before contract expires
Ryan, coaches, and scouts convene in Mobile for Senior Bowl week activities

Tuesday January 20
David Lee officially named the Bills quarterback coach yesterday

Monday January 19
Four sites on the short list for a new stadium for the Bills
2014 Players of the Week
(1/9) Graham and Watkins won the award twice.
2014 Final Goats Tally
(1/8) Orton leads the way with five goats.
2014 Final Gameball Tally
(1/8) Hughes, Watkins lead the way with 5 gameballs.
2014 Was A Year To Build On
(1/7) Eventful year brings first winning season in a decade.
What Just Happened?
(1/2) Recent Moves Have Me Dazed and Confused.
Treading Water
(12/30) A Season Ends – Is There Hope?