Bills Add Punter, Move Alonso to IR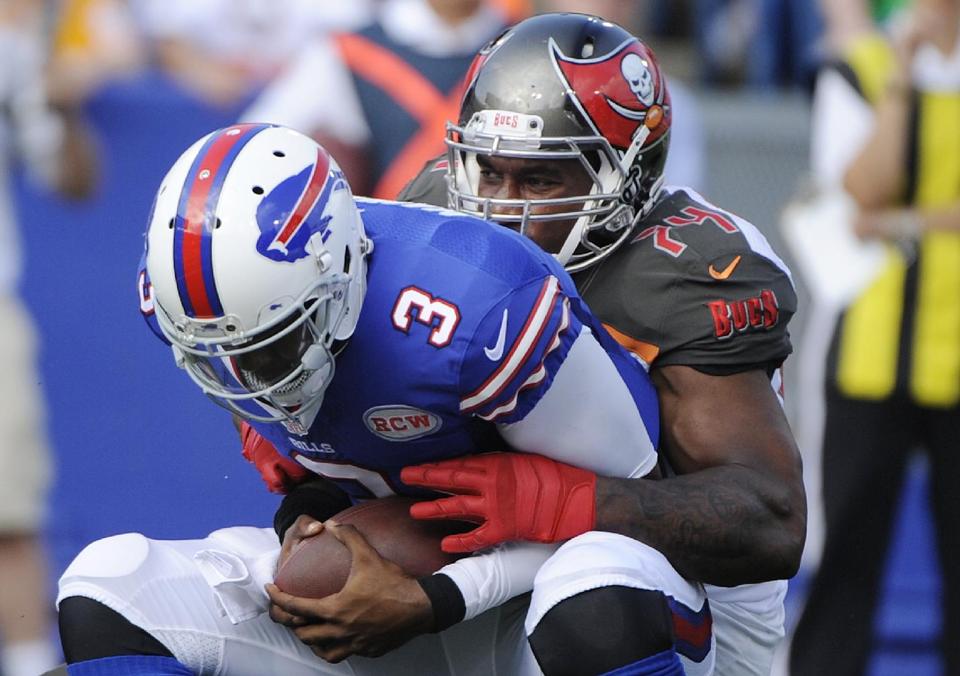 The Bills continued to make roster moves by claiming a punter off of waivers from the Carolina Panthers yesterday, bringing some questions about the kicking situation. The team also placed Kiko Alonso on the Injured Reserve/Non Football Injury list, meaning he could return this season. The Buffalo News also reported that consultants evaluating possible sites for a new stadium at the request of the Cuomo administration has cut the list to four sites, all in Erie County. More...

---
Latest Reports From Inside Bills Daily

Follow us on twitter! for up to the minute news and information from training camp!


Injury Page:

August 21


Depth Chart:

August 20


Front Office Page:

August 20

Wednesday August 27
Bills Awarded Punter
Alonso Placed on IR
Stadium Finalists



Tuesday August 26
Bills Sign Quarterback; Cut Thad Lewis
Game Blacked Out
Watkins Returns

Monday August 25
Bills Make Cuts

Sunday August 24
Bills Look Bad in Preseason Defeat
DT Branch Arrested; Released

Saturday August 23
Bills Play at Home
Conflicting Information About Bid Values

Friday August 22
Bidders getting tour of stadium; Bids reportedly all under $900 Million

Thursday August 21
Coach Marrone explodes during final camp practice after more skirmishes erupt
Final practice of camp moved to 10:30am and inside and is closed to the public
Saturday's preseason kids day game soldout at the newly renovated Ralph
Encouraging news for Jim Kelly as cancer may be gone but biopsies still needed

Wednesday August 20
Bills have placed LB Sylvester on injured reserve ending his season with a knee injury
McKelvin injures groin during today's practice that featured biggest fight of camp
Kelly has scan and results were reportedly encouraging but needs more biopsies
Dareus speaks to the media for the first time in three months and is ready to work
Bills hold regular season type practice as Manuel shines against scout team

Tuesday August 19
Watkins back on the field with the team today in pads
OT Edawn Coughman and WR Kevin Elliott released from team
AP says Watkins ok and his ribs just bruised; Glenn, McKelvin take more reps

Monday August 18
Watkins sits out night practice, Marrone won't give a timetable for his return
Team gets back to work for first of final four practices of camp tonight
Kelly, Bon Jovi not teaming up to bid on Bills despite meeting last week

Sunday August 17
Carpenter in midseason form; Jackson, Woods, Charles all play well in loss
All three quarterbacks struggled mightily in loss; Kouandjio still looks lost

Saturday August 16
Bills lose to Steelers 19-16 on last second FG after Tuel turnover with :15 left
Watkins has injury scare but rib injury is just a contusion and he should be ok
Report has Kelly talking to Bon Jovi in possible desparation pairing
Open Letter To Bon Jovi
(8/4) Tony Bogyo's response to Bon Jovi's letter to Bills fans.
Whaley Wheels And Deals During The Draft
(5/13) Bills also add three big offensive linemen.
The Draft Is Almost Here
(5/6) Believe the Suspense, not the Rumors.
Bills Seven Round Mock Draft
(5/5 Tight end and tackle should be in their crosshairs.
1st Round Mock Draft
(5/1) Bills could move up draft board for Watkins.
Don't Complain to Me
(4/25) Musings on the 2014 Schedule.
2014 Schedule
| | | |
| --- | --- | --- |
| Sept. 7 | @ Chicago | 1:00 |
| Sept. 14 | Miami | 1:00 |
| Sept. 21 | San Diego | 1:00 |
| Sept. 28 | @ Houston | 1:00 |
| Oct. 5 | @ Detroit | 1:00 |
| Oct. 12 | New England | 1:00 |
| Oct. 19 | Minnesota | 1:00 |
| Oct. 26 | @ NY Jets | 1:00 |
| Nov. 2 | Bye | |
| Nov. 9 | Kansas City | 1:00 |
| Nov. 13 | @ Miami | 8:25 |
| Nov. 23 | NY Jets | 1:00 |
| Nov. 30 | Cleveland | 1:00 |
| Dec. 7 | @ Denver | 4:05 |
| Dec. 14 | Green Bay | 1:00 |
| Dec. 21 | @ Oakland | 4:25 |
| Dec. 28 | @ New England | 1:00 |