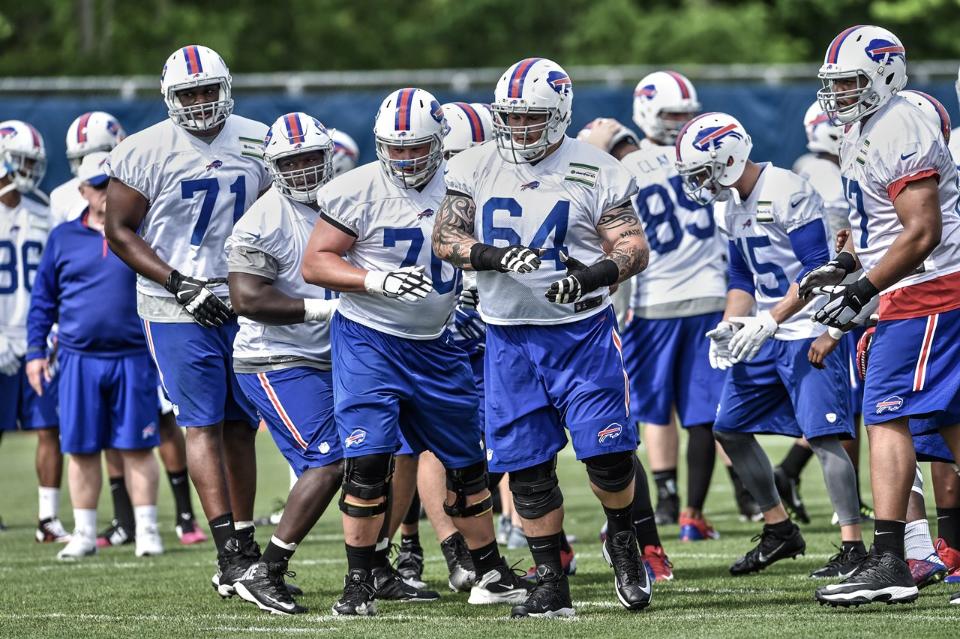 In a surprise move the charges against OL Coach Aaron Kromer and his son were dropped in Florida. The victims' families requested that the charges be dropped after a settlement was reached between the parties. The decision may save Kromer's job with the Bills. Tim Graham of the Buffalo News reports that the Bills are happy with the outcome of the case but they are expected to suspened Kromer for the start of the regular season. In that case he would be available to coach the line during training camp. The general consensus from the first day of training camp was that all four quarterbacks struggled. EJ Manuel struggled with his accuracy while Tyrod Taylor took off to run too often and Matt Cassel threw an interception. Percy Harvin saw a few reps at cornerback after he asked Rex Ryan if he can play the position. Ryan agreed saying they won't do too much with him there. Harvin said defense is his first love. Mario Williams was on the field after being placed on the Active/Non-Football injury list on Thursday. Cyrus Kouandjio took the first team reps at right tackle. Corey Graham got the first team reps at safety next to Aaron Williams. Asst OL coach Kurt Anderson is leading the offensive line drills. DE BJ Larsen was the lone active player not participating in the workout. Leodis McKelvin, Dan Carpenter, Cam Thomas, and Chris Manhertz are out on injury lists. Pat Meyer has been hired a football operations consultant. He has an offensive line coaching background serving as the OL coach under Kromer the past two years in Chicago. We have a handy training camp upcoming schedule on the right side of this homepage. More...

---
Latest Reports From Inside Bills Daily

2015 Front Office Page: July 31

Injury Page: July 31

Depth Chart: July 28

One player to watch on both sides of the ball

Follow us on twitter! Your quickest way to get breaking Bills news throughout camp!

Friday July 31
Charges against Kromer dropped; suspension probable
QBs struggle; Harvin gets work at CB; Graham starts at safety
Camp opens with Super Mario back on the field
Bills hire football operations consultant with OL background
Training camp begins today with a morning practice

Thursday July 30
Mario Williams leads list of five players on injured lists
Players to hold meetings and conditioning drills today

Wednesday July 29
Today is voluntary reporting day for training camp at St. Johns Fisher College

Tuesday July 28
Bills release Chris Williams after he fails his physical
Watkins declares himself full go for the start of training camp
Our AFC East roundtable takes a look at possible surprised during each team's camp

Monday July 27
Russ Brandon becomes President of the Sabres; Remains Bills President
Training camp gets underway on Friday

Thursday July 23
Goodwin gets silver medal at Pan Am Games

Wednesday July 22
Decision on OL Coach Aaron Kromer expected soon
Bills release OT Wayne Hunter three weeks after being signed
Marquise Goodwin qualifies for long jump final of Pan Am games in Toronto

Tuesday July 21
We explore which AFC East team has the best DL in our new roundtable series
One player we might not know about on both sides of the ball to watch
(7/28) AFC East Roundtable.
Which team possesses the best defensive line?
(7/21) AFC East Roundtable.
Deflategate – Make It Stop!
(5/13) A Tale From A Bills Fan In Boston.
Quiet Draft Used To Draft Best Available Players
(5/5) Most New Players May Not Have Big Impact In 2015.
1st Round Mock Draft
(4/29) No first round pick for the Bills.