Bills Fill Out Practice Squad, Release Felder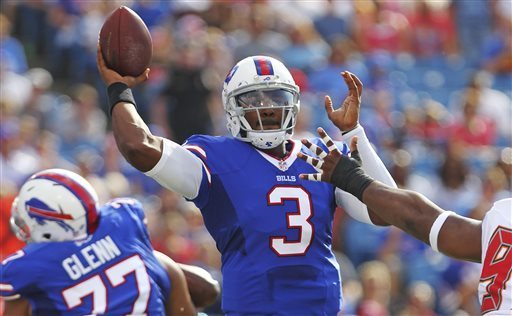 The Bills filled out their practice squad on Tuesday by adding TE D.J. Tialavea, he was an undrafted free agent who spent time with Jacksonville this summer. The team also announced they reached an injury settlement with Bobby Felder and released him from the reserved/injured list a day after doing the same with Tony Moeaki. The team is now in their regular season routine and have Tuesday off before preparations for the season opener against the Bears begin in earnest on Wednesday. Sammy Watkins returned to the field on Monday but Doug Marrone declined to say how much he actually did. Chris Williams, Scott Chandler, and Stephon Gilmore all returned to practice as well. Randell Johnson was doing work on the side with trainers but remained sidelined. Lee Smith is still sidelined with his toe injury. Marrone said Leodis McKelvin is very close to being 100% healthy and will start against Chicago and will likely serve as the primary punt returner. Six players were elected to be captains by the teammates including two first year Bills. Corey Graham, Brandon Spikes, Mario Williams, Kyle Williams, Eric Wood, and Fred Jackson are the new captains. Jackson, Kyle, and Wood were captains last season. More...

---
Latest Reports From Inside Bills Daily

Depth Chart:

September 2


Practice Squad:

September 2


Player Cuts:

September 2


Front Office Page:

September 2


Injury Page:

September 1


Follow us on twitter! Your quickest way to get breaking Bills news!

Tuesday September 1
Bills fill out practice squad; Release Felder from injured list

Monday September 1
Watkins leads list of players who returned to practice today
Two more added to practice squad; Moeaki released after injury settlement
Bills name six players captains including two 1st year Bills

Sunday August 31
Bills add seven players to practice squad including QB Jeff Tuel

Saturday August 30
Orton signing official; Punter added cuts made to get roster down to 54
Orton adds credibility to the backup QB spot as he reportedly signs
Report says Bon Jovi is now out of a reformed Toronto group bidding on team

Friday August 29
Bills extend the contract of long snapper Garrison Sanborn
Bills get roster down to 62 men before final cuts do tomorrow
Cuts loom as Bills have until tomorrow to get roster down to 54

Thursday August 28
Bills shutout by Lions as preseason comes mercifully to an end
Several players sit out preseason finale but Watkins active
Bills Final Preaseason Game Tonight



Wednesday August 27
Bills Awarded Punter
Alonso Placed on IR
Stadium Finalists


Open Letter To Bon Jovi


(8/4) Tony Bogyo's response to Bon Jovi's letter to Bills fans.


Whaley Wheels And Deals During The Draft


(5/13) Bills also add three big offensive linemen.


The Draft Is Almost Here


(5/6) Believe the Suspense, not the Rumors.


Bills Seven Round Mock Draft


(5/5 Tight end and tackle should be in their crosshairs.


1st Round Mock Draft


(5/1) Bills could move up draft board for Watkins.


Don't Complain to Me


(4/25) Musings on the 2014 Schedule.
2014 Schedule
| | | |
| --- | --- | --- |
| Sept. 7 | @ Chicago | 1:00 |
| Sept. 14 | Miami | 1:00 |
| Sept. 21 | San Diego | 1:00 |
| Sept. 28 | @ Houston | 1:00 |
| Oct. 5 | @ Detroit | 1:00 |
| Oct. 12 | New England | 1:00 |
| Oct. 19 | Minnesota | 1:00 |
| Oct. 26 | @ NY Jets | 1:00 |
| Nov. 2 | Bye | |
| Nov. 9 | Kansas City | 1:00 |
| Nov. 13 | @ Miami | 8:25 |
| Nov. 23 | NY Jets | 1:00 |
| Nov. 30 | Cleveland | 1:00 |
| Dec. 7 | @ Denver | 4:05 |
| Dec. 14 | Green Bay | 1:00 |
| Dec. 21 | @ Oakland | 4:25 |
| Dec. 28 | @ New England | 1:00 |