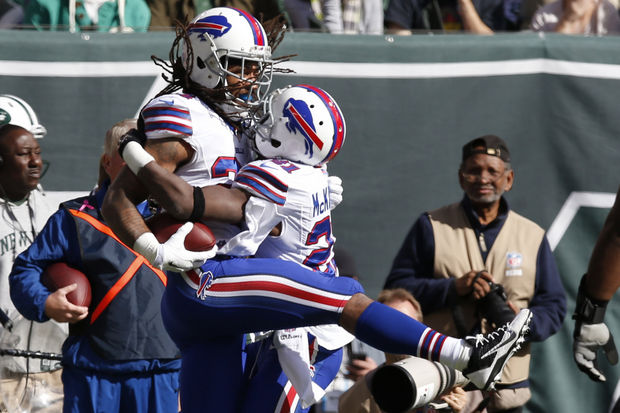 Sammy Watkins has won a prestigous award as he was named the AFC Offensive Rookie of the Month for October. He is the first Bill to ever win that award. Kiko Alonso was named the AFC Defensive Rookie of the Month last September. He led all rookies with 366 receiving yards and 19 receptions for a 19.26 average in the month. He was also tied for the rookie lead with three touchdowns in the month. The players get some well deserved and needed time off with the bye week. They were at One Bills Drive Monday and Tuesday and are now off today through Sunday. The coaching staff will also get some time to rest but not as much time. The coaches use the bye week to do self scouting to see what is working on their team and what isn't working. The coaches will also get together on Sunday to get a jump start on preparing for two games in five days with the Chiefs game a week from Sunday at the Ralph and then a trip to Miami for a game the following Thursday night. The Bills have placed Kenny Ladler on the reserve/injured list ending his season. He hurt his arm on Sunday. He was on the team's practice squad before being elevated to the active roster less than three weeks ago. That leaves an open spot on the 53 man roster. More...

---
Latest Reports From Inside Bills Daily

Bills Destroy Jets - or Did They? New Article!


Injury Page: October 28

Front Office Page: October 28

Depth Chart: October 28

Gameday Grades

Bills Blitz

Follow us on twitter! Your quickest way to get breaking Bills news!

Thursday October 30
Watkins is the first Bill ever to be named AFC Rookie of the Month.

Wednesday October 29
Players get well deserved and needed time off during bye week

Tuesday October 28
Bills place Ladler on reserve/injured list
Tony Bogyo breaks down the Bills big win over the Jets

Sunday October 26
Defense helps Bills easily overcome conservative play on the offense
Bills use six turnovers to beat the Jets 43-23 to enter bye on a high note
No serious injuries in this game as Woods and Kyle Williams tweak their backs
Aaron Williams playing; Goodwin and Easley sit; Only two running backs active
Picture perfect day for football at MetLife Stadium for a late October battle

Saturday October 25
Watkins wins rookie of the week honors for his 2 TD effort against Minnesota

Friday October 24
Brooks added to the injury report as probable after tweaking his groin
Bills Destroy Jets - or Did They?
(10/28) Why am I not Happier?
Defense Gets Six Takeaway Performance In Big Road Division Win
(10/26) Conservative play by the offense doesn't hurt in big division win..
Bills Took Control Early In 43-23 Win Over The Jets
(10/26) Bills force six turnovers while Sammy Watkins makes two big offensive plays.
Jets Game Preview
(10/23) Bills looking for first win ever at Met Life Stadium.
Bills Win Costly, Ugly Battle
(10/21) The Win with No Joy.
Bills Pull Out 17-16 Win Over Vikings
(10/19) Orton hits Watkins for game winning score with one second left.
Vikings Game Preview
(10/16) Bills, Vikings licking their wounds as they get ready to do battle.
A New Chapter For The Bills
(10/14) Or Is It?