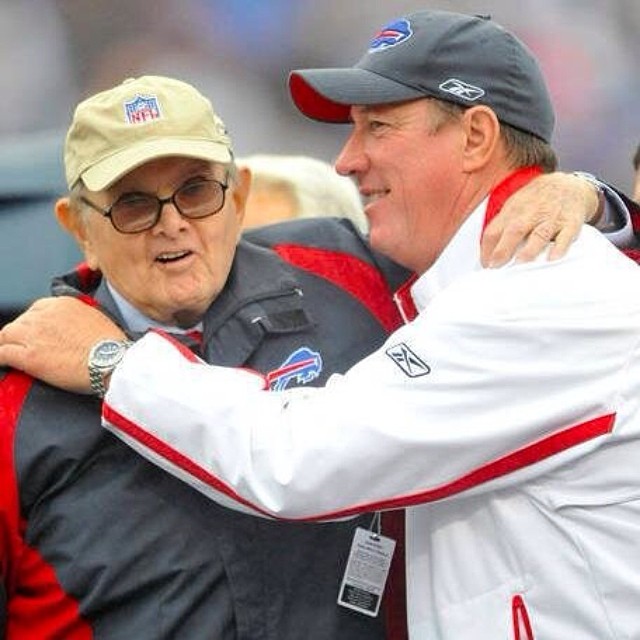 The Bills begin their offseason conditioning program Tuesday. The workouts are voluntary and they will take place four days a week for the next five weeks. The fourth and fifth weeks are wrapped around a three day rookie minicamp from May 17th thru 19th. There will be no on the field workouts the first three weeks with the exception of some passes between quarterbacks and receivers. Jim Kelly arrived back in Buffalo Saturday evening and will continue his cancer treatments in Western New York. He still is undergoing radiation five days a week and has two more chemotherapy treatments ahead. He posted a quick video on his wife's instagram where he thanked everyone again for their support and said he would be back. His brother reportedly told the associated press that Kelly still plans on pursuing ownership of the Bills despite his cancer. Donald Trump says his interest in the Bills is real and serious and he would keep the team in Buffalo. Other reports say that groups interested in buying the team are looking to Thurman Thomas to help with those efforts. Jon Bon Jovi's name remains in the mix. He reportedly would head a Toronto group looking to buy the Bills and move them north of the border. More...

---
Latest Reports From Inside Bills Daily

2014 Front Office Page: April 10

Offseason Depth Chart: April 10

Follow us on twitter! Your quickest way to get breaking Bills news!

Monday April 21
Offseason program set to begin tomorrow

Saturday April 19
Kelly back home; interested in buying the Bills

Tuesday April 15
Trump says he's serious about buying the Bills

Friday April 11
Jacobs says he's not interested in Bills
Ownership speculation hits a fever pitch

Thursday April 10
Preseason dates and times announced
Report says Falls a possiblity for Bills
Bills release DE Kourtnei Brown

Wednesday April 9
Preseason schedule released
Bills add punter to the mix
My Buffalo Bills
(3/29) Emotions run deep for fans of this team.
The Pain of Losing
(3/26) Bills Nation Dealing with More Loss.
2013 Player of the Week Winners
(1/10) Spiller won the award three times.
2013 Final Goat Tally
(1/9) Gilmore leads the way with four goats.
2013 Final Gameball Tally
(1/8) Jackson leads the way with 6 gameballs.
2013 Was A Year Of Culture Change
(1/7) Defense grades out strong in transition season.