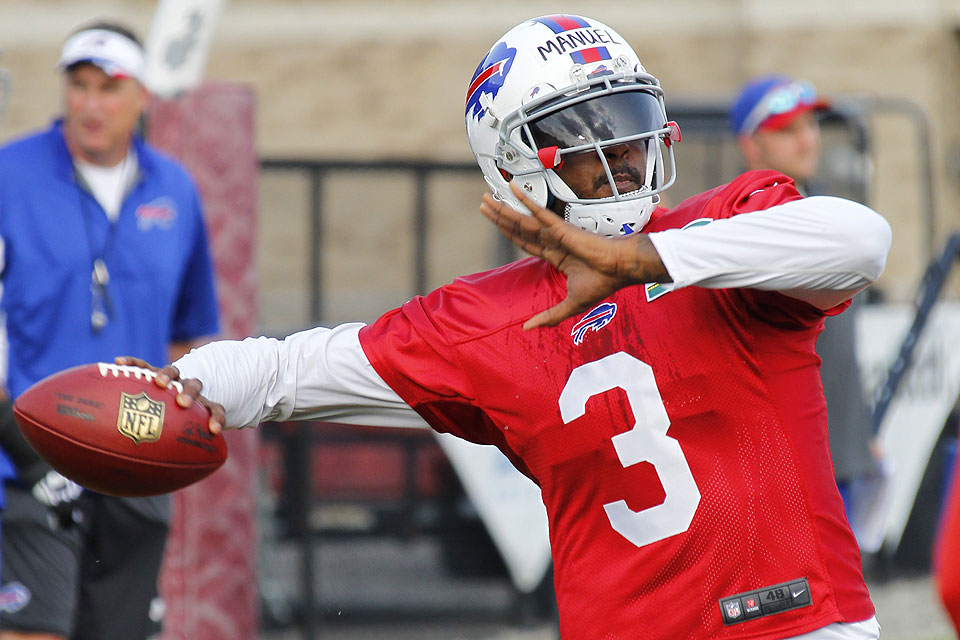 Fred Jackson limped off the field with an apparent leg injury late in tonight's practice. He didn't seemed to be hobbled too much so it didn't look too serious according to various reports. CB Kenny Ladler and TE Tony Moeaki both left with hamstring injuries. Marcell Dareus and Alan Branch took part in their first practice of the summer and Dareus even had touch sack. Chris Gragg did not practice as he will be eased back in after being in the hospital with dehydration. Leodis McKelvin had a rest day and didn't really see the field giving Corey Graham some extra reps. Randell Johnson has been activated from the PUP list leaving just Cordy Glenn and Kiko Alonso inactive. The team also added cornerback Bobby Felder joins the team after having stints on the Vikings and Buccaneers practice squads since coming out of Nicholls St. in 2012. To make room for him they released DT Colby Way. On Thursday, they waived Brandon Smith designating him waived/injured and picked up center Jared Wheeler off of waivers from the Panthers. In other news, the NFL Hall of Fame announced that Jim Kelly and Harry Carson will be the honorary captains when the Bills take on the Giants in the Hall of Fame game a week from Sunday. The two legends will take part in the ceremonial coin toss. More...

---
Latest Reports From Inside Bills Daily

Follow us on twitter! for up to the minute news and information from training camp!


Depth Chart:

July 25


Front Office Page:

July 25


Injury Page:

July 25

Friday July 25
Jackson, Moeaki, Ladler leave tonight's practice with lower body injuries
Bills add CB Felder; Release DT Way and activate Randell Johnson from PUP list
Dareus, Branch pass conditioning test; Center added, Brandon Smith waived
Kelly joins Harry Carson as honorary captains for Hall of Fame game
Bon Jovi group denies report that they are looking at stadium sites in Toronto

Thursday July 24
Observations from the first four days of training camp; today is a day off

Wednesday July 23
Day 4 of practice in the books as the offense rebounds well from yesterday
Dareus says in a statement he is excited to return to training camp

Tuesday July 22
Bills swap linebackers as injured Kitchens released and UFA Boyd gets added
Bills have first padded and first morning practice of camp under hot conditions
Dareus accepeted into pre-trial diversion program and could have record expunged

Monday July 21
Henderson returns to practice; Watkins wows crowd on day 2 of camp
Bills bring back WR Roosevelt and add DT depth while releasing two
Dareus reportedly will be at camp today; Conditioning test late in week
Goodwin ok after leaving practice last night with medical issue

Sunday July 20
Dareus fails conditioning test; Henderson, Goodwin hurt in 1st practice
Bills practice tonight; 'Unga comes off PUP list

Saturday July 19
Dareus, Unga on PUP list; McKelvin off
Bon Jovi group says they are keeping team in WNY
Bills sign two players
Bon Jovi confirmed part of Toronto group
Glenn day to day with illness; Alsono has successful surgery
Whaley Wheels And Deals During The Draft
(5/13) Bills also add three big offensive linemen.
The Draft Is Almost Here
(5/6) Believe the Suspense, not the Rumors.
Bills Seven Round Mock Draft
(5/5 Tight end and tackle should be in their crosshairs.
1st Round Mock Draft
(5/1) Bills could move up draft board for Watkins.
Don't Complain to Me
(4/25) Musings on the 2014 Schedule.
My Buffalo Bills
(3/29) Emotions run deep for fans of this team.