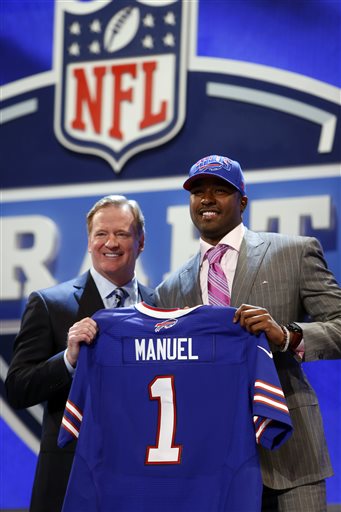 The Bills have finally made it official. Doug Whaley has been named the general manager of the team. They also hired Jim Monos as directior of player personnel and Kelvin Fisher as director of college scouting. Whaley said the main goal of the organization is to consistently challenge for championships. He said they owe it to the fans to bring a winner. Russ Brandon says he has everything it takes to make a great leader. More from the press conference on our latest news page. In other news, 2nd round pick Kiko Alonso has signed a four year contract. His deal leaves just EJ Manuel and Robert Woods as unsigned draft picks. Kevin Kolb received the opening reps followed by Travaris Jackson during Tuesday's OTA workouts. They pretty much split the reps evenly and were followed by EJ Manuel who saw less reps. Doug Marrone said the reps will even out when Manuel catches up to Kolb and Jackson who have had more time immersed in the system. On hand for the workout were the fathers of the two coordinators. Mike Pettine Sr. and Paul Hackett had long and decorated coaching careers of their own. The Bills have claimed TE Mickey Shuler off of waivers from the Raiders. To make room on the 90 man roster they released WR Kevin Norell. More...

---
Latest Reports From Inside Bills Daily

Front Office Page: May 15

Depth Chart: May 15

2013 Draft Page With Grade & Capsules


Follow us on twitter! Your quickest way to get breaking Bills news!

Thursday May 16
Bills hire two in front office
Consistency in challenging for championships is goal
Whaley named general manager

Wednesday May 15
Alonso signs contract
Report says Whaley to be named GM tomorrow
Kolb got first reps in yesterday's workout

Tuesday May 14
Bills claim TE Shuler off of waivers
Several rookies missing because school is still in session
Up tempo practice to open OTAs yesterday

Monday May 13
No new GM announcement today
Nix steps down as general manager
Rookie minicamp comes to an end

Saturday May 11
Rookie minicamp gets underway in the classroom

Friday May 10
Bills sign five of eight draft picks
Bills sign 7th round pick Gragg
Kelso indicates Bills, Byrd $2 Million apart
Bills Got Much Faster In Draft
(4/29) Success or failure of draft lies with Manuel.
The Time Is Now To Take A QB
(4/24) QB options make draft very intriguing for Buffalo.
Bills Seven Round Mock Draft
(4/23) Bills should go heavy on offense in draft.
1st Round Mock Draft
(4/23) Bills likely to take Nassib at number eight.
2012 Players of the Week
(1/13) Spiller wins the award five times.