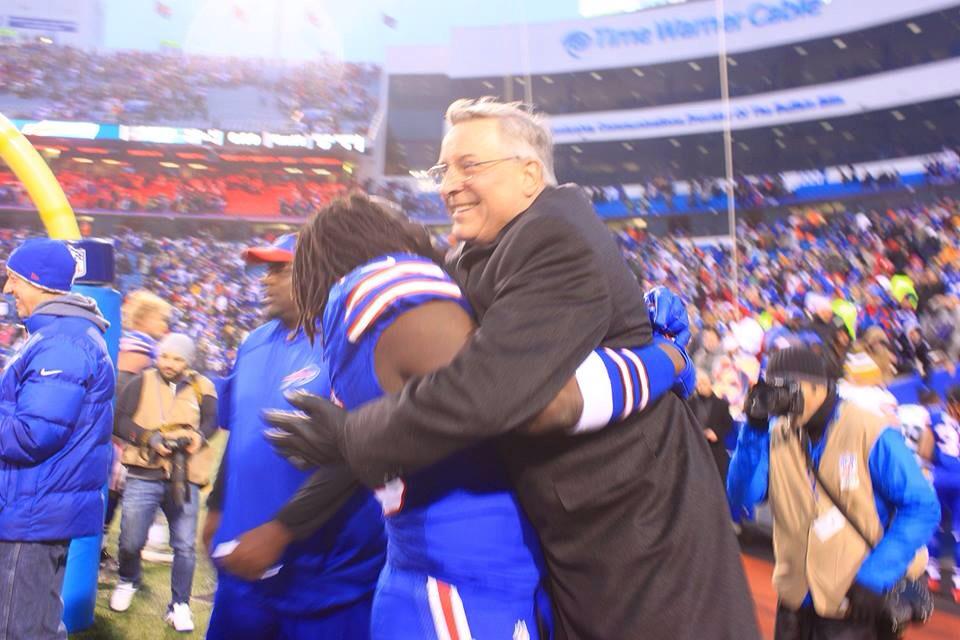 Sunday's season finale in New England against the Patriots is currently scheduled to start at 1pm. It was announced today that if the Broncos win tonight the game will be moved to a 4:25pm kickoff. If the Bengals win it will remain at 1pm. A Broncos win leaves the top seed in the AFC up in the air, if the Bengals win than the Patriots clinch homefield advantage throughout the playoffs. In other news, the Bills have released Mike Williams from injured reserve which was their right once he was declared healthy. He reverted to that list after clearing waivers when he was placed on the waived/injured list. Despite a report, there is no cap implications for releasing Williams. He is now free to sign with any team. The team is licking their wounds as they played their worst game of the year in a 26-24 loss that eliminated them from a playoff berth for a 15th consecutive season. Derek Carr threw two touchdown passes using big pass plays to on both scoring drives. Sebastian Janikowksi hit four field goals to lead the Raiders to the upset win. Kyle Orton was widely inaccurate most of the game despite throwing a 42 yard touchdown pass to Sammy Watkins, a 29 yard scoring pass to Scott Chandler, and a 30 yarder to Robert Woods with 1:09 to play that brought them to within two but they didn't recover the onside kick and the game was over. The Watkins score gave the Bills an early 7-0 lead but they seemed to stop playing after that. Chandler's score pulled them to within two at 19-17 on the first play of the fourth quarter but the Raiders responded with a huge touchdown. Marcell Dareus and Stephon Gilmore were injured in the loss Our injury page is updated with the latest from today's game. Our Bills Blitz is up on our gameday homepage and our grades are up as well! More...

---
Latest Reports From Inside Bills Daily

Gameday Grades New Article!


Bills Blitz New Article!


Injury Page: December 21

Follow us on twitter! Your quickest way to get breaking Bills news!

Monday December 22
Pats game to be moved to 4:25 if Broncos beat the Bengals tonight
Mike Williams reportedly to be released from injured reserve list

Sunday December 21
All three units take part of the blame for disappointing loss
Bills season comes to a crashing halt in 26-24 upset loss
Dareus injures knee; Gilmore suffers concussion as neither player returned
Bryce Brown leads the list of inactives; Wynn returns; Gragg sits again
Nice weather in Northern California for today's game against the Raiders

Friday December 19
Spiller activated and listed as probable; Gragg only one listed as questionable

Thursday December 18
Thigpen added to the injury report as limited with a swollen foot
Bills look to avoid a letdown or trap game as they travel to the West Coast

Wednesday December 17
Chandler out with illness; Spiller, Duke Williams, Searcy limited in practice
Russ Brandon doesn't know why Marrone's future is a topic of conversation

Tuesday December 16
Bills release Frank Summers to make room for Spiller's activation
Sunday's win was huge but leaves fans thinking what might have been
All Units Contribute To Very Disappointing Loss
(12/21) Offense struggled a lot while defense gave up some big plays.
Raiders Upset Bills 26-24
(12/21) Bills eliminated from playoffs as season comes to a crashing halt.
Raiders Game Preview
(12/18) Bills look to avoid letdown as they travel out West.
Huge Game, Huge Win
(12/16) Revel in Victory and Think About What Might Have Been.
Defense, Special Teams Shine In Upset Win
(12/14) Great play by two units help overcome poor offensive effort.
Bills Stay Alive With 21-13 Huge Win
(12/14) Four FGs, A Special Teams Score, and a safety for the win.
Packers Game Preview
(12/11) Bills face another future hall of famer with playoff hopes flickering.
Welp
(12/9) When There's Nothing More To Say.