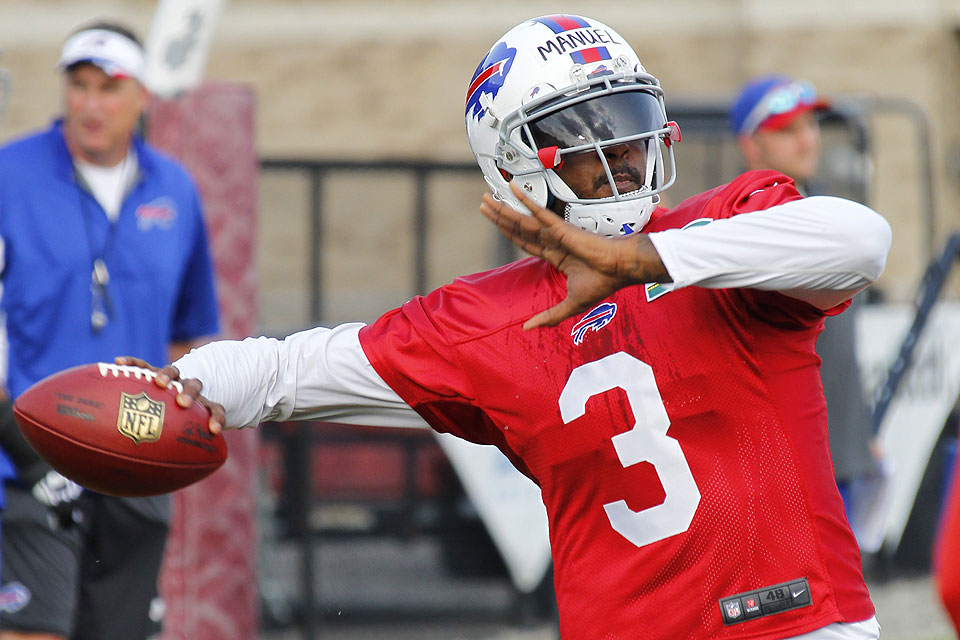 Monday's practice has been moved from the morning to the evening. It is now a 6pm practice and no ticket is required. It was originally scheduled for 8am. One report says it was moved for weather reasons. The team gets Tuesday off. They had another nearly three hour session in full pads and went live for goal line drills during Sunday afternoon's practice wrapping up a busy weekend of three full practices including sessions Friday and Saturday night. The offense looked a bit better Sunday than they have the past few practices according to all reports. Kraig Urbik caught a touchdown pass on a tackle eligible play on the goal line. Chris Hogan seemed to be busy and getting extra work in the slot today. Sammy Watkins looked like himself making big plays and Mike Williams went up high for one long reception. The defensive line got the better of the offensive line once again. Fred Jackson returned to practice after sitting out Saturday's session with a lower leg injury suffered on Friday night. Kevin Elliott and Scott Chandler were unable to finish today's session. Chandler left with a groin injury and Elliott had concussion like symptoms. Duke Williams spent time in the cooling tent and Aaron Williams along with Jeff Tuel got shaken up during the workout but Williams returned and Tuel never left. Chris Gragg remains sidelined after being hospitalized this week, he should return next week. Tony Moeaki is expected to miss significant time with his hamstring injury but should be back before the end of training camp. He rode the stationary bike on Sunday. The team signed TE Dominique Jones and made room by releasing OG Mark Asper. More...

---
Latest Reports From Inside Bills Daily

Follow us on twitter! for up to the minute news and information from training camp!


Injury Page:

July 27


Depth Chart:

July 25


Front Office Page:

July 25

Monday July 28
Bills move today's practice to 6pm and no ticket is required for evening workout

Sunday July 27
Offense bounces back some but defensive line continues to dominate offensive line
Jackson returns to practice but Chandler and Elliott leave early and don't finish

Saturday July 26
Bills have first live tackling of training camp as defense dominates the day
Jackson sits out as a preacaution as team runs short on tight ends
Bills add young veteran tight end while releasing guard Mark Asper

Friday July 25
Jackson, Moeaki, Ladler leave tonight's practice with lower body injuries
Bills add CB Felder; Release DT Way and activate Randell Johnson from PUP list
Dareus, Branch pass conditioning test; Center added, Brandon Smith waived
Kelly joins Harry Carson as honorary captains for Hall of Fame game
Bon Jovi group denies report that they are looking at stadium sites in Toronto

Thursday July 24
Observations from the first four days of training camp; today is a day off

Wednesday July 23
Day 4 of practice in the books as the offense rebounds well from yesterday
Dareus says in a statement he is excited to return to training camp

Tuesday July 22
Bills swap linebackers as injured Kitchens released and UFA Boyd gets added
Bills have first padded and first morning practice of camp under hot conditions
Dareus accepeted into pre-trial diversion program and could have record expunged
Whaley Wheels And Deals During The Draft
(5/13) Bills also add three big offensive linemen.
The Draft Is Almost Here
(5/6) Believe the Suspense, not the Rumors.
Bills Seven Round Mock Draft
(5/5 Tight end and tackle should be in their crosshairs.
1st Round Mock Draft
(5/1) Bills could move up draft board for Watkins.
Don't Complain to Me
(4/25) Musings on the 2014 Schedule.
My Buffalo Bills
(3/29) Emotions run deep for fans of this team.