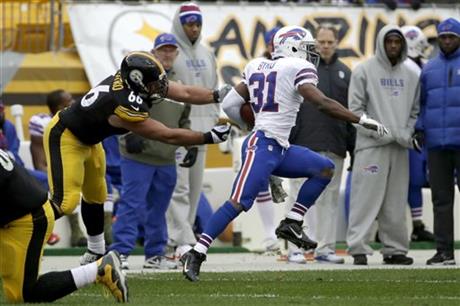 The Bills locked up their exclusive rights free agents by tendering Chris Hogan, Antoine McClain, and Frank Summers while re-signing Brandon Smith. The Bills announced they will have a new variable ticket pricing formula. According to the team's website, the new ticket model will include a tiered-pricing system for preseason and regular season games. Season tickets will list different prices for the home games based on the variable tiers.Season ticket holders will continue to see discounts over individual game tickets but they will see their first price increase since 2010. The new structure will likely make less desirable late season games cheaper. The Bills hosted free agent inside linebackers on Wednesday and Thursday. LB Jasper Brinkley followed Jameel McClain to town to check out the facilities. The team appears to be looking for a veteran guy in the middle so they can move Kiko Alonso to the outside. The team signed Aaron Williams to a contract extension. Reports say the deal is for 4 years, $26M (with incentives) and $14.625M guaranteed. There is reportedly a $6.5M signing bonus with a $4.5M option. He was due to become a free agent after this season. Many feel it doesn't pay to have two high priced safeties so this may be an indication they don't expect Jairus Byrd to re-sign with the team. The busy week also saw the announcement that the Toronto series will be taking at least a one year hiatus as all eight home games in 2014 will be at Ralph Wilson Stadium. They will now go through a complete evaluation on the future of the series. Erie County appointed 7 members to the committee that his exploring new stadium possibilities. More...

---
Latest Reports From Inside Bills Daily

Follow us on twitter! Your quickest way to get breaking Bills news!


2014 Front Office Page: March 7

Offseason Depth Chart: March 3

Friday March 7
Erie County appoints 7 to stadium committee

Thursday March 6
Bills introduce variable pricing plan
Team locks up exclusive rights free agents
Team hosts linebacker for second straight day

Wednesday March 5
Aaron Williams signs contract extension
Brandon said organization structure is clear
Bills won't play in Toronto this year
McClain expected to visit the Bills today

Tuesday March 4
Byrd says all options open

Monday March 3
Bills release LB Jefferson; tender EFAs
Bills don't tag Byrd
Franchise tag deadline at 4pm today

Sunday March 2
Byrd, Bills likely to part ways
2013 Player of the Week Winners
(1/10) Spiller won the award three times.
2013 Final Goat Tally
(1/9) Gilmore leads the way with four goats.
2013 Final Gameball Tally
(1/8) Jackson leads the way with 6 gameballs.
2013 Was A Year Of Culture Change
(1/7) Defense grades out strong in transition season.
Bills Terrible in the Bitter End
(12/31) Leaving a Bad Taste in my Mouth.
Defense Disappoints On The Ground
(12/29) Special teams gaffes also cost Bills a chance to win.
Pats Knock Off Bills 34-20
(12/29) New England runs wild in soggy Foxboro.