Bills Get Big Road Division Win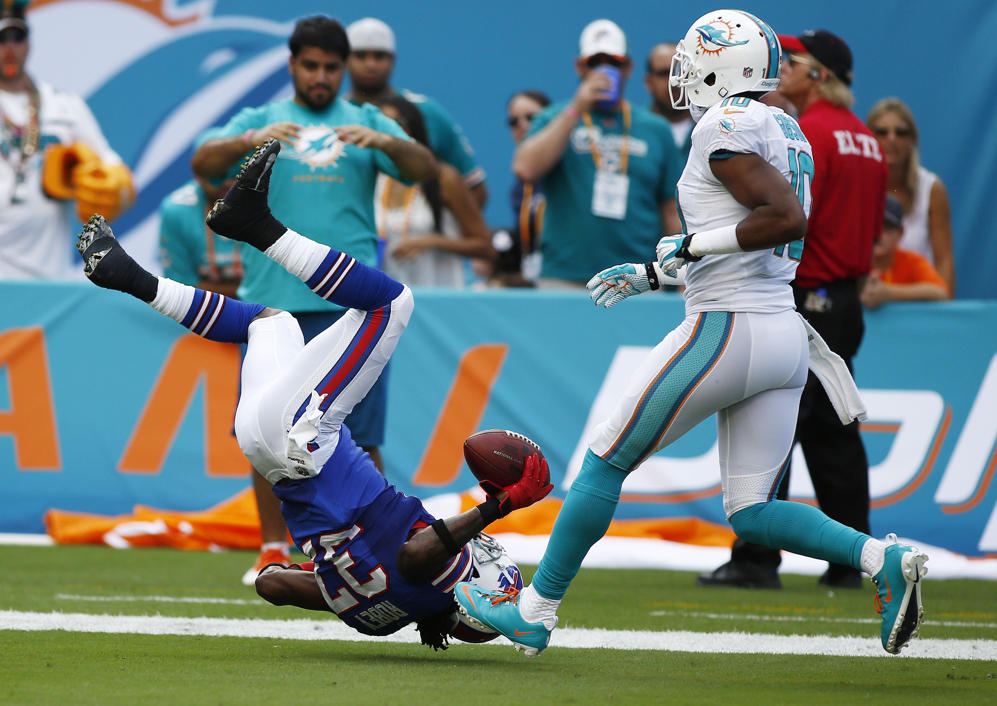 Gameday Grades: The defense came up with big plays and are the reason the Bills were able to pull off the upset. They gave up some plays but led the team to 10 points with an interception return for a score and the fumble recovery in the final minutes. Gameday Grades.

Bills Win Thriller 23-21 Sometimes the fairy tale does come true. Dolphins reject Dan Carpenter hit his third field goal of the game from 31 yards out with :33 left to give the Bills a come from ahead 23-21 road division win. The Bills were in position to win thanks to the Williams boys. Mario Williams forced a Ryan Tannehill fumble that was recovered by Kyle Williams in Miami territory. Fred Jackson, gutting it out after aggravating his knee injury twice, had a huge 10 yard run to convert a third down and allowed the Bills to run the clock down. The Dolphins still had their chance at a hail mary after Tannehill narrowly avoided a sack twice by Super Mario and sent a pass sailing into the end zone where it was knocked down. The Bills opened up a 14-0 first quarter lead as Nickell Robey intercepted Tannehill's first pass and returned it 19 yards for the first points of the game. Jackson ran it in from the three for the Bills second touchdown. They wouldn't find the end zone again however as Miami roared back to take a 21-17 lead on three Tannehill touchdowns including two to Brandon Gibson. Carpenter has now hit 15 straight field goals as he hit from 39 and 20 yards earlier in the game. Bills Blitz.

Injury Update: Manny Lawson aggravated his hamstring injury in the third quarter and did not return. Nickell Robey went to the locker room before halftime after injuring his shoulder on a punt return but he would return. Fred Jackson re-injured his knee that was already sprained early in the game and was in considerable pain but returned and played on a limted basis. He hobbled off a second time late in the first half after a reception but did finish the game. Injury Page.

Flynn Inactive For Bills: EJ Manuel is the only player this week inactive because of an injury as the team continues to get healthy. Jeff Tuel will be the backup QB today meaning recently signed Matt Flynn is also inactive for today's game. Doug Marrone was hoping he would know enough of the game plan and the offense to serve as the backup but must feel he isn't ready yet. The other healthy scratches include three cornerbacks: Brandon Smith, Brandon Burton, and Justin Rogers. The other inactives are Antoine McClain and Ty Powell.

Heat A Factor: The first trip to Florida this season will be a hot one as you would expect that is why Doug Marrone had the heat turned up high during practice in the fieldhouse on Thursday and Friday. The gametime temperature for today's game is expected to be 87°. The humiditiy will be around 63% making it feel like it will be in the mid 90s. The game will be played under partly cloudy skies with no rain in the forecast and the winds light out of the southeast at less than 10mph.

For in game commentary

follow us on twitter!
Saturday October 19, 2013
No Word On Backup QB: Doug Marrone has yet to decide who will be the backup quarterback against Miami. He has sounded like all week that he wants Matt Flynn to handle the duties but it is unknown if he knows the game plan enough and has a good enough handle of the offense to go in if needed. The decision will come tomorrow morning with the third string QB being inactive.
Friday October 18, 2013
Spiller, Johnson Probable: The Bills list seven players as probable for Sunday's game with the only other player on the injury report being EJ Manuel who of course is out. C.J. Spiller and Stevie Johnson both practiced fully and will play. Kyle Williams was the only player not to practice fully, he sat out with an illness but should go on Sunday. Injury Page.
Thursday October 17, 2013
Spiller Practices: C.J. Spiller returned to practice today on a limited basis after sitting yesterday. Stevie Johnson practiced fully on Thursday after being limited on Wednesday. Kyle Williams returned to practice after sitting Wednesday to rest his Achilles. Mario Williams and Manny Lawson were limited once again with hip and hamstring injuries respectively but both are expected to play on Sunday. Injury Page.
Dolphins Preview: The Bills head to Miami for their first of three trips to Florida this season. They are looking for their first division win against a well rested Dolphins squad that is coming off of their bye week. It should be a tough matchup for the Bills as the Dolphins are much improved but the Bills have battled everyone tough so this should be a close one as well. Game Preview.
Wednesday October 16, 2013
Manuel Out 4-6 Weeks: Doug Marrone finally gave a timetable for the return of EJ Manuel from his sprained LCL. Marrone said he will be out another 4-6 weeks at around that time he should be ready to start practicing. It appears like the logical return date will be after the bye when they play Atlanta in Toronto on Dec. 1st.
Manuel, Spiller Do Not Practice: The Bills are healthier than they have been all year with C.J. Spiller joining EJ Manuel as the only players not to practice today. Doug Marrone said he feels good about Spiller playing on Sunday and he says he is feeling better but lacks his top explosion speed. Stevie Johnson said he did everything in practice but was officially limited. He says he's 80-85% healthy as he recovers from his back injury and expects to play Sunday. Thad Lewis was moving around well and said his foot feels good and he has no limitations and was full go. Manny Lawson also was participating after leaving Sunday's game with a hamstring injury and moving fine but was limited. C.J. Spiller was limited. Doug Marrone will give an update on the level of participation after practice. Injury Page.
Tuesday October 15, 2013
Brown Released: After six awful games the team has cut ties with Colin Brown releasing the former starting guard. Doug Legursky played most of the game against the Bengals and did much better. His spot on the roster was taken by Mark Asper who was activated off of the practice squad. The team also released Jamie Blatnick from that unit and added OL Bryant Browning and LB Jacquies Smith to the practice squad. Asper was drafted in the sixth round by the Bills last year before being cut. Browning came in to the league in 2011 as an undrafted free agent and has bounced around practice squads around the league. Smith spent some time on the Jets practice squad last year. Front Office Page.
KC Game Soldout: The Bills announced today that their November 3rd game against Kansas City is sold out. It is also a white out day as fans are encouraged to wear white and pom poms will be handed out to the first 50,000 fans. This is the fifth Ralph Wilson Stadium game to be soldout this year. The remaining two games against Miami and the Jets are still not sold out.
Breaking Down The Loss: Tony Bogyo is back this week with his latest column breaking down the loss to the Bengals. In his own interesting way he tries to use an analogy to figure out why the Bills always seem to come up on the short end of the stick. Complete Story.
Monday October 14, 2013
Marrone Feels Good About Lewis: Doug Marrone confirmed to the media this afternoon that the x-rays and MRI came back negative on the foot injury suffered by Thad Lewis and he feels good about his chances of playing on Sunday. He is listing him as day to day. The coach also said that EJ Manuel is ahead of schedule in his return from a sprained LCL. The injury has calmed down and he will begin rehab this week but there still is no timetable for his return. The team got good news on the hamstring injury suffered by Manny Lawson yesterday, the coach said he is fine. Injury Page.
Bills Sign Flynn: The Bills liked what they saw in a morning workout and have signed free agent QB Matt Flynn. He is a former 7th round pick of the Packers and parlayed a great start in a meaningless game to a big contract with Seattle. He was beaten out by Russell Wilson for the starting job and moved on to Oakland where Terrelle Pryor beat him out. He was released last week and the Bills scheduled the workout last week. To make room the team placed S Jonathan Meeks on injured reserve/designated to return. He injured his knee yesterday. Flynn's signing is not in indictment of backup Jeff Tuel as they still feel good about his development according to Doug Marrone. The signing is about adding quality depth. Marrone said either Tuel or Flynn will backup Thad Lewis Sunday in Miami. Front Office Page.
MRI Results Good: Pro Football Talk reports that the MRI on Thad Lewis revealed no ligament damage to his foot. He is diagnosed with a sprain and is day to day. Doug Marrone will update his situation later today. Injury Page.
Lewis MRI: While the x-rays came back negative on the injured foot of Thad Lewis, he reportedly wll undergo an MRI today to make sure he is ok. X-rays don't show if there is muscle damage so the MRI will need to confirm if he is fine or not. He left the stadium in a walking boot yesterday. Injury Page.
---
News Archives index
Latest News Section
Archives Library
Back to Bills Daily Homepage