Bills Lose Tough One In Overtime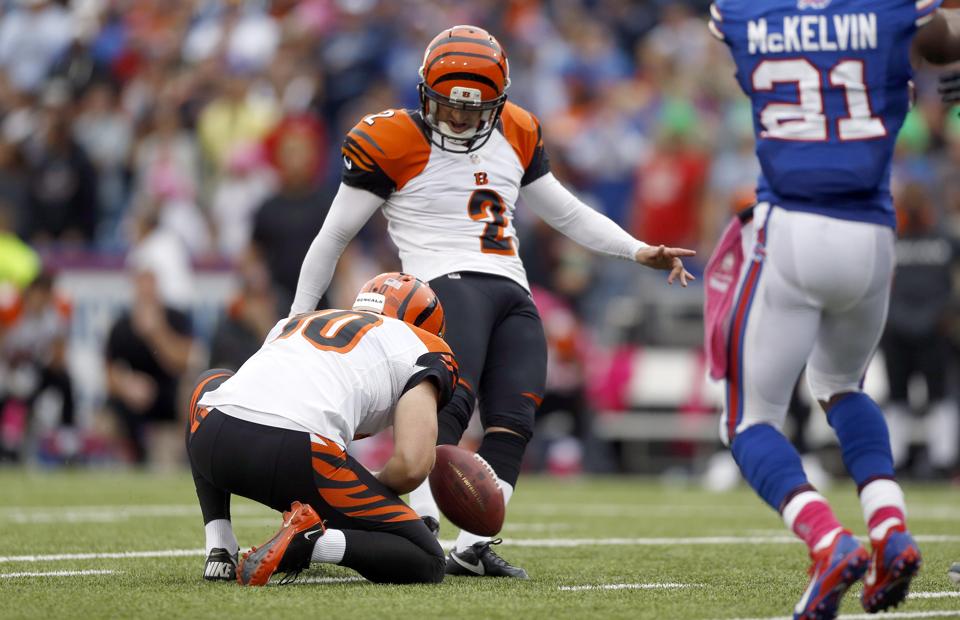 Flynn To Workout? Minnesota Wild beat writer Chad Graff who arrived at Buffalo airport for tomorrow night's hockey game saw free agent QB Matt Flynn. Adam Schefter and Mike Rodack report for ESPN that he is indeed in town to workout for the Bills. If this report is true it was in the works before today's game so Thad Lewis getting hurt has no bearing on the workout.

Gameday Grades: The defense really struggled for three quarters and that put the Bills in the huge hole. The offense bailed them out with a great fourth quarter but it doesn't take the spotlight off of the poor play of Mike Pettine's unit. Gameday Grades.

Bills Lose In OT: Mike Nugent hit a 43 yard field goal with 6:44 to go in overtime to lift the Bengals to a 27-24 win over the Bills. Thad Lewis brought the Bills back from a 24-10 deficit with 4th quarter touchdown passes of 22 yards to Scott Chandler and 40 yards to Marquise Goodwin with 1:08 left that tied it up. The Bills defense played awful in the first half as the Bengals opened up a 17-7 lead with scores on their first three possessions. Lewis ran it in from three yards out on his first series that ended up being an 83 yard scoring drive. Andy Dalton threw three touchdown passes. Brandon Tate returned a Brian Moorman punt 29 yards to setup the winning the kick. Bills Blitz.

Lawson, Lewis Hurt: After the game, Thad Lewis was seen in the locker room in a boot and was getting x-rayed. He was limping down the stretch but finished the game. He said it is a foot injury and tests came out negative and he should be ok. The Bills lost Manny Lawson to a hamstring injury in the first half, he did not return. Jonathan Meeks also left the game early with a knee injury. Jim Leonhard got hurt in punt coverage in overtime. C.J. Spiller was really hobbling throughout the day. Injury Page.

Johnson Inactive: Stevie Johnson is inactive today after being labeled a gametime decision with his lumbar strain. Stephon Gilmore is active for the first time this year, he was also a gametime decision. Other returning players for Buffalo are Marquise Goodwin and Jairus Byrd. Inactive with injuries are EJ Manuel and Ron Brooks. For the first time this year they need to make five healthy players inactive because there are not that many injuries. The other scratches are: Justin Rogers, Brandon Burton, Ty Powell,, and Antoine McClain. Chris Gragg is active for the second time. He did not play in his other game that he was active.

Shower Possible: The great weather streak may be over but it shouldn't be too bad for today's game in Orchard Park. There is a chance at a shower or two but nothing too heavy is expected. The gametime temperature will be in the mid to upper 60s. Winds will be out of the south southwest at around 10mph.

For in game commentary

follow us on twitter!
Friday October 11, 2013
Johnson, Gilmore Gametime Decisions: Coach Marrone said after practice today that Stephon Gilmore and Stevie Johnson will be both be gametime decisions on Sunday and are listed as questionable on the injury report. He feels he will know more about the availability of Johnson when he returns to the team today from being out of town at a family funeral. C.J. Spiller is also listed as questionable but is expected to play as he has improved in practice this week with his sprained ankle. Ron Brooks is not going to make it back this week as he has been ruled out. Marquise Goodwin and Jairus Byrd are listed as probable and are expected to play. Injury Page.
Goodwin To Play: Doug Marrone was on WGR this morning in his usual radio spot and said that Marquise Goodwin will play on Sunday. He also said he really doesn't know what the status will be for Stevie Johnson until he gets back to One Bills Drive later today. He said it may end up being a gametime decision.
Blackout Lifted: There will be no TV blackout for Sunday's game as Ralph Wilson has guaranteed a sellout by committing to buy any tickets not sold for Sunday's game. There were 5,300 tickets available as of the last count yesterday. Russ Brandon released a statement that said, "Mr. Wilson has generously guaranteed the purchase of the remaining tickets for this weekendís game. Through their energy and enthusiasm, our fans create an unparalleled home field advantage. Itís great to share that experience with the entire region."
Thursday October 10, 2013
Johnson Back Tomorrow: Stevie Johnson is expected back from a funeral in Oakland tomorrow but isn't due back until after practice. The team will know more when he returns if he'll be able to play on Sunday. He is undergoing treatment while out of town on his strained lumbar. He has the game plan and film with him and has been in contact with coaches. C.J. Spiller is doing better each day and should be ready to go even if he's not 100 percent. It is also looking more likely that Stephon Gilmore will play with a club on his hand. Injury Page.
Blackout Extension: The Bills got a 24 hour extension on the blackout deadline and now have until 1pm tomorrow to avoid the game not being seen on television in Western New York. There are 5,300 tickets left still making it a long shot to sell out unless sponsers by the remaining tickets.
Bengals Preview: It will be tough for the Bills to come up with a victory against a Bengals team that is coming off of a landmark victory against the Patriots. They bring a tough defense to Orchard Park that kept New England out of the end zone for the first time in years. It will make things that much harder for Thad Lewis making his second career start. Game Preview.
Adams Back: A day after releasing him, the Bills have brought back CB Johnny Adams. He took the open spot on the practice squad. That was likely the plan all along when he was let go as the coaches elevated Brandon Smith because they wanted to see what he can do and evaluate him better. They already got a chance to see what Adams could do. Front Office Page.
Wednesday October 9, 2013
Johnson Not Practicing: Stevie Johnson was the lone player not on the practice field today for the Bills besides EJ Manuel. He had a death in the family and will be back later in the week. C.J. Spiller was participating but still has a bit of a limp. Stephon Gilmore, Jairus Byrd, and Ron Brooks all were participating with Byrd taking a few reps with the starters on defense. Gilmore also was taking defensive reps in the portion of practice open to the media as he took part in individual drills along with Brooks. Coach Marrone feels better about Gilmore's chances of playing Sunday than Brooks at this point. Injury Page.
Blackout Likely: Russ Brandon said on WGR today that there are 7,000 tickets available for Sunday's game against Cincinnati. The blackout deadline is 1pm tomorrow. Brandon said they have talked to the league about a possible extension but at this point it is highly unlikely the game will be televised in Western New York. It would be the first blackout in the entire league this season.
Tuesday October 8, 2013
Five More Roster Moves: It's been a busy time at One Bills Drive as the team made five more roster moves on Tuesday. They signed LB Ty Powell and elevated CB Brandon Smith to the active roster from the practice squad. They made room by releasing DB Johnny Adams and LB Marcus Dowtin. They also signed QB Dennis Dixon to that unit. Doug Marrone said yesterday they would add a quarterback and Dixon was in for a visit over the weekend. With the elevation of Smith still leaves one open spot on the practice squad. Dixon was a fifth round pick of the Steelers in 2008 and was with the Eagles in training camp. Smith was an undrafted free agent in 2011 signed by Arizona. He was with Green Bay this summer before joining the Bills. Powell is a rookie who was a 7th round pick of the Seahawks in April. He was with the Giants practice squad when the Bills signed him. He is very versatile with skills at linebacker, defensive end, and safety. Front Office Page.
Dixon To Practice Squad? Jeff Russo reports for WKBW that the Bills will sign Dennis Dixon to the practice squad. Doug Marrone confirmed yesterday that the team will bring in a quarterback to the practice squad and he also confirmed that Dixon was in for a visit over the weekend. He does have practice squad eligibility despite playing in a few games over his career in Pittsburgh.
Players To Test Injuries: Even though today is an off day, a few injured players will test themselves to see if they are ready to practice tomorrow. Ron Brooks is trying to get medically cleared to practice with a good workout today. Stephon Gilmore and Marquise Goodwin are already cleared to practice but will workout to see if they are ready for more action in trying to get them ready to possibly play on Sunday. Stevie Johnson is day to day with his lumbar strain and C.J. Spiller will likely get a couple of days off of practice this week to rest his still ailing ankle. Injury Page.
Monday October 7, 2013
Bills Swap OL: The Bills have claimed guard Antoine McClain off of waivers from the Raiders. To make room for him they have released backup interior lineman Sam Young. McClain was an undrafted free agent signed by the Ravens in 2012. He spent that season on their practice squad. He signed with the Raiders on September 1st after Baltimore released him. He was a three year starter at Clemson. Front Office Page.
Rotation At Left Guard: Doug Marrone said at today's press conference that the left guard spot is back open for competition and Doug Legursky and Colin Brown will rotate against the Bengals. He doesn't know yet how the rotation will work. Legursky was in a battle with Brown for the starting job in camp before he rolled his knee in the preseason finale. He is finally healthy and ready to compete. Brown has struggled mightily at guard not grading out well in all games except the Baltimore game. Depth Chart.
Hopkins To IR: The Bills have placed Dustin Hopkins on injured reserve ending his season before it started. He injured his groin during practice the week before the opener. Dan Carpenter made the move easier since he has hit 11 straight field goals. Doug Marrone said Hopkins just wasn't getting the strength in his leg to hit kickoffs prompting the move. They needed the roster spot to elevate Thaddeus Lewis from the practice squad. Front Office Page.
Lewis To Start Sunday: Doug Marrone was on WGR this morning and said the team will bring up Thaddeus Lewis from the practice squad and have him start this week. He knows the system and has been with them the whole season. He has experience and gives them their best chance to win. They still are looking to bring in another quarterback on the practice squad which likely means they will not sign Pat White. They will play to the strengths of Lewis but they will have their whole playbook at their disposal since he knows the offense. Marrone knows he can run and has a great arm and they have created an opportunity for him to take advantage of. The reason Tuel was kept active over Lewis this year was because they didn't want to expose him to the waiver wire. They were always excited about developing Lewis. Marrone won't look past this week as they are doing everything they can to get the team ready for the Bengals.
Jackson On LCL Injury Timetable: Fred Jackson was also on WGR this morning and spoke about the timetable for return from a LCL sprain. He had the same injury last year and came back after two games at about 80%. He has heard that EJ Manuel's sprain is a bit more severe so he may miss more time but also can probably come back a bit quicker since he is a quarterback and not a running back or receiver.
White Looks To Be The Guy: The Bills are expected to have another quarterback on the roster by today but it won't be Josh Freeman as he signed with the Vikings late last night after the Bills reportedly took a last ditch attempt to sign him. Reports say the Bills guy is Pat White who was in for a visit over the weekend along with Dennis Dixon. White was with the Redskins this summer and actually made the team out of training camp before being released last month. He is a former 2nd round pick of the Dolphins in 2009 and threw five passes in his only NFL season but did not complete a pass playing out of the wildcat.
---
News Archives index
Latest News Section
Archives Library
Back to Bills Daily Homepage