Bills Lose Much More Than A Game In Cleveland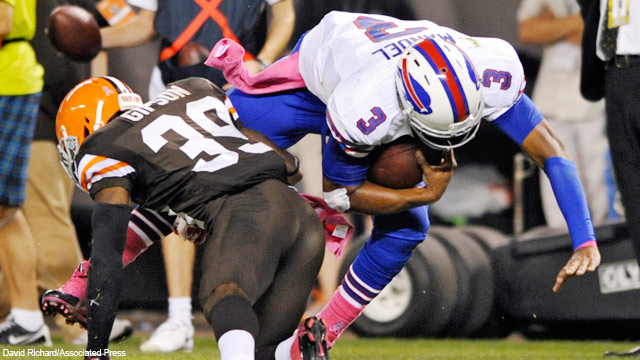 Moorman Back: The Bills now have their punter and they went back in time to get him. The team announced the re-signing of Brian Moorman two days after releasing his replacement from last year Shawn Powell. Moorman is back a year after being let go early last season. A pillar in the community he brings instant leadership to the locker room. The question is, what does he have left in the tank?

Byrd Trade Talks? Adam Schefter reports that the Bills are now interested in trading Jairus Byrd and talks are ongoing. He tweets that the team now realizes it is in their best interest to trade him. Other rumors swirling on twitter this morning, Jason LaCanfora says that Brian Moorman is at One Bills Drive. The Bills still need to sign a punter. The Bills are reportedly one of three people in the running to get Josh Freeman. Dennis Dixon is reportedly visiting One Bills Drive today with Pat White visiting yesterday.

The quickest way to get breaking news from Bills Daily is to

follow us on twitter!
Saturday October 5, 2013
QB Search Underway: The Bills are busy searching for what could be their new temporary starting quarterback. Reports say that Pat White was in for a workout today and the team was impressed. Reports also say that Dennis Dixon will be working out with the team tomorrow. White is a former 2nd round pick of the Dolphins in 2009. He has been out of football for three years but originally made the Redskins out of training camp this year before being cut. Dixon was released in August by the Eagles. He was a fifth round pick of the Steelers and has played in four NFL games. White and Dixon are both mobile quarterbacks.
The quickest way to get breaking news from Bills Daily is to

follow us on twitter!
Friday October 4, 2013
Manuel Out A Few Weeks: EJ Manuel underwent an MRI today and Doug Marrone said he has an LCL sprain that will not require surgery. He will be out a few weeks and the team is currently looking outside the organization to add a quarterback. They won't elevated Thaddeus Lewis from the practice squad. Marrone would not name Jeff Tuel the starter for the next game not ruling out the possibility of starting whoever they sign. There was some positive injury news from the coach saying Jairus Byrd, Ron Brooks, and Stephon Gilmore will return to the lineup against Cincinnati after the mini-bye. Stevie Johnson is better than expected today and has a lumbar strain. He isn't expected to miss any time. Injury Page.
Bills Release Powell: The Bills made a roster move today releasing punter Shawn Powell there is no word yet on who will be brought in to replace him. He has struggled with too many shanked punts the last few weeks. Front Office Page.
Gameday Grades: The offense did some good things on the ground but had no answers when EJ Manuel went down. The defense also had too many lapses too overcome the mounting injury epidemic. Gameday Grades.
Bills Blitz: Jeff Tuel had a pass intercepted by T.J. Ward and returned 44 yards for a game clinching touchdown as the Browns beat the Bills 37-24 in a wild affair in Cleveland. EJ Manuel left the game in the third quarter after taking suffering a sprained knee. He seemed to be moving around pretty good on the sidelines but didn't return. It was a game of tremendous ups and downs. The Bills went ahead 10-0 on the first of two Fred Jackson one yard touchdown plunges. The Browns would score 17 unanswered points before the half was out thanks to a 79 yard punt return for a score by Travis Benjamin. The Bills responded with a 54 yard touchdown run by C.J. Spiller and Jackson's second score to regain the lead. The offense was done from there with Manuel out and the Browns got the final momentum swing and rode it to victory. Bills Blitz.
Manuel, Johnson Hurt: EJ Manuel took a hit to his right knee along the sidelines and did not return. He has a sprained knee according to Doug Marrone. He was jogging on the sidelines and riding the bike before going off to the locker room. He left the stadium with a big brace on his knee but walking ok. Stevie Johnson left the field in a lot of pain with a lower back injury in the first quarter. They tried to massage him on the sideline but he never made it back in the game. X-rays were negative and he will be re-evaluated. T.J. Graham hurt his head in the fourth quarter and left the game but returned in the final minutes. Leodis McKelvin and C.J. Spiller seemed to get through the game ok but they were both limited at times. Jairus Byrd said he was ready to play but it was a coaches decision to have him sit. He should play next week. Injury Page.
Thursday October 3, 2013
Spiller, McKelvin To Play: C.J. Spiller and Leodis McKelvin are active for the Bills tonight. The team decided not to activate practice squad back Ronnie Wingo. They were listed as questionable along with Jairus Byrd who is inactive once again. Also inactive with injuries after being ruled out on Wednesday once again are Marquise Goodwin, Stephon Gilmore, Dustin Hopkins, and Ron Brooks. The healthy inactives are Chris Gragg and Sam Young. Doug Legursky is active in his place for the first time all year.
Kiko Honored: Kiko Alonso has been named the NFL Defensive Rookie of the Month for September. He had an incredible month with four interceptions, a sack, a forced fumble, and a fumble recovery. He capped it off with the two interception effort against Baltimore including the game clinching pick.
Storms Possible: Tonight's game may be the first bad weather game of the season for the Bills. There is a 60% chance of scattered thunderstorms throughout the game tonight. It will be unseasonably warm as the gametime temperature will be around 70° with winds light coming out of the south at 8mph.
Practice Squad Back On Trip: Practice squad players do not attend road games with the team but the Bills brought one of their practice squad players to Cleveland. Rookie RB Ronnie Wingo is with the team in case they need to activate him for depth at the position. The lineup at the team's most loaded position is in flux thanks to injuries to Fred Jackson and C.J. Spiller. Jackson will play but Spiller is a gametime decision. We may know by 4pm if Spiller will be active since that is the deadline to activate Wingo. If they do promote him someone will have to be waived or place on injured reserve to make room for him.
For in game commentary

follow us on twitter!
Wednesday October 2, 2013
Spiller Questionable: The Bills released their official injury report for tomorrow night's game and C.J. Spiller is listed as questionable along with Leodis McKelvin and Jairus Byrd. Spiller was limited during a closed practice today after not practicing yesterday. Fred Jackson and Aaron Williams are listed as probable along with Kraig Urbik, Stevie Johnson, Mario Williams, and Kyle Williams. Stephon Gilmore, Ron Brooks, Dustin Hopkins, and Marquise Goodwin have been ruled out once again. Injury Page.
Browns Preview: This matchup is suddenly interesting and is now worthy of the national stage as the Bills and Browns get set for the Battle of Lake Erie in prime time on Thursday Night Football. Both teams were considered bottom feeders when the season started but they are surprising almost everyone as they both come in at 2-2. The winner will be one of the early season big surprises by being over .500 five games into the season. Game Preview.
Tuesday October 1, 2013
Byrd Full Participant: Doug Marrone updated the media on the injury designations after practice today. Jairus Byrd was a full participant for the first time all year. C.J. Spiller was officially listed as a non participant although he did a few things early in practice. He said he did what was planned of him today and he hopes to do more tomorrow. He still had a noticeable limp. He says if he can go, he will go. It looks to be a gametime decision. The news was better on Fred Jackson who practiced on a limited basis but Marrone seemed more confident that he will be able to go. Dustin Hopkins practiced today but will not be ready to kick this week. Injury Page.
Jackson, Spiller Participate: Fred Jackson and C.J. Spiller both participated in practice today. Jackson seemed to do a bit more than Spiller according to various media tweets. Jackson took part wearing a brace while Spiller was off to the side during RB individual drills and then rode the bike. Aaron Williams seemed limited while Jairus Byrd and Leodis McKelvin worked with the scout team. Williams did some work before going to the side and working with trainers. Brandon Burton, Nickell Robey, and Justin Rogers were taking the reps at corner.
RBs Banged Up: The Bills held a walkthrough yesterday and will be back on the field for a full practice today in preparation for Thursday night's game against Cleveland. Fred Jackson practiced on a limited basis and he expects to play on Thursday night despite having a sprained MCL. C.J. Spiller hopes to play as well but isn't so sure. He says if he is 85 to 90% healthy he will go. The short week is the reason why he is up in the air. Ron Brooks and Stephon Gilmore remain sidelined while several others were limited yesterday including Stevie Johnson, Leodis McKelvin, Aaron Williams, Marquise Goodwin, Dustin Hopkins, Jairus Byrd, and Kraig Urbik. Injury Page.
Not Just Another Game: Many fans probably felt an uneasy, familiar feeling in the second half against the Ravens. It looked like it was going to be another valant effort that ends in heartbreak. Tony Bogyo talks about how this wasn't just another game and the new look Bills did something different, they won. Complete Story.
Monday September 30, 2013
Aaron Has Back Contusion: The second injury suffered by Aaron Williams is a back contusion and he is expected to be fine. C.J. Spiller told the media after getting x-rays that his ankle isn't broken and it is just sore. He expects to play on Thursday night. Injury Page.
---
News Archives index
Latest News Section
Archives Library
Back to Bills Daily Homepage