Bills Fumble Away Game In Toronto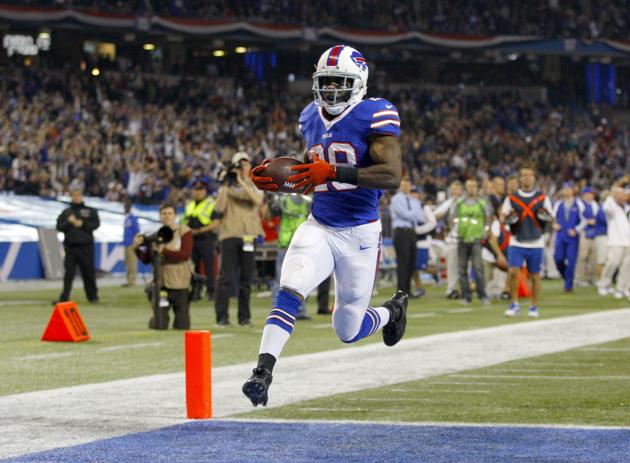 Gameday Grades: The Bills showed once again that they just don't know how to win. It was proven again with offensive miscues and defensive mistakes as well. It all hurts the final breakdown of player grades. Gameday Grades.

Bills Blitz: The Bills had many chances to put this game away but fell to the Falcons 34-31 when Matt Bryant hit the game winning field goal in overtime. The Bills held a touchdown lead when an interference penalty in the end zone on Nickell Robey on a 3rd and 16 play setup the Falcons for the tying score. The Bills got in position to win it but Stevie Johnson fumbled the ball away after making a third down catch that would have setup a potential winning field goal in regulation. In overtime the Bills got the ball first but Scott Chandler fumbled the ball away after making a downfield catch and the Falcons drove down for the winning kick. The Bills opened up a 14-0 lead in the first quarter on touchdown runs by EJ Manuel and Fred Jackson. The Falcons opened up a 24-17 lead in the third quarter but a fumble recovery by Kiko Alonso led to Jackson's second touchdown of the day to tie it on a 21 yard catch and run. C.J. Spiller gave the Bills the lead on a 36 yard touchdown run as he had a season high 149 yards on 15 carries. Bills Blitz.

Bills Come Out Healthy: C.J. Spiller, Stephon Gilmore, and EJ Manuel all missed plays after getting banged up but all of them returned. Spiller seemed to aggravate his ankle injury. Gilmore seemed to have a cramp and Manuel got the wind knocked out of him after a tough hit that a roughing penalty was called on. Injury Page.

Williams To Play: Kyle Williams will play in today's game against Atlanta. He was the only player up in the air because of a back problem that creeped up on Friday. For the first time all year every scratch is a healthy one, they are: Jeff Tuel, Antoine McClain, Ronnie Wingo, Ty Powell, Chris Gragg, J.J. Unga, and Brandon Smith. Gragg is a bit of a surprise since they have got him a bit more involved in recent weeks but with everyone healthy there were hard choices for the inactive list.


Friday November 29, 2013


Kyle Williams Questionable: You knew it was too good to be true that the Bills would enter Sunday's game totally healthy for the first time all year. Kyle Williams woke up today and his back locked up on him as he got out of bed. He did not practice today and is listed as questionable for Sunday's game. This is new territory for him as he never had back spasms before. He will get treatment today and tomorrow in hopes of getting ready to play. Everyone else is healthy with Stevie Johnson, Robert Woods, and Nickell Robey on the injury report but they practiced fully all week and are all listed as probable. Injury Page.


Wednesday November 27, 2013


Robey On Report: All 53 men on the roster practiced fully but three were listed on the injury report including a new name. Nickell Robey tweaked an ankle in practice last week and was limited Monday and Tuesday before practicing fully on Wednesday. Ron Brooks had taken most first team reps on Monday and Tuesday. Stevie Johnson and Robert Woods practiced fully and are listed as well. The Falcons are pretty healthy now as well only six players on the report as limited in practice. Injury Page.

Falcons Game Preview: The Bills are fresh off the bye and healthy as they head to Toronto to take on the disappointing Atlanta Falcons. Last year's powerhouse team is now the first team to be eliminated from the playoff race. The Falcons have lost five in a row and may have one good game left in them. Will it be this week? Game Preview.


Tuesday November 26, 2013


Entire Roster Practices: The Bills had a rare Tuesday practice session today and all 53 members of the squad participated. NFL teams always have Tuesday off during the season when playing on Sunday. The Bills switched their day off to Thursday so that they can celebrate Thanksgiving. The Bills have no players hurt at this point heading into Sunday's game in Toronto. Injury Page.


Monday November 25, 2013


Players Back: The players hit the practice field today after having four days off during the bye. Stevie Johnson, Robert Woods, and Jonathan Meeks all returned to practice. Meeks is on the injured reserve designated to return list and is eligible to play in two weeks. Ronnie Wingo was the only player not at practice as he had travel delays getting back into town. The team will practice tomorrow and move their usual day off to Thursday so the players and coaches can celebrate Thanksgiving with their families. Injury Page.

Practice Squad Move: The Bills continue to tinker with their practice squad. Today they swapped offensive linemen releasing Bryant Browning and adding Manase Foketi. He was signed by the Broncos as an undrafted free agent after April's draft and was released prior to the start of the season. Front Office Page.

Bon Jovi Says No: The publicist for Jon Bon Jovi said the player is not looking to buy the Bills but did say that Bon Jovi does want to own an NFL team someday. He said the rock start has too much respect for Ralph Wilson to discuss the future sale of his team.



---
News Archives index
Latest News Section
Archives Library
Back to Bills Daily Homepage