Bills Wheel And Deal During Draft
Our Draft Grade: We have put our grade up on our draft homepage. Of course, it is a bit futile to grade a draft right after it happens and even tougher to grade the Bills draft because of all their bold moves and players that they are gambling on. Check it out and tweet me what you think. Draft Grade.
Brandon On Draft: The Bills held their usual wrap up press conference yesterday after they finished drafting seven new players. Russ Brandon got emotional talking about all the bold moves saying Ralph Wilson would have loved it. He called the aggressive nature was a tribute to him. The 5 trades in the three days to change the complexion of the roster moving forward. They feel they were prepared for the draft and have the right people in place to execute it. Russ Brandon said where they have been in the past is totally unacceptable and the only goal is to win. They aren't going to sit on their hands when it comes to trying to put a winning product on the field. The cohesiveness of the organization has never been at a higher standard than it is right now and Brandon is really honored to be a part of it.
Whaley On Draft: Doug Whaley spoke about his philosophy behind the deal for Bryce Brown. From day one they decided they would investigate any measure that will get them where they want to go. They feel he is a proven, productive runner that makes the team better this year and going forward. He will help the overall competition of the team and it was in the works for 18 months. Whaley believes the addition of Sammy Watkins will help the quarterback and offensive coordinator and give defenses headaches in attacking them. The GM also feels the addition of Cyrus Kouandjio gives them bookend tackles for a long time. He anticipated doing everything in his power to make the team a playoff team but didn't anticipate making that many moves. He feels it will be a year to year basis but he's not afraid to be aggressive and bold. There will be times that he won't have to do that and he likes keeping all their options open. On Marcell Dareus he knows young adults make mistakes but he takes all personnel situations on a case by case basis. He is more lenient if players are remorseful and get it. On Seantrel Henderson they told him he gets one shot. He's a talented football player who has been dealing with demons. They hope the demons are out of his life so they feel why not give the guy a chance. On the QB position, he does not anticipate on bringing in another arm since they are very happy with the guys they have on campus. He's a competitor and any move that brings a winner to the region and fans is exciting. For the first time making the final call it is very exciting for him. He plans for more big things going forward.
Marrone On Draft: Doug Marrone likes Sammy Watkins' versatility and play making ability. The coach said they have several options to play the slot and replace Stevie Johnson. They feel Watkins can along with Robert Woods, Marquise Goodwin, and Chris Hogan can play there and Marrone feels really good about how Hogan has looked there. Bringing in Watkins was not a knock on Johnson. The addition made it crowded and the decision was made for the best interest of the ball club and he wishes Stevie well. He feels they need to get big offensive linemen because the division especially has great defensive linemen and they need to matchup with the players inside. He needs to focus on doing things better to get them over the hump. He is constantly working on getting the winning attitude and they have made some progress on that but it will take the collective group to get it to happen. The coach hasn't spoken to Marcell Dareus yet but plans to on Monday. Every situation is different and character is important but people do make mistakes. They need to educate them better but he does give them a chance and it all depends on the situation. On Corey Graham they see him mostly as a corner but he could play some safety. On the RB situation, Marrone feels with C.J. Spiller and Fred Jackson on the final year of his contract they were able to get a young player without a lot of miles on him. Bryce Brown gives them insurance if somebody would go down. On Cyrus Kouandjio, he feels he has first round talent and he looks forward to working with him to see how he transitions from college to the pros. On Cyril Richardson, he liked what he saw on tape but his stock game down with his performance at the Senior Bowl. They had very good grades on him and he was comfortable with the pick. He is a big inside player with a lot of power.
Bills Add Depth In 7th Round: The Bills had two picks in the seventh round of the draft and helped fill some holes on the depth chart. They took OLB Randell Johnson and followed that up by taking troubled OT Seantrel Henderson. Johnson is a solid development project but is better suited for a 3-4 defense. Henderson was a top recruit out of high school and has some top prospect skills. His downfall is two suspensions for drug use in college. He then failed a drug test at the combine. He has great size and power and can be a solid pro if he can get his act together. Draft Capsule.
Saturday May 10, 2014
Richardson On WGR: Cyril Richardson spoke to WGR today and said he is ready to work and feels he will be a great fit in Buffalo. And feels he will learn from Eric Wood who has a great motor.
Richardson Taken In 5th Round: The Bills took their second offensive lineman of the draft with the Rams fifth round pick when they took big guard Cyril Richardson. He was the Big 12 OL of the year the past two years. Jim Monos called him a big mauler with power and strength and played against tough competition with a lot of experience. He was the highest guy left on the board he's a good game player although he had poor practices at the Senior Bowl that may have dropped him. They feel he can compete and challenge to start at some point. They want to keep going big and they got that with Richardson.
Monos On Brown: Jim Monos spoke on Bryce Brown and called him an explosive playmaker that has good size and speed. Monos admitted they talked about dealing for him before but couldn't get it done until today. His issue of ball security was in his rookie year but he was much better last year. They are very happy to get him. Running back wasn't a priority heading into the draft. They feel they will get some special teams out of Brown and his hands are good at catching passes out of the backfield.
Bills Trade 5th Rounder: The Bills traded their fifth round pick (#149 overall) to Tampa Bay for their 7th round pick in this year's draft (#221) and their fifth round pick next year. So the Bills recoup one of the picks they lost next year and still have a fifth rounder in their 2nd round trade down with the Rams. The 7th rounder gives them a higher pick back after they swapped 7th rounders in the Bryce Brown trade.
Brown On WGR: Bryce Brown appeared on WGR and said he will come and learn everything as quickly as he can and contribute anyway he can. He was surprised to be traded today but is looking forward to the new challenge ahead. He plays with a lot of heart and passion and will give his very best every time. He feels speed is a big part of his game. Depth Chart
Bills Trade For RB: The wheeling and dealing continues for Doug Whaley. The Bills have sent a conditional 4th round pick to the Eagles for RB Bryce Brown and the two teams swapped seventh round picks in this year's draft. The Bills dropped 13 spots in the final round this year. Next year's pick is the one they got in the Stevie Johnson trade unless it becomes a third round pick then they will give the Eagles a 3rd or 4th rounder in 2016 based on Brown's incentives. Brown is entering his third year and was drafted in the 7th round by the Eagles in 2012. He had 314 yards on 75 carries last year and has 878 career yards and six touchdowns with a 4.6 career yard per carry average. He enters into a crowded backfield that has C.J. Spiller and Fred Jackson entering their contract years. Brown has two years left on his rookie deal. If they give the Eagles next year's 4th that could be similar to the pick they got for Stevie Johnson. Front Office Page.
Cockrell On WGR: Russ Cockrell was on WGR shortly after being drafted and he called it an honor to be drafted by the organization and he is so happy to be a Bill. He felt he made a great connection during his pre draft visit and he's glad to be a part of Buffalo. He feels he has proven he can play over and over again and his hands which are considered small will not be a drawback. He feels he can play outside, the nickel, and safety as well. He also played on every special teams unit at Duke. If that's his ticket to get on the field at first he will work hard at it and then work on getting on the field on defense. Draft Capsule.
Bills Add Corner In 4th: The Bills added to their depth at cornerback by selecting Duke's Russ Cockrell with their fourth round pick. He is the fourth straight player they drafted that came in for a pre draft visit. He has exception instincts and awareness and he could be ready to contribute pretty fast. He has lean build and not good hands. Jim Monos said they are picking teams from a winning program and Duke is now a winning program. Monos loves Cockrell's size as he is 6' 190 lbs. He feels he has good speed and good ball skills. Thad Lewis played with him during Cockrell's freshman year and was picked off by him. Monos calls him off the charts smart. He has the feet to play off his man and can play outside. Draft Page.
Friday May 9, 2014
Brown On WGR: Preston Brown talked to WGR and said it was a great experience coming up for his pre draft visit and he is just excited to get up here and play. He feels he will bring a physical attitude and is ready to do special teams to contribute. He feels he can play any linebacker position. Draft Capsule.
Bills Take LB In Round 3: The Bills stood put in the third round and took middle linebacker Preston Brown from Louisville with the 73rd pick in the draft. Brown will give the Bills depth behind Brandon Spikes. Bills Director of Player Personnel Jim Monos said he fit a lot of things they were looking for including size and how hard in plays. He can go side to side and is better against the run at this time. He runs well and has good special teams ability. They addressed the linebacker depth in free agency but still wanted to add to the position. He has good size and he is the third straight pick that came in for a pre draft visit. Monos said that is just a coincidence. They see him as a mike linebacker right now but feel his versatile enough to play outside. Draft Page.
Kouandjio On WGR: Cyrus Kouandjio spoke to WGR and said he's excited to prove people wrong and said he's 100% recovered from his knee injury despite some saying he wouldn't come all the way back. He's glad to be with the Bills and felt he was picked at the right time by the right team. Draft Capsule.
Bills Trade Down: The Bills took the right tackle they were looking for by selecting Cyrus Kouandjio. He has a lot of tools but has an injury history. Doug Whaley said they had him projected as a first round pick so they were ecstatic he was there. They were comfortable with what the medical staff came back with and they don't have any worries about his long term health. He had a torn ACL and MCL in 2011 and was red flagged by certain teams. He is a prototypical right tackle and they are comfortable he will be able to protect the right side. He is aggressive and tough and really good in run blocking but also uses his athleticism in pass protection. Whaley feels Kouandjio should help very early. The Bills moved down three spots in the 2nd round by swapping picks with the Rams. The Bills gained the Rams 5th round pick, the 153rd overall. That gives the Bills the pick back lost in the trade of Mike Williams. Draft Page.
Whaley Statement On Trade: Doug Whaley released a statement when the team announced the trade of Stevie Johnson. The general manager said, "Stevie was a great contributor during his career with our organization. Today's decision was not an easy one to make, especially involving a player like Stevie who leaves everything he has on the field and is an emotional leader in our locker room. All of the decisions we make are done so in the best interest of our team. We wish him the best of luck in San Francisco and throughout the rest of his NFL career. We also want to thank Stevie and his family for their commitment to the Buffalo Bills and the community over the last six years."
Johnson Traded: The Bills have traded Stevie Johnson to the San Francisco 49ers for a conditional fourth round draft pick in the 2015 draft. It can become a third rounder. That gives the team back the mid round pick they gave up yesterday to get Sammy Watkins. The move was expected to break a log jam at receiver on the depth chart. They needed to thin the heard at the position and Johnson's high cap number the next two years made him the likely choice to move on. It's a good place for Stevie since he is going back home to the bay area. Front Office Page.
Watkins Press Conference: Sammy Watkins was officially introduced at a press conference this afternoon and called being drafted the best moment of his life. He said he needs to work hard, get into the playbook, eat right, and get with EJ Manuel. He will be a great citizen and is 100% committed to the game and expects to be perfectly fine despite the pressure of the team trading up for him. He thanked the organization for their belief in him to the point of moving up. He thought it was a blessing in Clemson that they find different ways to get him the ball as he used his speed. His mentality is to catch every ball that touches his hands and to score everytime, he takes pride in scoring and will sacrifice anything he needs to so he is successful. He said he can play x,y, or z and return kicks and do whatever is needed to win. He can't wait for OTAs to get started. He wants to stay humble and doesn't like talking about his game and accomplishments. To be a leader you need to be a great citizen and he feels God put him on the earth to lead. He learned from all his mistakes including his incident two years ago when he had a marijuana arrest. He said if something happens one time it won't happen again.
Vote Of Confidence For EJ: Doug Whaley made it clear entering the draft that the team was committed to EJ Manuel for the 2014 seasons. His actions in round 1 mean they are committed to him next year as well. The move up the board to give Manuel a huge weapon in Sammy Watkins costs them their top pick next year. That means despite a good class being predicted the Bills won't be able to get a top college quarterback if Manuel falters this year or can't stay healthy. That is the biggest part of this gamble. The buzz is strong on Watkins who became only the 2nd player the team has ever traded up for in round 1. He adds buzz but the situation is the same they will go as far as EJ takes them.
Thursday May 8, 2014
Watkins On WGR: Sammy Watkins appeared on WGR shortly after being picked by the Bills and said he felt the team was very interested in him when he came up for his pre draft visit. Doug Whaley told him then they would go up and get him. He grew up being a fan of the team and loved the colors of the team growing up. He played Madden with them and now he's playing for them. He looks forward to getting to work with his new team. He can't wait to get up to Buffalo and get to work. He says he's not worried about the cold weather and he will be prepared for it. He knows EJ Manuel can play ball and looks forward to playing with him. Draft Capsule.
Whaley On Trade: It was a high cost but Doug Whaley thought it was worth it. He called Sammy Watkins a dynamic playmaker who will help the team get better. He thanked Russ Brandon for allowing them to make the deal. It was a risk that they were willing to take to make the playoffs in 2014. Talks intensified during the draft and the deal was consummated with 5 minutes left on the clock. It was very quiet the last 48 hours but talks between the two teams happened during the week. They would expect next year's first round pick to be a lower pick. This move was to help give EJ Manuel every option he can have to help him. He feels Stevie Johnson is part of that arsenal. There is speculation he will be traded to re-coup some picks because of a very crowded position. There were other things out there but they thought this was the best move for both teams. He attacks the ball and is explosive. Russ Brandon said the ownership change had no effect on why they did the trade. It is business as usual and the trade was a football decision. Whaley feels they were willing to make the deal and give up the picks to make the playoff this year. Watkins was at the top of their draft board. When Blake Bortles went at number three the Bills worked hard to get the deal done.
Bills Trade Up For Watkins: The Bills wanted Sammy Watkins and went up and got him without giving up another pick in this year's draft. They moved up from the 9th spot to the 4th spot and gave Cleveland their first and fourth round picks in next year's draft. The only pick they lost this year was their first rounder. Watkins grew up a Bills fan and is added to a crowded receiving corps. Draft Page.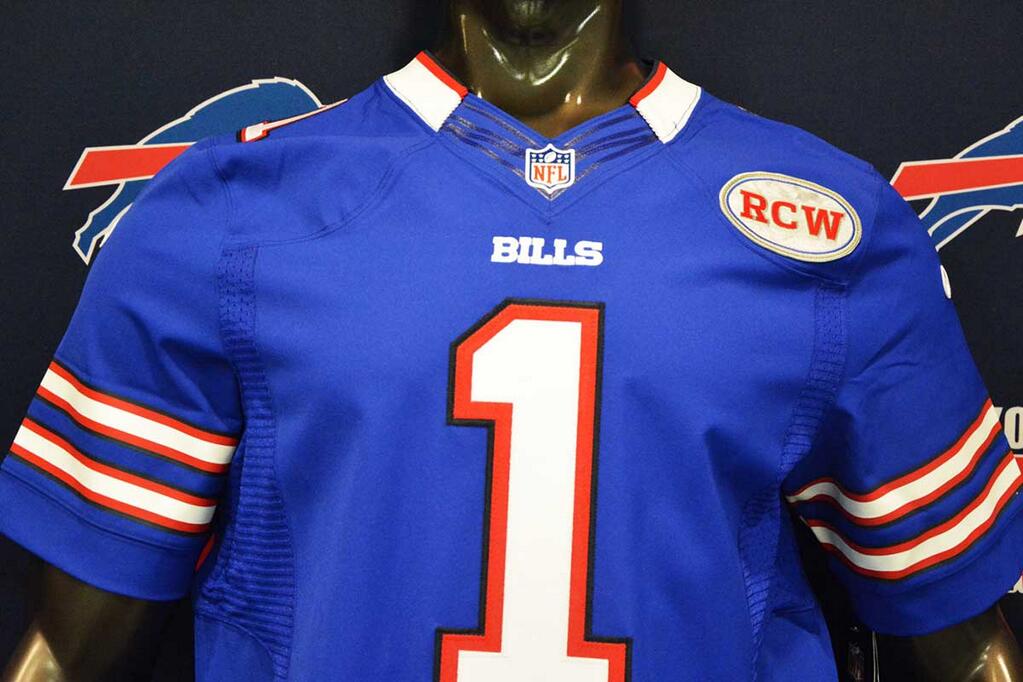 Wilson Honored: The Bills announced they will honor Ralph Wilson with a patch on the jersey for the 2014 season. They announced it today since the patch will debut on the ceremonial jersey for the top draft pick tonight. It is a white patch with red letters that say RCW.

Draft Day Is Here! It is draft time and Bills Daily has you covered throughout the three day festivities! This latest news page will have all the press conference and conference call snippets plus other news from the draft including quick bios on all the picks. Our draft homepage is your source for the team's draft board with links to scouting reports. Our homepage will have a quick look at who the Bills selected. Our draft capsules will be up shortly after each pick and our grade will be out by Monday along with my full review article. Right now check out our 1st round, Bills seven round, and our preview article. All are linked from our draft page and homepage! We will also constantly update our depth chart as well. Draft Page.

Follow us on twitter! for constant commentary and quick updates throughout the three days of the draft!
Wednesday May 7, 2014
Goodell On Bills: Roger Goodell spoke about the Bills in his pre draft luncheon. Goodell said he has had a lot of discussions with potential owners and public officials and said in a tweet discussion yesterday that they are committed to the Bills continued success in Western New York. He did tell reporters today that a new stadium is very important to the team staying in Western New York long term. He called the current 10 year lease a short term solution. Erie County Executive Mark Poloncarz released a statement after hearing Goodell's comments, "I, like Governor Andrew Cuomo, am committed to keeping the Bills in Buffalo for generations to come regardless of who the new owner may be. As evidence of this commitment, consultants have been retained on behalf of the state and county to prepare options for the consideration of prospective owners that will include (1) a new stadium to be constructed at one or more possible locations and (2) the further renovation or retrofit of Ralph Wilson Stadium beyond the renovations currently being undertaken. At this time, all options should be part of the discussion and nothing should be disregarded. We look forward to commencing these discussions with an owner who is likewise committed to keeping the team here in its first, and what should be its only, home territory of Buffalo and Erie County."
Whaley's Statement: Doug Whaley released a statement regarding the arrest of Marcell Dareus, "we are, obviously, disappointed with this latest development involving Marcell Dareus. We will be in contact with the league regarding the situation and continue to offer support and assistance to Marcell."
The Latest On Team's Future: Over the past few days there have been several developments regarding the future of the Bills. It is now known that Mary Wilson, Jeff Littman, Mary Owen, and attorney Eugene Driker are the four people who will decide the next owner of the Bills. The state has hired California-based architectural and design firm AECOM to look for 3 or 4 sites for a new stadium in the Buffalo and Niagara Falls area. The firm will also evaluate the feasibility of retrofitting Ralph Wilson Stadium. AECOM will work with attorney Irwin Raij who was hired by Governor Cuomo to help fast track the stadium plans. Senator Chuck Schumer said the hope is to have a new stadium site identified before a new owner is picked. The firm has until July 11th to produce a feasibility study. Jim Kelly has spoken several times with Donald Trump and is also speaking with a few other potential ownership groups. Thurman Thomas said he has done something to assure the team will stay in Western New York.
Dareus Arrested: The troubles continue for Marcell Dareus, the Bills defensive tackle was arrested on Monday night in his home state of Alabama for felony possession of a controlled substance and drug paraphernalia. He reportedly was caught with synthetic marijuana. He was stopped for speeding that led to the arrest, he was in custody for less than an hour and then released. This is the latest trouble for a player who was suspended by Doug Marrone for a total of one and a half games last year because he was late to meetings. A week ago the Bills picked up the fifth year option on his contract that will pay him over $8 Million in the 2015 season. It is only guaranteed against injury. Bills spokesman Scott Berchtold released this statement, "All we know right now is what we have seen in media reports and we will continue to look into this."
Tuesday May 6, 2014
The Draft Is Almost Here! It seems like the hype for this year's draft will never end. The fact that it is two weeks later than usual doesn't help. Tony Bogyo breaks down what he thinks the Bills will do in our official draft preview article. Complete Story.
Monday May 5, 2014
TE, OT Lead The Charge: The Bills filled a lot of holes during free agency but still have a few that need to be taken care of in the draft. We have released our Bills seven round mock draft. We have the Bills take Eric Ebron in the first round and filling their right tackle need in round two. This mock is separate from our first round mock where we had the Bills trading up. There were no trades factored in when prediciting who the Bills will pick in each round. Bills Seven Round Mock.
---
News Archives index
Latest News Section
Archives Library
Back to Bills Daily Homepage