Bills Lose Heartbreaker In The Opener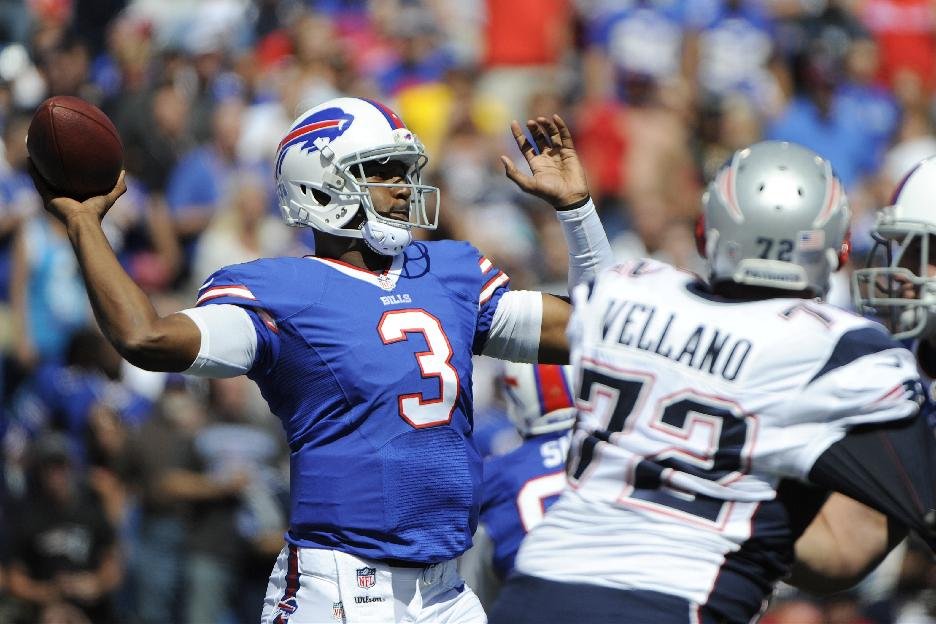 Gameday Grades: Despite the heartbreaking loss the Bills did a lot to leave good feelings especially at QB with the demeanor showed by EJ Manuel there was some good and some bad and it is reflected in our player by player look at the loss. Gameday Grades.

Bills Lose Heartbreaker 23-21: Stephen Gostkowski hit a :35 yard field goal with :05 left in the game to allow the Patriots to escape Orchard Park with a 23-21 victory over the Bills. EJ Manuel threw two touchdown passes to Robert Woods and Stevie Johnson as the Bills took the lead in the third quarter and held it to the final seconds. Da'Norris Searcy returned a fumble 74 yards for the Bills first touchdown to cut in to an early 10-0 Patriots lead. Justin Rogers had a late first half interception that led to the Woods' touchdown two plays later to make it 17-14 at halftime in favor of New England. The Patriots would get no second half touchdowns but two fourth quarter field goals by Gostkowski was the difference. Tom Brady turned fumbles from C.J. Spiller and Marquise Goodwin into touchdown passes to Julian Edelman in the first half. Bills Blitz.

Injury Update: Marquise Goodwin went off to the locker room before halftime and did not return with a hand injury. That was the most serious injury of the game. Da'Norris Searcy cramped up but was riding the bike during the second half and should be fine. Ron Brooks hurt his foot but was ok. Injury Page.

Early Inactives: As expected Jairus Byrd will not play today against New England. He was listed as doubtful and is inactive. Also inactive because of injuries are Dustin Hopkins, Doug Legursky, and Stephon Gilmore. They were all ruled out early in the week. The healthy scratches are Corbin Bryant, Jay Ross, and Chris Gragg.

Beautiful Weather For Opener: The weather for the opener at Ralph Wilson Stadium looks great with a nip of fall in the air. The game today will be played under sunny skies with temperatures in the mid 60s. Winds may be a bit of an issue as they will come out of the Northeast at 13mph. On the field, the Patriots have already ruled out TE Rob Gronkowski, RB Brandon Bolden, WR Aaron Dobson and OL Will Svitek. The one player we are waiting on to hear about for the Bills is Jairus Byrd who is listed as doubtful.

For commentary throughout the game

follow us on twitter!
Friday September 6, 2013
Byrd Doubtful For Game: The Bills practiced outside in the stadium today as they had their last full practice before Sunday's game against New England. They will have a walkthrough tomorrow. The official injury report was released today and Jairus Byrd is listed as doubtful. He was limited in practice once again today. Stephon Gilmore, Doug Legursky, and Dustin Hopkins have been ruled out while EJ Manuel is listed as probable and will start. Injury Page.
Thursday September 5, 2013
Byrd Update: Jairus Byrd was limited in practice again today and revealed that he has plantar fasciitis in both feet. He is listed as day to day and has yet to be ruled out of the opener. Byrd would not comment on rumors in the Buffalo News that he wants to be traded. His agent also would not comment either saying it is just a rumor. Other reports this afternoon said that it is highly unlikely it will happen before the trading deadline since his value is too low now dealing with his foot issues. There were no changes to the injury report from either team today. Injury Page.
Pats Preview: The Bills couldn't ask for a tougher opening day matchup than the dreaded New England Patriots. The good news is that Bill Belichick doesn't know what to prepare for as the Bills have been completely overhauled with a new coach, new coordinators, new offense, new defense, and new QB. The Patriots are also going to be without Western New York native Rob Gronkowski. Despite all that a victory will be very tough to come by thanks to Tom Brady going against a very weak secondary. Check out the whole preview on our brand new 2013 gameday homepage. Game Preview.
Byrd Wants A Trade? The uneasy relationship between the Bills and Jairus Byrd continues to get worse. Byrd currently is barely practicing with plantar fascitis and came back to the team very unhappy with the business side of football that brought him back to the Bills under the franchise tag. Now a report from the Buffalo News says his agent is trying to orchestrate a trade before the October 29th trade deadline. The News report cites an excecutive from another NFL club and another agent as sources that Byrd wants out of Buffalo this year. A trade is complicated by the fact that Byrd would need a long term deal and the Bills would need appropriate compensation not to mention a healthy foot would also help. There is some speculation that the Byrd would not rush back into the lineup because he is unhappy.
Excitement About New Season: The new NFL season is here and there is a lot of excitement as the Bills begin their new journey with a new coach, a rookie quarterback, new GM, and new man in charge. A new season also means the return of our columnist Tony Bogyo who talks about his excitement about another season but he is being more cautious than optimistic about the coming year. Complete Story.
Wednesday September 4, 2013
Manuel At 110 Percent: Doug Marrone pronounced EJ Manuel at 110 percent when he met with the media after practice today. He said Manuel is actually faster with the time off he has had. He also feels he was taught well during the injury as he sat with Nathaniel Hackett in the booth during the last two preseason games. The coach said he didn't win the job by default, he won it with his play. Manuel said he feels ready and may even lose the knee brace for the game. He said you can't think about the injury and he has no hesitation. He doesn't feel like he's going against Tom Brady since he's playing against the New England defense. The QB said he spoke to RGIII and Russell Wilson about succeeding as a rookie in the NFL.
Hopkins Out: Coach Marrone said that Dustin Hopkins did not practice today and won't play against New England with a right groin injury. Dan Carpenter will handle the kicking duties in his place. Jairus Byrd took part in limited drills basically running with the scout team. It doesn't look good on his availability for Sunday. Jim Leonhard got a lot of reps in his place in his first practice with the team and seems like he will be part of the gameplan on Sunday. According to the media that saw the beginning of practice he lined up back with Aaron Williams a lot and Da'Norris Searcy would line up closer to the line in a three safety set. If they plan on doing this it may be the reason why they are carrying six safeties. Alex Carrington and Erik Pears were back practicing as expected after resting sore ankles on Monday. Injury Report.
Manuel Named The Starter: The Bills announced that EJ Manuel will be the starting quarterback for the season opener. Doug Marrone made the announcement in a team meeting this morning and the news was released to the public shortly afterwards. He had said that if Manuel was practicing fully by today he will start. He practiced fully on Monday so the move is not a surprise. They had put him through a battery of tests for his mobility and he has no issues or swelling which made the decision easy. Peter Schrager of FOXSports.com first reported it last night. Today is the first media day of the year as the head coaches and key players meet with the media in both cities. The first injury report will also be released later today.
The quickest way to get breaking news from Bills Daily is to

follow us on twitter!
Tuesday September 3, 2013
Bills Sign Carpenter: The Bills officially signed kicker Dan Carpenter today. There is no word yet on the seriousness of the injury suffered in practice by Dustin Hopkins. Doug Marrone should update the media on his groin injury tomorrow. Carpenter is a veteran kicker who has good accuracy with an 82% career field goal percentage. Depth Chart.
Monday September 2, 2013
Bills Reportedly Signing Kicker: Adam Schefter is reporting that the Bills are expect to sign veteran kicker Dan Carpenter. Dustin Hopkins, who beat out Rian Lindell for the kicking job, reportedly pulled a groin in practice today. Carpenter was a solid kicker in his time down in Miami and brings a veteran presence back to the team. If the groin injury is minor there is a chance the team carries two kickers for now since they do have the open roster spot.
Manuel Not Slowing Down: EJ Manuel took part in team drills and seems on track to play on Sunday as Doug Marrone said he doesn't seem to be slowing down. Mentally they feel good about where he is, it is physically that they are looking at. He is splitting first team reps with Jeff Tuel and it's not an issue since they are doubling up on reps. Doug Marrone said it was a full practice for Manuel. A final decision will be made on Wednesday on who will start but barring a setback it appears he's on track to start.
Bills Sign Leonhard: The Bills welcomed back a former undrafted free agent that first joined the team in 2005. They have signed safety Jim Leonhard who played under Mike Pettine's system for three years with the Jets and a year in Baltimore. Last year he played for the Broncos and was with the Saints this summer before being released. He gives the team insurance in case Jairus Byrd is not ready to go which is looking more likely. He is battling plantar fascitis and barely took part in drills today. Alex Carrington and Erik Pears also sat today to rest sore ankles but both should be back on the field on Wednesday when the team returns to practice. The team still has one open roster spot. Injury Page.
Captains Named: The Bills have announced that Fred Jackson, Kyle Williams, and Eric Wood have been named captains for the 2013 season. There was no special teams captain named this year. In the past few years there was six captains, two for each unit.
Three Added To Practice Squad: The Bills rounded out their practice squad by adding RB Johnny Wingo, OT Edawn Coughman, and CB Johnny Adams to the group. The eight man squad only has three players that were cut from the team and five from outside the organization. The team still has two open spots on the 53 man roster which is a bit strange considering they start thir regular season routine today. They will have a full practice followed by their usual Tuesday off. Practice Squad.
---
News Archives index
Latest News Section
Archives Library
Back to Bills Daily Homepage