Rookies Hit The Field In Minicamp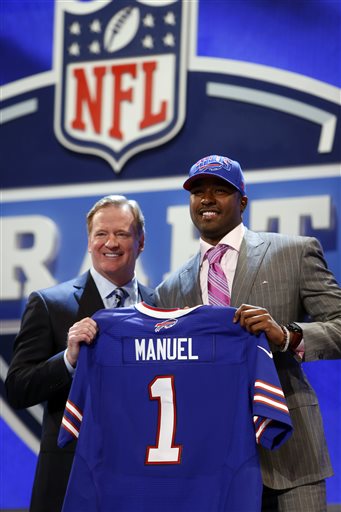 Rookies Learning In Classroom: The rookies reported to their first day of the rookie minicamp yesterday at 6am. They spent several hours in the classroom learning the playbook. They had been given their playbooks on ipads and have been studying it but the coaches really began teaching it yesterday. They finally got on the field later than expected yesterday afternoon. Doug Marrone moved around from the different position groups saying he spent a bit of extra time looking at the group of young wide receivers the team has. The coach was pleased with how both rookie quarterbacks looked. EJ Manuel looked the part of an NFL quarterback and they took extra time working on his footwork.
Friday May 10, 2013


Five Picks Now Signed: The Bills officially announced the signing of Duke Williams after he tweeted a picture of him signing his contract yesterday. The team also announced the signing of Dustin Hopkins, Marquise Goodwin, and Jonathan Meeks. They previously announced the signing of Chris Gragg. That leaves just the top three picks unsigned as EJ Manuel and second rounders Robert Woods and Kiko Alonso remain unsigned. They are all taking part in the rookie minicamp that got underway today.

Bills Sign Gragg, Williams: The Bills got an early start on signing their draft choices as the rookies gather for their first minicamp this weekend. The team announced they ahve signed seven round draft pick TE Chris Gragg, terms of the deal were not disclosed. 4th round pick Duke Williams tweeted he has also signed, the team has not announced that deal but he tweeted a picture of himself signing the contract. Gragg will have a chance to get a lot of playing time with Scott Chandler coming off a torn ACL. Williams will battle for playing time at both safety spots and maybe will see some time at corner in the nickel and dime defenses. Front Office Page.

Byrd, Bills $2 Million Apart? Bills color analyst Mark Kelso was on the John Murphy Show on WGR last night and he indicated that the Bills and Jairus Byrd are $2 Million apart on a new long term contract. Kelso said he has talked to Byrd and would like him to get in camp and not quibble over $2 Million saying there isn't much of a difference between $7 and $9 Million. This report is obviously not anything concrete. If Byrd signs his franchise tage he would earn $6.916 Million this year. The two sides have until July 15th to work out a long term deal under the terms of the CBA.


Thursday May 9, 2013


Rookie Minicamp This Weekend:EJ Manuel hits the field for his first minicamp along with the rest of the rookie class this weekend. The team's rookie mincamp takes place Friday through Sunday that is not open to the public but the media will be able to take in the Friday session. The offseason conditioning program is wrapping up and the team begins three weeks of organized team activities next week that are voluntary. There will be 13 days of OTAs over the three week span.


Wednesday May 8, 2013


Offseason Program Continues: Not much news coming out of One Bills Drive these days as the teams regroup after the draft and undrafted free agent signings. The offseason conditioning program continues this week. Next week starts the organized team activities with a rookie minicamp this weekend.

The quickest way to get breaking news from Bills Daily is to

follow us on twitter!
Monday April 29, 2013
Bills Release 4: To get the roster under the 90 man limit the Bills have released four players. Gone are QB Aaron Corp, T Adam Grant, K Chris Koepplin and TE Joe Sawyer. With the free agent signing of Jeff Tuel the Bills had five quarterbacks which is one more than you need to go to camp with. Front Office Page.
Signings Official: The Bills made it official today, announcing the signing of 16 undrafted free agents. This group is headlined by WR Da'Rick Rogers who was considered among the top players left on the market after the draft. He has high round talent but has had many off the field issues that caused him to transfer from Tennessee to Tennessee Tech. Washington State QB Jeff Tuel is an extra arm for camp and he will compete for the third string job. Undrafted Player Signings.
Bills, Colts Swap LBs: In a very rare NFL player for player trade, the Bills have sent LB Kelvin Sheppard to Indianapolis for LB Jerry Hughes. Sheppard was a third round draft pick in 2011 and would have played inside in the 3-4 defense but didn't seem to be a good fit for Mike Pettine's defense. Hughes is a former first round pick who was a great pass rusher in college gaining 26.5 sacks in his last two seasons at TCU. He had just five sacks in three years with the Colts after being selected 31st overall in 2010. He will likely play on the strongside outside in the 3-4 defense like he did in Inday. The drafting of Kiko Alonso made Sheppard expendable while the drafting of Bjoern Werner by the Colts helped make Hughes expendable. Depth Chart.
Draft Has Speed, Versatility: The new regime in Buffalo definitely put their stamp on the team with their first draft. They went for speed on offense and speed and versatility on defense. For good measure they even drafted a kicker who may take the roster spot of the longest tenured Bill. For all the intrigue with this draft it all comes down to the success or failure of EJ Manuel. Complete Review.
---
News Archives index
Latest News Section
Archives Library
Back to Bills Daily Homepage