Bills Add Speed During Draft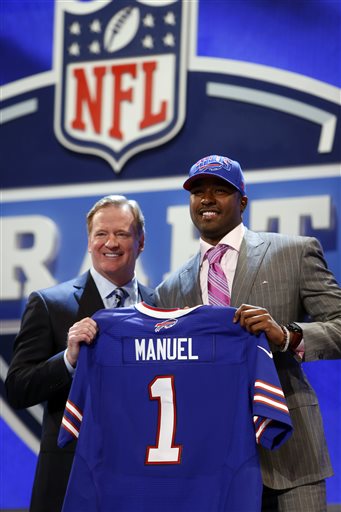 Draft Grade: We have completed our final draft grade and a quick summary of how we think the Bills did on our draft page. This bottom line is though the real grade will come in three years or hopefully sooner when we know if EJ Manuel is the franchise quarterback Buddy Nix and company hopes he is. They did the research now we have to hope they were right. Draft Page.

Undrafted Free Agent Signings Underway: More reported undrafted free agent signings have trickled in overnight. History shows that almost all of these reports will turn out to be true. We have gone ahead and listed them on our front office page with links to their CBS.com scouting report when it existed. One interesting name is Zach Chibane who is the only player to come over from Syracuse at this time. He is a guard which is a position of need. C Ryan Turnley is an interesting prospect from Pittsburgh. The team can use a true backup to Eric Wood. Unofficial Undrafted Free Agent Signings.


Saturday April 27, 2013


Undrafted Free Agent Signings Underway: Buddy Nix admitted after the draft that the team seriously considered drafting a second quarterback. He did say they would try to sign one as an undrafted free agent and Washington State's Jeff Tuel confirmed via twitter that he is going to Buffalo. Other reported signings are WRs Da'Rick Rogers and Brandon Kaufmann. Rogers was considered one of the top undrafted players on the market. He is considered perhaps the best receiver in Tennessee. He had off the field issues that kept him from being drafted. Tuel was brought in for a pre draft visit and threw for over 2,000 yards in seven starts last year. Kaufmann 93 receptions for 1,850 yards and 16 touchdowns last year for Eastern Washington. Unofficial Undrafted Free Agent Signings.

Bills Want Byrd Back: Russ Brandon also re-affirmed the team's desire to keep franchised safety Jairus Byrd. He isn't concerned that he isn't under contract but he remains a high priority of the team. Buddy Nix said they are preparing for whatever happens which indicates they drafted two safeties just in case they can't agree to terms with Byrd.

Nix Remains In Charge: In the post draft press conference Russ Brandon put to rest and rumors that Buddy Nix would step down shortly after the draft. He said "Buddy Nix is our general manager and will be for a long time." It has been widely speculated that Doug Whaley would take over the GM duties after the draft. Whaley received a contract extension a couple of months ago to remain as the assistant GM. Brandon said that while Whaley is a "vital cog" Nix is the only man making the final football decisions.

Bills Close Draft With TE: The Bills closed out the draft filling out a need at tight end by drafting Chris Gragg from Arkansas. In his conference call he said he is very excited to have landed in Buffalo. He knows they need a tight end and he feels he can be that guy. He knows he is the most athletic and explosive tight end in the draft and used the combine to tell everyone he is healthy. He will do whatever they want he feels he can do it all. He can play outside, slot, h-back or on the line. He feels he got a lot better as a blocker since he moved to tight end. He started his career in Arkansas as a wide receiver in his freshman year. He is very fast and is considered a solid receiver. Draft Capsule

Hopkins Conference Call: Dustin Hopkins had a conference call with the local media. He said you can't worry about things you can't control like the Buffalo weather. He knows it is going to be a change and will take time to adjust to it but he is confident in what he can do.

Bills Grab A Kicker In Round 6: The Bills surprisingly took a kicker in round 6 by selecting Florida State's Dustin Hopkins. A player they may have wanted was OL David Quessenberry who was taken by the Texans who traded up ahead of the Bills for him. Hopkins was the 2nd kicker taken in the draft and two punters also went before him as there has been more attention to special teams this year. Hopkins has a big leg with a career long 56 yard field goal in college. He also has a good touchback percentage with a high trajectory and never had a kick blocked. Has good accuracy has hit game winners and missed game winners as well. He was 25 of 30 on field goals his senior year. In this new era no jobs are safe and they may include the longest tenured Bill Rian Lindell. He struggled on field goals of 50 plus yards. Hopkins was 5 of 6 from outside of 50 yards last year. Draft Capsule

Moody On Meeks: Bills scout Doug Moody spoke about Jonathan Meeks. He says he has good size, good range, and a good 40 time of 4.49. He can be explosive as well. His stats aren't as good as other players because of the defense being played by Clemson. He has tremendous upside and hit people well when he had the chance. He has good speed as well but not too elusive. They heard very good things about him from people at his school. He has the body to be interchangeable among strong safety and free safety. Should be a good special teams player.

Meeks Conference Call: The Bills introduced Jonathan Meeks on a conference call. He was their fifth round pick and second safety in a row taken today. He made a pre draft visit where both sides showed interest. He calls it a great program to be coming into. Not getting an invite to the Senior Bowl has made him hungry to prove things at the next level. He knows as a player he will perform very well for the Bills and loves the opportunity to go out there and play. He will use his athleticism as a safety and says he's big and hard hitting. He can't wait to compete and win a job. He feels he is a good fit for the system and wants to learn from a great player like Jairus Byrd. He knows Stephon Gilmore very well as they grew up in the same area in South Carolina. Draft Capsule

Scout On Williams: Bills scout Brad Forsyth said Duke Williams has a bit of a nasty edge to him and they like his hands and ball skills. He is tough and physical they like his aggressiveness on the field. He also has instincts and awareness, he has a good feel back there in the run and pass recognition. He is versatile enough to play some corner if need be and can slide inside and play the nickel. He will bring a lot of special teams value as well. Plenty fast and is good with a quick change of direction. He is a physical, strong tackler and gets the ball carrier down.

Williams Conference Call: Duke Williams said he played both free and strong safety at Nevada and played closer to the line than most safeties usually do. He played against the other team's slot or x receiver a lot. Williams said the Bills scout was impressed with him on film. He called his off the field incidents minor. He has learned from his mistakes and said it has made him a better person. He said he has good run and pass recognition from being a student of the game and watching film.

Bills Take Safety Williams In 4th Round: The Bills addressed a need in the secondary with their fourth round pick. They took Nevada safety Duke Williams. He is a tough player who is a playmaker but has some off the field issues including an alcohol arrest and driving with a suspended license. He has matured and is a good leader but had three suspensions his freshman year. Good special teams player who has a lot of talent but has had some off the field issues. He is quick and explosive player who is versatile and can play either safety position but projects as more of a strong safety. He is above average speed and has a sprinter background. Draft Capsule


Friday April 26, 2013


Marrone On Today's Picks: Doug Marrone started his comments on today's draft talking about the intangibles and toughness of Robert Woods who is NFL ready. He feels he is a high quality kid with a lot of skill that can come in and compete and score for the team. They are excited to bring in Kiko Alonso he has shown he can play multiple positions and is instinctive. There are things that need to be coached that are correctable and they are excited about that. He can cover man to man and has good zone awareness with a lot of pass breakups so he can make big plays from the linebacker position in coverage and against the run. He is extremely surprised that Ryan Nassib has not been drafted yet and he wishes him the best of luck and feels he will be successful in this league to whichever team takes him. It is difficult for him to see this since he cares about the players on Syracuse and they helped him to get where he is. He is doing what is best for the organization but it is hard with the feelings he has for other players. He said he would have been remiss if he said he wasn't hurt by Nassib and the Safety Thomas still being on the board. He feels the Bills have the potential to put quite a few playmakers on the field with the new players and with players currently on the roster like T.J. Graham and Stevie Johnson. He feels the scouting department has done a great job and now it falls on the coaches shoulders to develop them and putting the best players out on the field. Marquise Goodwin has tremendous speed and that is one thing you can't coach. What is interesting about him is he has a higher ceiling since he lost some development time while running track instead of playing football. The challenge for the coaches is how to use both Goodwin and Graham because they both have the speed. Do you use them together or at separate times. Draft Capsule

Nix On Day 2: Buddy Nix addressed the media after the made three picks today, two of them wide receivers. Robert Woods is an outside receiver they wanted. Kiko Alonso is a big guy who can run and cover and play inside and outside. Marquise Goodwin is a tenacious blocker and tough guy who is a football player first despite all the success he has had on the track. He just needs reps. He thinks picking up two extra picks in the Rams trade allowed him to take two receivers who were two of the most explosive players on their board. Alonso's off the field issues were all alcohol related and there were no other issues. He has gone to counseling since then and he has been constantly monitored without any issues since. They think it is a good risk with him and he deserves a second chance.

Bills Take 2nd WR On Day 2: The Bills took Texas WR Marquise Goodwin in the third round giving them two receivers in their first four picks. He is a speedster who is only 5'9" 183 lbs. but he has blazing speed. He is a world class athlete who finished 10th in the long jump in the London Olympics. He spoke to the Western New York media in the conference call. He said he is a football guy first and track athlete second. He was drafted because he was seen as a football player. He is just excited to be a Buffalo Bill. His numbers are comparable to Tavon Austin who was taken by the Rams with the 8th pick in the draft in the trade with the Bills. He feels he is a polished player and has worked on his route running and finishing games. He played slot a little bit his junior year but did play outside more often. He just wants to help his team win and be durable to make it through the season being available. He said he did it all on special teams in his time in Texas. He was timed in a 4.27 at the combine but he said he has been clocked at 4.17 or 4.19 at the combine as well. He has a 42" vertical which is incredible for someone his size.

Alonso Conference Call: Kiko Alonso told the Buffalo media that it is a dream come true getting picked by the Bills. While he played more inside than outside he said he can play anywhere in the Bills new defensive system. He can't wait to come up and play hard and compete. He guarded tight ends, running backs, and wide receivers at Oregon.

Bills Take LB: The Bills took LB Kiko Alonso with their second of two second round picks. The Oregon inside linebacker could project outside in Buffalo but they like that he can play both inside and outside in a hybrid system. He has similar skills to Karlos Dansby who was in for a visit this week. He plays with reckless abandoned and has good awareness. It may be a thin draft at linebacker and there seemed to be a run going on so the Bills jumped on Alonso. They likely wanted Kevin Minter who was taken a pick earlier. Draft Capsule.

Woods Conference Call: Robert Woods spoke to the media on a conference call and said he feels he is polished in his route running and that brings value to his game. He catches with his hands and he loves the opportunity to play with EJ Manuel who he hit it off with when he met him. He doesn't drop too many passes.

Bills Take WR: The Bills took USC WR Robert Woods with their first of two second round picks. He is just over 6 feet tall and has 252 catches in his career. He is considered a good player who breaks tackles and gets a lot of yards after the catch. He is similar to Stevie Johnson. He is very polished and should step in to play and contribute right away. Chris Kelsay announced the picks after the commissioner paid tribute to Larry Felser who died Wednesday. Draft Page.

Bills Introduce Manuel: The Bills introduced EJ Manuel to the media this afternoon at One Bills Drive after a photoshoot on the field. Manuel said he is just so happy to be part of the franchise and looks forward to meeting his teammates real soon. He called it a dream come true that he has worked for his entire career. All his hard work has paid off and there is still a lot of hard work to do. The biggest thing for him is to earn the respect of his teammates and to do that he will not talk too much just work hard to learn. He talked about meeting Bruce Smith as a kid and he became pivotal in his life. Smith told Manuel it is a great town and it is the best place to be in the world when you are winning. He told him to come in and learn and work hard. He was extremely happy the Bills fell in love with him and took him with the 16th pick. He had a good feeling when he came up to Buffalo to meet with the coaching staff and brass. He met with them for four or five hours and it was very good visit. He knows he will have to adjust to the speed of the pro game but he played big time football at Florida State and feels he will be able to handle it. He feels he's a winner and has a competitive edge to him and will want to instill trust in him to the teammates and coaches. He needs to learn the new offense and the best way to do that is to get in the film room and study.

follow us on twitter! for the latest news and commentary throughout draft weekend!
Thursday April 25, 2013
Manuel Conference Call: EJ Manuel met the Western New York media on a conference call late tonight. He had a good feeling the Bills would take him and is excited to be coming to Buffalo. He is enjoying tonight with his family but he knows there is work to get done and he is going to come in and work hard. He has to come in and work it is his job now. He is extremely excited and ready to go. He feels it is a challenge but thinks as a team they can accomplish the goal of making the playoffs. He's excited to meet his new teammates and see the coaches. His father has brought him up to be a leader and do the right thing when nobody is watching. He is going to be quiet, work hard, and learn as much as possible. He said he told his agent that he really wanted to come to Buffalo after meeting with them during the process. He loved the scheme and knows it will be innovative and creative. He called it the best night of his life to be the first quarterback taken in the draft. He is so proud and happy for the team and the people who supported him. He got his degree in communications in 2011 and is halfway through his masters. Current tackle Zebrie Sanders was his roommate in college. Draft Capsule.
Marrone On Manuel: Doug Marrone said EJ Manuel had great leadership ability among his teammates at Florida State. The first thing he has to do is earn the trust of his new teammates and learn the system. He said he wasn't conflicted about not taking Ryan Nassib and they took the player that he felt was the right fit for the Bills. He can throw the ball downfield, is very mobile, has good presence in the huddle, he's accurate, and they are excited to have him. The coach feels it's important to have a big arm in Buffalo because of the weather and the wind. The intangibles on Manuel include his desire to work and get better which are things he appreciates. Drafting someone that has won a lot of games was important and he has done that. They like how he can make plays with his feet.
Nix On Manuel: Buddy Nix said they did a lot of work on the whole QB class and they feel EJ Manuel has the upside to be what they want him to be. He is a guy who can do a lot it is now up to the coaching staff. They feel real good about his upside. They calculated the trade down and he got a bit nervous waiting to pick Manuel. He has huge hands and is really strong. He has great arm strength but he may depend on it too much so will need some training on touch passes. He's a passer who's faults can be corrected by technique work. He spoke to his coaches and he was very far along as far as knowledge of the game. They decided on Manuel after they finished their extensive process of researching the quarterbacks. Nix feels he can do the read option but he doesn't think it will become a base offense in the NFL. He can play that offense as well as the normal pro set offense. He called him a winner going 21-3 in his last 24 games.
Bills Take Manuel: The Bills traded down eight spots and still had the pick of the litter at quarterback. They took Florida St. QB EJ Manuel. He was taken 16th overall but was the first quarterback off the board. He must have been the one the Bills coveted all along since they could have taken anyone they wanted. He has tremendous upside but is a bit raw. He is a mobile QB but it was a bit of a surprise they didn't go with Ryan Nassib or Matt Barkley who may be ready quicker but Manuel may have more potential to be the franchise quarterback they covet. This seems like a Buddy Nix pick as they went with a quarterback from a southern school but he has been compared to Cam Newton but not as polished. Manuel will likely not come straight in and start but will learn behind Kevin Kolb. Manuel told ESPN he is so happy and proud and not surprised to be going to Buffalo and is happy to be a Bill and is looking forward to getting started. He has a very big arm and is elusive in the pocket with a big body that can absorb hits. He has been inaccurate and inconsistent at times and will need some good coaching and grooming. Manuel becomes the first QB in franchise history to be taken with their first pick of the draft. Draft Page.
Bills Trade Down: The Bills have traded out of the eighth pick of the draft. The Rams moved up giving the Bills their 16th pick, their 2nd rounder, 46th overall, a swap of third rounders so the Bills moved down from #71 to #78 overall. The Bills also got a seventh rounder. On the draft trade value chart the deal is just about even with the 7th rounder more of a thrown in that Buddy Nix seemed to really want. Going by the trade value chart the Bills give up 1635 points and got 1642.6 points. The Bills gained the 16th, 46th, 78th, and 222nd picks while losing the 8th and 71st pick.
Draft Day Is Here: The suspense grows as the NFL draft is here. Buddy Nix said on WGR today that the team is looking for a frachise QB in the draft but indicated they wouldn't mind moving down and gaining more picks since they only have six. Round one is tonight while the second and third rounds are tomorrow, and the finall four rounds on Saturday. We will have you covered through the draft. We will have the big board on our draft page with links to scouting reports on the newest Bills and links to draft sites around the web. The latest news page will have all press conference and conference call snippets with scouts and the drafted players.
Dansby Talks Continue: Buddy Nix told WGR that the Bills had a good visit with LB Karlos Dansby on Tuesday. He said that talks are ongoing. Dansby would add much needed veteran presence to the linebacking corps.

follow us on twitter! for the latest news and commentary throughout draft weekend!
Wednesday April 24, 2013
The Time To Take QB Is Now: Will they take or a quarterback or won't they? That question is the reason why the Bills have perhaps the most intriguing draft of any NFL team. Just their luck they know they need a franchise quarterback in a year where they is no clear cut franchise player at the position. We think they need to take one anyway. Complete Story.

follow us on twitter! for the latest news and commentary throughout draft weekend!
Tuesday April 23, 2013
Bills Mock: We have released our Bills complete seven round mock draft. Like in our first round mock we have them taking Ryan Nassib. We also feel they will go heavy on offense throughout the draft as they addressed some defensive needs in free agency. Bills Seven Round Mock.
First Round Mock: We have released our first round mock draft which will update if there are any trades between now and Thursday. We have mocked the Bills getting Ryan Nassib with the eighth overall pick in the draft. The mock doesn't have any trades in it except for the Revis trade that has already happened. It is too hard to predict trades in mocks but I wouldn't be surprised to see some of the teams in the top of the 2nd round trade back into the first round for a quarterback. First Round Mock.

follow us on twitter! for the latest news and commentary throughout draft weekend!
Monday April 22, 2013
Dansby Visits: Adam Schefter reports that fomer Cardinals and Dolphins LB Karlos Dansby is in town for a visit today and tomorrow. He is a nine year starter in the league and can play inside in both the 4-3 and the 3-4. He would likely compete with Kelvin Sheppard for a starting job if signed by the Bills. He had a career high 134 tackles in 2012 despite playing with a torn bicep muscle. He was released by Miami in March to make room for the spending spree in free agency.
Draft Week Is Here! It is that time of year again as the NFL Draft is on the horizon with the first round on Thursday, second and third rounds on Friday, and rounds three through seven on Saturday. We will have you covered throughout the week and through the draft. This week we will release our draft preview article, our Bills seven round mock draft, and our first round mock. During the draft we will have the big board on our draft page with links to scouting reports on the newest Bills and links to draft sites around the web. This latest news page will have all press conference and conference call snippets with scouts and the drafted players. In the meantime, take our poll on our homepage and let us know who you think they will take first. Draft Page.
---
News Archives index
Latest News Section
Archives Library
Back to Bills Daily Homepage