Bills Pick Up Needed Road Win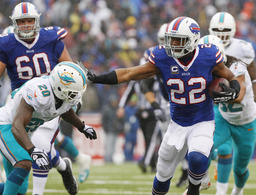 Gameday Grades: The Bills just dominated this game defensively getting more sacks than first downs given up just proves that point. The total domination made this win easy and puts an arch rival on the bubble of not making the playoffs. Playing spoiler never felt better. Gameday Grades.

Bills Blitz: The Bills defense sacked Ryan Tannenhill seven times and Miami only had six first downs and 103 yards total offense giving the Bills a dominating 19-0 win that hurts the Dolphins playoff chances. The shutout was the first by Buffalo since a win over the Redskins in Toronto two years ago. Kyle Williams and Nickell Robey had two sacks apiece as the Bills won two straight games for the first time since early last season. Dan Carpenter playing with an illness hit all four of his field goal chances from 45, 21, 22, and 26 yards out. Fred Jackson scored a touchdown and ran for 111 yards while C.J. Spiller added 77 yards on the ground. The seven sacks gives the Bills a club record 56 on the season. Thad Lewis managed the game well after a slow start finishing 15 of 25 for 193 yards. Bills Blitz.

Injury Update: Marquise Goodwin injured his knee in the first half and did not return. It is the same injury he had earlier in the season. No other injuries were reported but Cordy Glenn was seen going to the x-ray room after the game. Fred Jackson played despite reportedly having broken ribs and finished with over 100 yards on the ground. Injury Page.

Inactives: Aaron Williams, Stevie Johnson, and EJ Manuel are inactive after being ruled out on Friday. Brandon Smith is inactive but likely not because of his ankle injury as he was listed as probable. The other healthy inactives are: Antoine McClain, Ronnie Wingo, and Mark Asper. Tony Moeaki will make his Bills debut today after being inactive his first two weeks with the team.

Rainy December Day: Weather will be a factor for today's game but not like it usually is. There is a flood watch in Orchard Park has a good rainfall will give way to scattered showers during the game. The gametime temperature will be unseasonably warm at 44° but the wind will be a factor as well out of the SSW at 12mph.

Follow us on twitter! For in game commentary!
Saturday December 21, 2013
Carpenter Added To Report: The Bills have added a player to their injury report. Dan Carpenter was added as probable today with an illness. He is likely to suit up for tomorrow's game. Injury Page.
Friday December 20, 2013
No Aaron Williams Sunday: Aaron Williams, Stevie Johnson, and EJ Manuel have all been ruled out for Sunday's game with Miami. Manuel is expected to return against New England but is out with a sprained knee. Williams did not practice again on Friday and is out after Coach Marrone gave him a 50-50 chance of playing earlier in the week. Johnson is out of town after his mother's death. On the positive front, Fred Jackson, Kyle Williams, and Marcell Dareus were full go on Friday and are listed as probable and are expected to play. The coach confirmed that Tony Moeaki will make his Bills debut. Injury Page.
Thursday December 19, 2013
Moats New To Non Participant List: Arthur Moats is the latest player to be absent as he was excused today for personal reasons. He is expected to play on Sunday. Aaron Williams and EJ Manuel also remained sidelined while Stevie Johnson remains absent. Williams is 50-50 to play on Sunday. Fred Jackson returned to practice on a limited basis and Marcell Dareus was full go. Both are expected to play. Injury Page.
Bills Look To Play Spoiler: Buffalo looks to complete a sweep of arch rival Miami while putting a dent in their playoff chances. That job may have got just a bit harder with EJ Manuel sidelined and Thad Lewis starting in his place. Lewis did beat the Dolphins down in Miami in October. Game Preview.
Wednesday December 18, 2013
Manuel, Johnson Out: After practicing on a limited basis today, EJ Manuel has been ruled out for Sunday's game against Miami and Thad Lewis will start. He has swelling in the knee he injured late in the first half against Jacksonville and had trouble moving out of the pocket in practice. Doug Marrone expects Manuel to be back in the lineup for the season finale against New England. The injury will not require a surgical procedure. Stevie Johnson is not expected to play as well as he deals with the death of his mother. Fred Jackson got a rest day with sore ribs but is expected to play. Aaron Williams is 50-50 to play and did not practice today. Kyle Williams got his normal Wednesday day off. Injury Page.
Jackson, Williams Sit: The Bills took to the stadium to practice outdoors in preparation for Sunday's home finale. Aaron Williams, Fred Jackson, and Stevie Johnson did not participate in practice today. Johnson is dealing with the death of his mother and Williams suffered a rib injury in the win over Jacksonville. It is unknown why Jackson is sidelined. EJ Manuel took part in drills wearing a glove on his throwing hand and practicing despite suffering a sprained knee Sunday. Marcell Dareus also took part in drills after hurting his ankle and leaving the game early against Jacksonville.
Blackout Sunday: The game against Miami on Sunday will be blacked out Russ Brandon confirmed on WGR today. He expects a good crowd but about 16,000 tickets remain available. that is too many for someone to come through and buy up the remaining tickets. Ralph Wilson bought up a much smaller number of tickets to guarantee sellouts for the Jets and Bengals game. It will be only the 2nd blackout in the NFL this season. Blackouts are less frequent because some teams paper up some seats or buy out the remaining tickets for all games.
Tuesday December 17, 2013
Is Manuel The Future? Tony Bogyo breaks down the Bills win over Jacksonville but concentrates on the poor play of Manuel and the entire offense early in the game. He asks the question everyone is asking, is Manuel the future or not? Complete Story.
Monday December 16, 2013
Manuel Has Sprained Knee: Doug Marrone said on Monday that EJ Manuel suffered a minor left knee sprain in the win over Jacksonville on Sunday. He was able to finish the game and it isn't the same knee he hurt against Cleveland but it is the knee he had a procedure on in the preseason. He is expected to be ok for next week's game against Miami. Aaron Williams left the game in the fourth quarter with a rib injury and Marcell Dareus couldn't finish with an ankle injury. They will both be re-evaluated on Wednesday and they may or may not practice. Injury Page.
Players Day Off: For the first time in the Doug Marrone era the players are getting a victory day off. They do not have to report to One Bills Drive today as the coach has given them off after yesterday's victory over Jacksonville.
Players Rally Behind Johnson: The only people in the organization that knew Stevie Johnson lost his mother on Saturday were Doug Marrone, Russ Brandon, and his closest friend on the team Ron Brooks. The rest of the players found out after the game and were shocked as all offered their support for their teammate.
---
News Archives index
Latest News Section
Archives Library
Back to Bills Daily Homepage