Offseason Conditioning Program Begins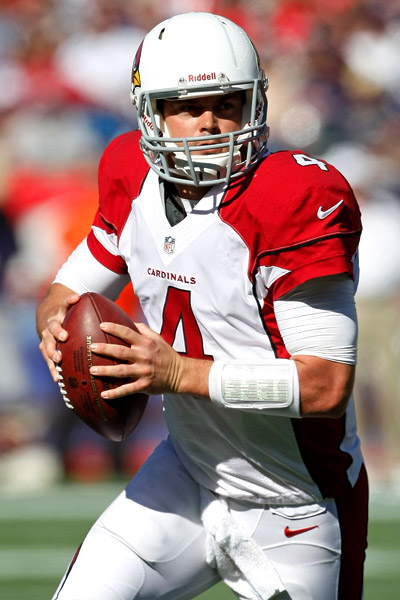 Kolb Deal Reportedly Done:Bills Continue Research For Draft: The Bills continue preparing for the draft with more pre draft visits at One Bills Drive on Friday and a trip to Tennessee for a private workout with QB Tyler Bray, WR Zach Rogers, and TE Mychal Rivera. The Volunteer's top WR Cordarrelle Patterson was not in attendance. The team hosted Georgia LB Jarvis Jones, Oklahoma QB Landry Jones and Connecticut TE Ryan Griffin on Friday bringing the number of pre draft visits to 14, four of them being quarterbacks. Bray is the sixth quarterback to have a private workout with the team. The Bills are allowed 16 more pre draft visits to Orchard Park.
Friday April 5, 2013


Kolb Excited: While the Bills have yet to make it official Kevin Kolb told the Buffalo News he's excited to be coming to Buffalo. Kolb is expected in town next week to sign his contract to make it official and to take part in the offseason conditioning program. Kolb said the deal made sense after talking to Doug Marrone and Nathaniel Hackett. He feels their offense meshes well with his quarterback style. He also feels he has much better offensive line that will keep him upright after being sacked 57 times in 493 pass attempts in two years with the Cardinals.

Pre-Draft Visits: The Bills wrap up their first week of the offseason conditioning program today they have also been busy bringing in the players for pre-draft visits. Each team is allowed 30 such visits and players are not allowed to workout. The Bills have brought 11 players in over the past three days. On Tuesday, Florida State QB E.J. Manuel, SS Cooper Taylor of Richmond, and FS Malcolm Bronson of McNeese State came to town. Wednesday saw NC State QB Mike Glennon, Southern Miss. LB Jamie Collins, Clemson SS Jonathan Meeks, and LSU WR Russell Shepard at One Bills Drive. Yesterday the Bills hosted QB Geno Smith of West Virginia, Texas A&M WR Ryan Swope, Texas S Kenny Vaccaro, and LB Kevin Minter from LSU.


Thursday April 4, 2013


Preseason Schedule Released: The NFL has released the preseason schedule with exact dates and times to still be announced. The Bills will open the summer schedule at Indianapolis before coming home to face Minnesota than a trip to Washington before ending the preseason at home against their usual opponent for that game the Detroit Lions. The Colts game will be between Aug. 8th and 11th while the will face the Vikings at Ralph Wilson Stadium between the 15th and the 19th. Between the 22nd and 25th they will be in DC and close it out on either the 29th or the 30th against the Lions.


Wednesday April 3, 2013


Marrone Happy To Be On The Field: Doug Marrone addressed the media yesterday as the offseason conditioning program started. He said he is very excited and he hopes the players are excited as well. He said it reminded him of the first day of kindergarten and they are trying to get their messaging to the players and coaches as they get to know each other and build a trust while getting better everyday. The phase they are in is lifting and getting into shape while installing some of their scheme. He did some redecorating by having the AFL and AFC Championship banners hanging in the fieldhouse along with pictures of the lombardi trophy and a huge sign saying, "don't confuse effort with results." The coach would not talk about Kevin Kolb since it's not official. They are looking for players at each position that they can win games with.


Tuesday April 2, 2013


Bills Sign Branch: The Bills have signed free agent defensive tackle Alan Branch who was in for a visit today. He felt wanted in Buffalo and will likely handle the nose tackle position in the 3-4 defense although he said he can play any position on the line. Adam Schefter reports it is a one year deal worth $3 Million with $350,000 in incentives. He started all 31 games he appeared in the past two years in Seattle. Depth Chart.

Choice Signing Official: With the offseason conditioning program starting today you would expect the Bills to announce some thing that have happened in the past week or so. They did that by announcing that Tashard Choice has re-signed and Dorin Dickerson has signed his tender with the club. The Bills have still not announced the Kevin Kolb signing. Front Office Page.

Branch Visits: The Bills have confirmed that they are hosting free agent defensive lineman Alan Branch today. He is a six year veteran who has started the past two seasons in Seattle and is a run stuffing lineman. He fits in as a big defensive end in the Bills 3-4 looks.

Offseason Workouts Begin: Doug Marrone and his coaching staff get a first look at the players beginning today as the Bills begin their offseason conditioning program. It is a voluntary program but all the players are expected to take part for most, if not all of the workouts. There are four days of workouts each week from now until May 9th with the exception of the week when there is a voluntary veteran minicamp from April 16th to 18th. According to the CBA there are three phases of the conditioning program. They are in phase one for the next two weeks which limits them to strength and conditioning and physical rehabilitation only.

Nassib Workout: The Bills will hold a private workout with Ryan Nassib but it is questionable that they need to. Doug Marrone and offensive coordinator Nathaniel Hackett have to know everything about Nassib since he played under them the last four years in Syracuse. The Bills are being very thorough in their quarterback search. They have already held private workouts with West Virginia's Geno Smith, Florida State's E.J. Manuel, Oklahoma's Landry Jones and USC's Matt Barkley. They are also expected to workout Tennessee's Tyler Bray. These private workouts do not count as pre-draft visits since they don't take place at One Bills Drive. The Bills are allowed 30 visits to their facilities.


Monday April 1, 2013


Barkley Workout: The Bills continue their search for the QB of the future on Monday by heading out to the West coach to hold a private workout with Matt Barkley. They reportedly looked at Tennessee's Tyler Bray on Saturday. They previously confirmed private workouts with Landry Jones, Geno Smith, and E.J. Manuel.



---
News Archives index
Latest News Section
Archives Library
Back to Bills Daily Homepage