Bills Add Kolb To QB Ranks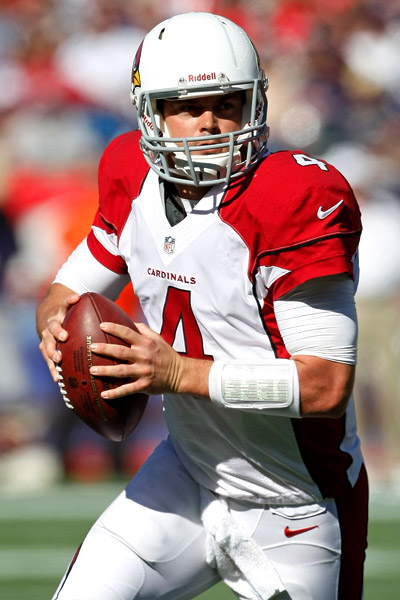 Kolb Deal Reportedly Done: Several reports say that the Bills and Kevin Kolb have finalized a deal. Adam Caplan reports it is a 2 year deal worth up to $13 Million with incentives. Adam Schefter reports the team wanted him badly. He says they visited him last weekend and he was in Buffalo Thursday and Friday before signing a deal. The pursuit likely puts him at the top of the depth chart at this time.

Bills Reportedly Getting Kolb: Adam Schefter is reporting that the Bills are in the process of finalizing a deal to bring Kevin Kolb to Buffalo. He would battle Tavaris Jackson and a rookie expected to be drafted high in the draft for the starting job. Kolb is coming off an injury shortened season in Arizona where he led them to a 4-0 start before getting hurt against Buffalo ending his season in week 6. Kolb is a decent signing as he has shown signs of being a decent starting caliber quarterback but he has struggled to remain healthy behind a porous offensive line in Arizona the past two years. In 15 games the past two years he has thrown 17 touchdown passes and 11 interceptions but was sacked 57 times in those games.

Choice Re-Signs: Tashard Choice has said he has re-signed with the Bills. The team did not officially announce the deal yet. Choice has spent the last year and a half with the team as he played for Chan Gailey at Georgia Tech. He said on WGR last night that Doug Marrone wanted him back and while he spoke to other teams he wanted to be back in Buffalo. Front Office Page.

Bills Interested In Kolb? Several reports came out yesterday that the Bills are interested in Kevin Kolb who is now an unrestricted free agent after being released a couple of weeks back by Arizona. The Bills will be drafting a quarterback early in the draft and have Tavaris Jackson and Aaron Corp but will need a fourth quarterback for training camp and would probably like that player to have NFL experience. Depth Chart.


Friday March 29, 2013


Bills Lose Out On Davis: Fred Davis has decided to stay in Washington instead of going to Buffalo. The Bills QB situation likely weighed heavily on his decision. He probably also liked the one year contract in Washington so he can prove he's healthy. That probably won out over being able to make a little more money in Buffalo.

Davis Cancels Jets Visit: Free agent tight end Fred Davis is reportedly deciding between signing with the Bills or going back to Washington. He visited Buffalo on Thursday and was scheduled to go visit with the Jets on Friday but decided to cancel the trip after telling the media the trip was still on. John Keim of the Washington Examiner reports that the Bills could be offering a two year deal while Washington is offering a one year contract. The amount of money the Bills are offering is just $1 Million more according to the report by NFL.com. The one year deal may be intriguing for Davis since he's coming off a torn Achilles tendon and would like to re-establish his value. The Bills definitely have more cap flexibility than Washington.


Thursday March 28, 2013


Davis Leaves With No Deal: Washingotn free agent tight end Fred Davis visited Buffalo for an official visit on Thursday. The team already had met with him over dinner in Washington over the weekend. He is coming off a torn Achilles tendon suffered in October but says he is way ahead of schedule and is very confident he will be ready for the season. He will meet with the Jets on Friday as he said he will weigh all his options. Adam Schefter reports that he has contract offers from the Bills and the Redskins as he heads to his visit in New York. He indicated that the Bills are looking to draft a quarterback in the draft and he said he would have no problem catching passes from a rookie QB. He said there are good guys in the draft and with the Bills high pick he's confident they will make the right decision.

Bills To Workout Bray: The Bills will hold a private workout with a fourth quarterback on Saturday according to Adam Schefter. He said a Bills contingent of Buddy Nix, Doug Whaley, Russ Brandon, and other staff will watch Tennessee QB Tyler Bray throw passes. Most people project him as a second or third round draft pick.

Davis In Town Today: Free agent tight end Fred Davis is in Buffalo today for an official visit the team confirmed. They actually met with him over dinner in Washington over the weekend and Davis confirmed he is headed to Buffalo today. He told the website Pro Football Central that the meeting went very well and he really liked the Bills brass. He has also said he will make all the teams that pass on him pay. He is coming off a torn Achilles tendon suffered in October. The Jets, Browns, and Redskins are also interested in him. He is expected to visit with the Jets after leaving Buffalo if he isn't signed while in town.


Wednesday March 27, 2013


Bills Interested In Flynn? Jason LaCanfora reports for CBS Sports that the Bills are one of three teams in the mix to land Seahawks QB Matt Flynn in a trade. The report says the Jaguars are the front runners with the Raiders also looking at possibly dealing for the Seattle backup. Flynn was signed as a high profile free agent last year after backing up Aaron Rogers in Green Bay but ended up backing up Russell Wilson. Sources say talks have progresses slowly but a deal could happen before the draft.


Monday March 25, 2013


Private Workout With Jones: Oklahoma's Landry Jones becomes the third quarterback to have a private workout with the Bills. The team worked out Geno Smith and E.J. Manuel last week. They have confirmed they will meet with Jones today. He has a good arm but has been inconsistent and is seen as a late 2nd or early 3rd round pick at this point.

State Senate Approve Funds: The lease deal continues to inch closer to being finalized. The State Senate has approved the funds in the budget for their portion of the renovation of Ralph Wilson Stadium. The new lease deal calls for $54 Million in state funding for upgrades to the 40 year old stadium. The State Legislator needs to approve it as the state looks to pass a budget this week.

Bills Confirm Davis Meeting: The Bills confirmed on their website a story from Adam Schefter that the Bills brass met with free agent tight end Fred Davis over the weekend. Schefter also reports that Davis will come to Buffalo for a visit on Wednesday. The Bills have not confirmed that visit yet. Davis is coming back from a torn ACL suffered last October. He said he's a little ahead of schedule.



---
News Archives index
Latest News Section
Archives Library
Back to Bills Daily Homepage