Roster Moves Made As Free Agency Set To Begin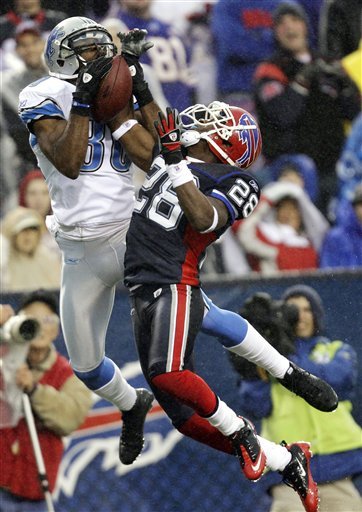 Bills Keep McKelvin: The Bills have confirmed a Fox Sports report that they have re-signed impending free agent Leodis McKelvin. The report says it is a 4 year deal worth $20 Million. This is a good deal for the former first round pick and the Bills look like they payed him handsomly for his return ability and the belief that Mike Pettine can fix his flaws as a cornerback. Buddy Nix said last month he viewed McKelvin as a starting cornerback in this league. He usually has good technique and cover skills but just can't seem to make the play on the ball despite being in good position. This is a flaw they may be able to pick.

Talking Period Underway: Teams are now allowed to talk to the agents of pending unrestricted free agents. The new addition to the NFL offseason policy allows conversations to begin before Tuesday's 4pm start of free agency. The league clarified what it meant in a memo to all 32 teams. They are not allowed to meet with players themselves unless they are their own players. No deals are allowed for other team's free agents until it starts and no tampering is allowed. No teams can talk to the agent for Jairus Byrd since he was franchised. It appears this period will more quiet than I thought when I tweeted last night. May not be too many rumors. The bottom line is the Bills may be one step closer to losing Andy Levitre, Leodis McKelvin, Kyle Moore, and the other pending free agents. AP reports the Bills have started negoitations with McKelvin.


Thursday March 7, 2013


Caussin Tendered: The Bills have officially finished dealing with all their restricted and exclusive rights free agents by tendering Mike Caussin. He joins Dorin Dickerson as the two exclusive rights free agents tendered. Of the three restricted free agents only Colin Brown was re-signed while WRs Donald Jones and David Nelson were told they would not be retained. The Bills also officially announced the re-signing of soon to be unrestricted free agent Bryan Scott.

Free Agency Looms: The Bills enter free agency on Tuesday with some big decisions to be made. They must decide whether or not to make a run at keeping Andy Levitre. They also must decide by Wednesday if they will let Ryan Fitzpatrick go, pay him his $3 Million roster bonus, or get him to restructure his deal. They are expected to be players in free agency but not to make the huge splash they did last year. They can upgrade a number of positions before the draft including linebacker, cornerback, wide receiver, and maybe guard if they lose Levitre. This year for the first time teams can talk to agents of pending free agents beginning on Saturday. Free agency starts Tuesday at 4pm. The team has decided what to do with all but one of their exclusive rights and restricted free agents. Mike Caussin is the only one left to decide whether to tender him or not. Take our poll on our homepage to let us know what you think they should do at the start of free agency. Bills Free Agents.


Wednesday March 6, 2013


Dickerson Tendered: The Bills have tendered TE Dorin Dickerson. The exclusive rights free agent now remains with the team. He had little choice but to sign his tender. It will be interested to see how he is used in Doug Marrone's offense. He can play H-back, tight end, or fullback. Front Office Page.

Scott Re-Signs: Bryan Scott announced on his twitter feed that he has re-signed with the Bills. He even tweeted a picture of the contract. It will be interesting to see where he fits in with Mike Pettine's new defense. He has played safety, linebacker, and a hybrid of the two in his time in Buffalo. He was due to become an unrestricted free agent on Tuesday.

Merriman Retires: Shawne Merriman announced his retirement from the NFL on his personal website yesterday. He was due to become an unrestricted free agent on Tuesday. He did not figure into the Bills plans and was going to hit a market that would likely have been very cold for the oft injured veteran. He said in his statement in part, "After a lengthy discussion with my agent, family and team, I have officially decided to put in my retirement papers today. My retirement from the game I love so much and from the game that has brought me so many opportunities on and off the field has been decided with great thought for my future on and off the field." He also thanked the Bills for their support.


Friday March 1, 2013


Bills Franchise Byrd: The Bills have announced that they have placed the franchise tag on Jairus Byrd. They had until Monday to make the call. They had talked to him about a longterm deal but the tag was always thought to be a good possibility especially since the tag number for a safety is the third lowest of any position at $6.916 Million. The team will likely try to still work out a long term deal to make it more cap friendly and get the tag back. It will be interesting to see how Byrd reacts to this news as players sometimes are not happy to be tagged. This also means that Andy Levitre will become an unrestricted free agent on March 12th unless a deal is worked out. The team has not used a tag since 2006 when they used it on Nate Clements.


Thursday February 28, 2013


Cap Update: The retirement of Chris Kelsay saved the Bills $5.175 Million in cap space according to Jay Skurski of the Buffalo News. Skruski also says that leaves the team with $28.425 of cap space heading into free agency. Many were speculating that Kelsay would get released to save his cap space which may have helped him make the decision to retire. He said nobody from the Bills approached him about restructuring his deal.


Wednesday February 27, 2013


Kelsay Retires: Chris Kelsay announced yesterday that he has decided to retire after playing his entire 10 year career in Buffalo. He missed a good portion of last year with a neck injury and that is what started him thinking about retiring. Kelsay said, "It is something that has been kind of on our minds for a couple months really. My wife and I discussed different options really since the neck injury. Other factors weighed into the overall decision. I just felt like as much as I kind of went back-and-forth on it, I believe if you are thinking about retirement that much you are already retired. I am happy with the decision that we made. I look forward to the next chapter of my life." He felt physically and mentally he was ready to start the next phase of his life. He thanked Ralph Wilson and the fans which he called the greatest in the world as well as his teammates and the friendships he made in the locker room and around the building.



---
News Archives index
Latest News Section
Archives Library
Back to Bills Daily Homepage