Draft Represents New Beginning
New regime looks to put their stamp on team.
by Steve Saslow
April 19, 2010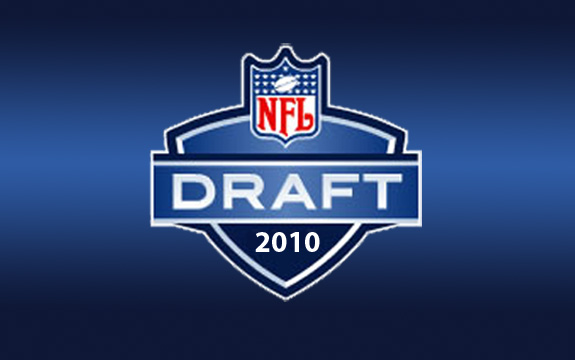 The 2010 draft will be interesting to watch from a Bills perspective for the fact that there is a new regime. Most fans still don't know what to think of the duo of Buddy Nix and Chan Gailey but these are the men at the controls and they will look to take the players that will help the Bills build a winner from the ground up. They won't admit it is a full fledge rebuilding project but it is and rebuilding starts with the draft. The Bills have not drafted too well over the last decade and the man who has run most of those drafts is still in charge of the scouting department. The pressure is on Tom Modrak who may be on his way out of town with one more poor draft despite his close relationship with Ralph Wilson.

The Bills have the ninth overall pick in the draft and they have already said they need to draft an impact player who can help them right away. Nix said that if a player at one of the many need positions that can make that impact isn't there they will take the dreaded best available player. The team has obvious needs at quarterback, offensive tackle, nose tackle, and outside linebacker. If the expected run on offensive tackles happens early the team may go to their board and pluck a playmaker even if it as at a position they are strong at. There is growing speculation that they may take Clemson RB C.J. Spiller at that spot even though they already have Fred Jackson and Marshawn Lynch. I tend to think this is where they are headed which will outrage fans who believe Spiller is a luxury they can't afford with so many other needs. If they do make this move they better have a trade ready for Lynch because there is no room for all three of these backs.

Assuming the Bills do the rational thing and take a player that they really need the choice comes down to offensive tackle vs. quarterback with a possibility of a defensive tackle or outside linebacker mixed in. The consensus among fans and some draftniks has the Bills taking Notre Dame QB Jimmy Clausen. He would create some buzz and give the Bills a quarterback that played in a lot of big time college games in a pro set offense. The downside to some is his cocky nature, although it never hurt Jim Kelly, he also didn't win that many games in college. Clausen should be there unless Oakland takes him one spot ahead of the Bills. It's unlikely someone will trade up and take him.

The reason that Clausen will likely be there is that all or most of the top four offensive tackles could be gone by then. Oklahoma State's Russell Okung and Oklahoma's Trent Williams will surely be off the board. Iowa's Bryan Bulaga will likely be gone as well. If he's there, Clausen likely won't be which would mean the team would likely go with Bulaga if Nix feels he's one of the impact players he spoke about during the media draft luncheon last week. The wildcard in this scenario is Rutgers' Anthony Davis who has dropped on many draft boards. He should be there at nine but the team would likely not reach for him unless they have him rated higher than other teams do.

So what if the team doesn't get their blind side protector or the person he will protect in the first round, what will they do? Spiller is a top option but so is the space eating nose tackle you desperately need in a 3-4 defense. That would be Tennessee's Dan Williams but some think he isn't the linchpin of a 3-4 defense which may make him a reach there. Gailey also may lobby for a former Georgia Tech player in defensive end Derrick Morgan. He should be able to play outside linebacker in a 3-4 without a problem.

If the Bills go anywhere but Clausen in the first round they may be busy trying to move back up into the first round to land their quarterback. They are smitten with Tim Tebow and Colt McCoy is a solid option as well. A couple of weeks ago it was assumed that both would be there with the 41st pick in the draft but that isn't a sure thing anymore as both players have moved up on several draft boards. The problem with moving up is that this is a rebuilding movement and they need all the picks they can get. Which leaves the option of trading down out of the ninth spot, adding picks, and taking Tebow or McCoy later in the round.

So it comes down to the "what comes first the chicken or the egg" situation. Do you need the tackle to protect your quarterback or does a solid signal caller help mask problems on the offensive line. I think with a pick as high as Buffalo's you try to get the potential franchise quarterback. I think Clausen may be that guy. I like the fact that he has played in cold weather and has a lot of starts in an offense that would play well in the NFL. You can fill the tackle hole in the 2nd round or move Andy Levitre outside.

The Bills have other holes to fill in the draft and they have nine picks at this point to do that. They will need to draft at least two wide receivers since they have no depth at the position. Gailey has said he wants to draft a scat back that could happen at the midpoint of the draft if they don't take Spiller. They also need depth on the inside of the offensive line, and defensive end. The one position they can fully stay away from his defensive backs since they are loaded at the position.

It will be an interesting and very important draft for the Bills. This is the beginning of the rebuilding movement they need to come away with either a cornerstone tackle or a future franchise quarterback. If they come away with both they will have set some pretty big building blocks for the future. The 3-4 defense will be a work in progress but the free agent signings of Andra Davis and Dwan Edwards eases this problem a bit. They may be able to get away with Kyle Williams in the middle if they play to his strengths like Gailey has been preaching since he took over the job. No matter what happens they will need to find at least a few future solid starters in the 2010 draft.

---
Bills Daily Draft Main Page
Comments on this article
Articles Index