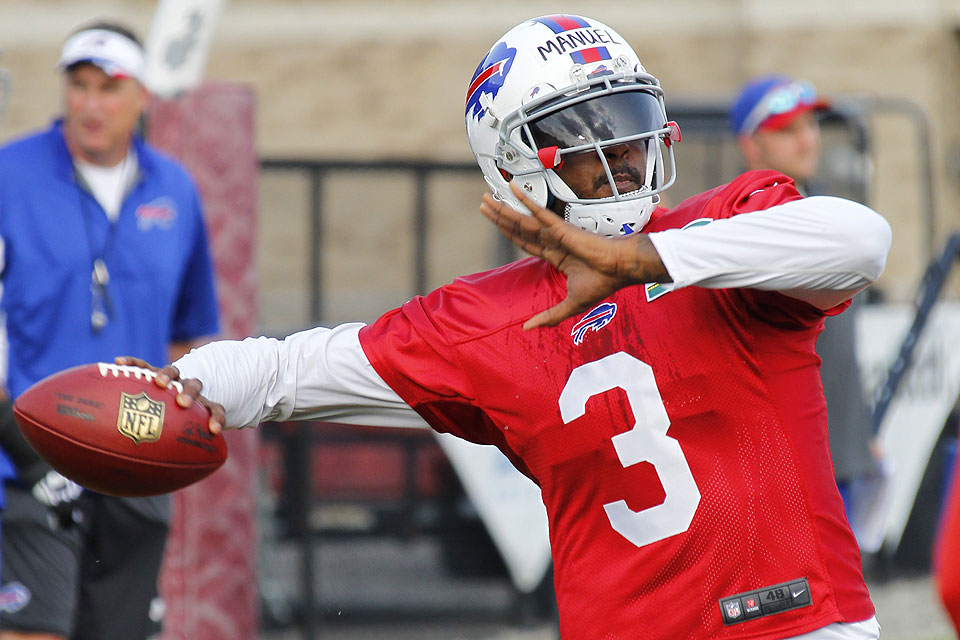 Thursday's practice has been moved twice. It was originally moved from 8am to 2pm because of rain and lightning and then moved back an hour to 1pm. The team announced they have given Fred Jackson a contract extension. It is reportedly a one year extension for $2.6 Million with another $1 Million in incentives. The NFL has announced that Nigel Bradham has been suspended for one game for violating the leagues substance abuse policy for his August 2013 arrest for possession of marijuana. He appealed and lost and was shocked by the suspension. He was the likely starter on opening day replacing Kiko Alonso before the suspension. The Bills returned to practice on Wednesday but had to stop practice in the middle because of heavy rain and thunder and lightning. After a lengthy delay they made it back on the field, by all twitter reports EJ Manuel seemed to have a very good practice. Chris Gragg returned to practice after missing a week with heat cramps. He caught a touchdown along with Robert Woods during 7 on 7 red zone drills. The Toronto Sun reports there are only three bids for the team and in a surprise Tom Golisano is not one of them. The Buffalo News reports he still may call Morgan Stanley and see if they want another bid. Buffalo Business First reports Terry Pegula's initial bid is for $1.3 Billion. The Sun also reports the Bon Jovi group won't be able to match Pegula's bid. More...

---
Latest Reports From Inside Bills Daily

Follow us on twitter! for up to the minute news and information from training camp!


Injury Page:

July 29


Depth Chart:

July 25


Front Office Page:

July 25

Thursday July 31
Today's practice moved from 8am to 2pm and then again back an hour to 1pm
Toronto Sun reports Bon Jovi group can't match Pegula's bid in current makeup

Wednesday July 30
Today's practice delayed in the middle by lightning; Manuel has good practice
Fred Jackson given a contract extension keeping him off of next year's market
Nigel Bradham suspended by the league for the opening day game against Chicago
Pegula's intial bid reportedly is for $1.3 Billion; Golisano may still bid
Reports say three bid for the Bills; Pegula bid reportedly over $1 Billion

Tuesday July 29
5pm deadline today to file letter of intent and initial bids to buy the Bills
Tempers flare during last night's practice as Coach Marrone gets very upset

Monday July 28
Bills move today's practice to 6pm and no ticket is required for evening workout

Sunday July 27
Offense bounces back some but defensive line continues to dominate offensive line
Jackson returns to practice but Chandler and Elliott leave early and don't finish

Saturday July 26
Bills have first live tackling of training camp as defense dominates the day
Jackson sits out as a preacaution as team runs short on tight ends
Bills add young veteran tight end while releasing guard Mark Asper

Friday July 25
Jackson, Moeaki, Ladler leave tonight's practice with lower body injuries
Bills add CB Felder; Release DT Way and activate Randell Johnson from PUP list
Dareus, Branch pass conditioning test; Center added, Brandon Smith waived
Kelly joins Harry Carson as honorary captains for Hall of Fame game
Bon Jovi group denies report that they are looking at stadium sites in Toronto
Whaley Wheels And Deals During The Draft
(5/13) Bills also add three big offensive linemen.
The Draft Is Almost Here
(5/6) Believe the Suspense, not the Rumors.
Bills Seven Round Mock Draft
(5/5 Tight end and tackle should be in their crosshairs.
1st Round Mock Draft
(5/1) Bills could move up draft board for Watkins.
Don't Complain to Me
(4/25) Musings on the 2014 Schedule.
My Buffalo Bills
(3/29) Emotions run deep for fans of this team.