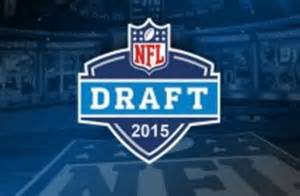 Several reports say Rex Ryan met with La'el Collins in Louisiana last night. Collins has first round talent but fell out of the draft altogether thanks to a murder investigation. He met with prosecutors on Monday and is still not considered a suspect which has several teams interested getting a steal of an undrafted free agent if it comes out he had no involvement in the murder of his ex-girlfriend and her son. Reports say the Bills and Dolphins are the first two teams meeting with him but almost every other team has also shown interest. Collins' agent was not at the dinner meeting with Ryan. It's a blast from the past as DT Alex Carrington has signed with team after coming to town for a visit. He was with the Bills from 2009 to 2013 before an injury derailed his career in Buffalo. He played in 44 games totaling 33 tackles and four sacks. He played the 5-technique under Mike Pettine's defense two years ago and the team needs depth along the line. The Bills are back to work this week as they begin phase II of the offseason conditioning program today and this week's workouts run through Thursday. That is followed by a rookie minicamp this weekend starting on Friday. In phase II the coaches are allowed on the field as individual instruction and drills are allowed now. Workouts remain voluntary and players cannot wear helmets and no one on one drills are allowed. The Bills have signed 13 undrafted free agents leaving two open roster spots on the 90 man squad. Among the signings was two offensive tackles, two cornerbacks, and a punter to go along with four defensive linemen as they add depth for the offseason workouts and training camp where they were short numbers. Check out our draft review article! More...

---
Latest Reports From Inside Bills Daily

Quiet Draft Used To Draft Best Available Players
New Draft Review Article!

Undrafted Free Agent Signings
Updated!

2015 Front Office Page: May 5

Depth Chart: May 5

Draft Page 2015

Follow us on twitter! Your quickest way to get breaking Bills news!

Tuesday May 5
Bills use quiet draft to add depth and special teams help
Rex Ryan meets with La'el Collins in Louisiana

Monday May 4
Bills offically sign 13 undrafted free agents
Former Bill DT Alex Carrington in town for a free agent visit; reportedly will sign
The Bills get back to work as phase II of the offseason workouts begin

Sunday May 3
Whaley feels they got two instant contributors and special teams help
Undrafted free agent signings now take center stage
Bills didn't fill enough needs in the draft

Saturday May 2
Lewis talks about joining the Bills
Bills close the draft with a small school wide receiver
Monos speaks about the two 6th round draft picks
Nick O'Leary talks to media on his conference call
Tony Steward conference call snippets
Bills take a third Florida St. player in TE O'Leary
Bills add linebacker with their first of two sixth round picks
Jim Monos talks about the physicality behind Williams' play
Converted safety brings more speed and power to Buffalo
Williams addresses media in conference call after pick
Bills add running back in round 5
Darby introduced to the media

Friday May 1
Miller has four year starter experience
Miller takes pride in his physical style
Whaley loves the tough attitude Miller brings to the offense
Bills add guard John Miller in the third round of the draft
Darby is a solid cover corner with some issues in run support
Kelly gets standing ovation before announcing 2nd round pick
Whaley said Darby could step in if starter gets hurt
Darby calls coming to Buffalo a blessing
Ryan can never have enough corners takes one with 50th pick
Bills very quiet on night one of the draft

Thursday April 30
It's draft time! Bills Daily is the place to follow the Bills draft!

Wednesday April 29
Quarterbacks to go in top two picks; Bills won't have first round pick
Watkins trade didn't thwart their franchise QB quest
Bills pick up option on Gilmore for 2016 season
Quiet Draft Used To Draft Best Available Players
(5/5) Most New Players May Not Have Big Impact In 2015.
1st Round Mock Draft
(4/29) No first round pick for the Bills.
Bills Look To Add Depth With Limited Amount Of Picks
(4/29) Busy offseason helped Bills meet most needs prior to draft.
2015 Bills Seven Round Mock Draft
(4/27) Bills should look at an offensive lineman in the second round of the draft.