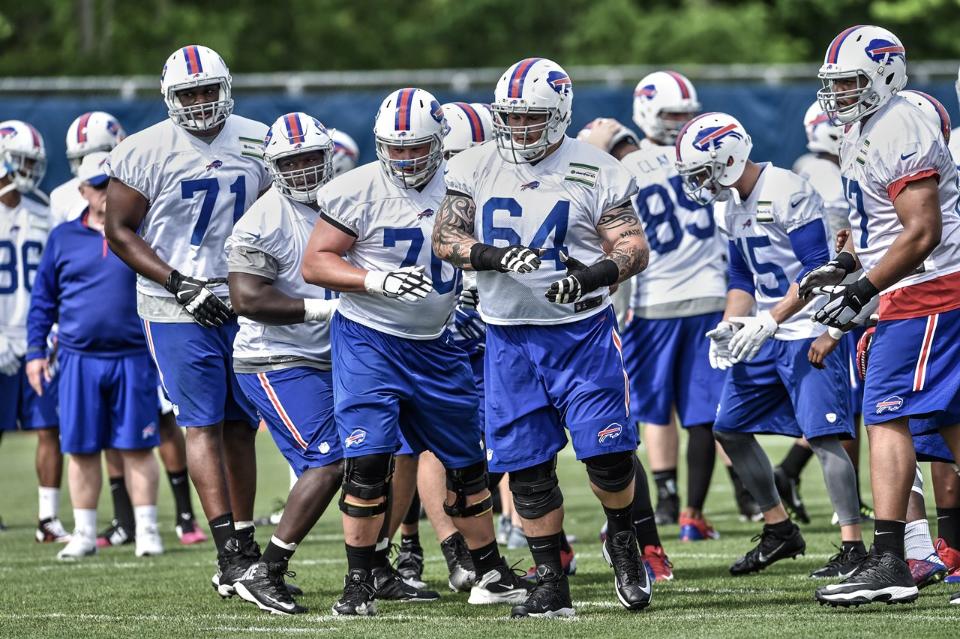 Aaron Kromer was back coaching the Bills offensive line during the first night practice on Monday. He read a short statement but did not answer questions from reporters. He will be with the team until opening week and then he will serve his six game suspension. The Bills added depth to their cornerback corps today by re-signing Merrill Noel. He was with the Bills after signing with the team in May before being released six weeks later. The Bills are short bodies at corner with the ongoing injury issue with Leodis McKelvin. Sunday's practice was the first one in pads so the physical nature of the camp was dialed up and the defense brought it with various combination of schemes. John Connor left the workout early after suffering a hamstring injury that is expected to cost him about a week. Marcus Thigpen came off early with tightness in his hamstring but he's expected to be fine. Leodis McKelvin was riding a golf cart again while BJ Larsen and Clay Burton remain sidelined but on the active camp roster. None of the QBs were particularly impressive with EJ Manuel probably having the worst day of the four quarterbacks as he was struggling with ball handling and accuracy. Eric Wood really struggled in one on one drills. The team is back on the field tomorrow for their first night practice of camp. John Miller was back on the field after leaving practice on Saturday with a bone bruise on his ankle. He did very well in one on one drills holding his own against Kyle Williams and Marcel Dareus. Rex Ryan continues to be impressed with the play and conditioning of Richie Incognito announcing that he is the starter at left guard. The QB battle continues to limp along with Cassel seemingly in the lead just by the fact that he has received first team reps three straight days. Ryan said that is by design since Cassel is the veteran and he feels the two younger players can benefit by being with younger players on the first two units. More...

---
Latest Reports From Inside Bills Daily

2015 Front Office Page: August 3

Depth Chart: August 3

Injury Page: July 31

One player to watch on both sides of the ball

Follow us on twitter! Your quickest way to get breaking Bills news throughout camp!

Monday August 3
Kromer is back coaching in time for first night practice
Bills add CB Noel to bolster cornerback corps
Kromer suspended for first six games of the season

Sunday August 2
Connor leaves today's practice early with hamstring injury
Incognito named starter at left guard; Miller returns and looks good
Cassel may have slight lead in QB battle as he remains with 1st team
QBs continued to struggle during day 2 of camp yesterday

Saturday August 1
Bills add fifth offensive tackle off of waivers from Tennessee

Friday July 31
Charges against Kromer dropped; suspension probable
QBs struggle; Harvin gets work at CB; Graham starts at safety
Camp opens with Super Mario back on the field
Bills hire football operations consultant with OL background
Training camp begins today with a morning practice

Thursday July 30
Mario Williams leads list of five players on injured lists
Players to hold meetings and conditioning drills today

Wednesday July 29
Today is voluntary reporting day for training camp at St. Johns Fisher College

Tuesday July 28
Bills release Chris Williams after he fails his physical
Watkins declares himself full go for the start of training camp
Our AFC East roundtable takes a look at possible surprised during each team's camp
One player we might not know about on both sides of the ball to watch
(7/28) AFC East Roundtable.
Which team possesses the best defensive line?
(7/21) AFC East Roundtable.
Deflategate – Make It Stop!
(5/13) A Tale From A Bills Fan In Boston.