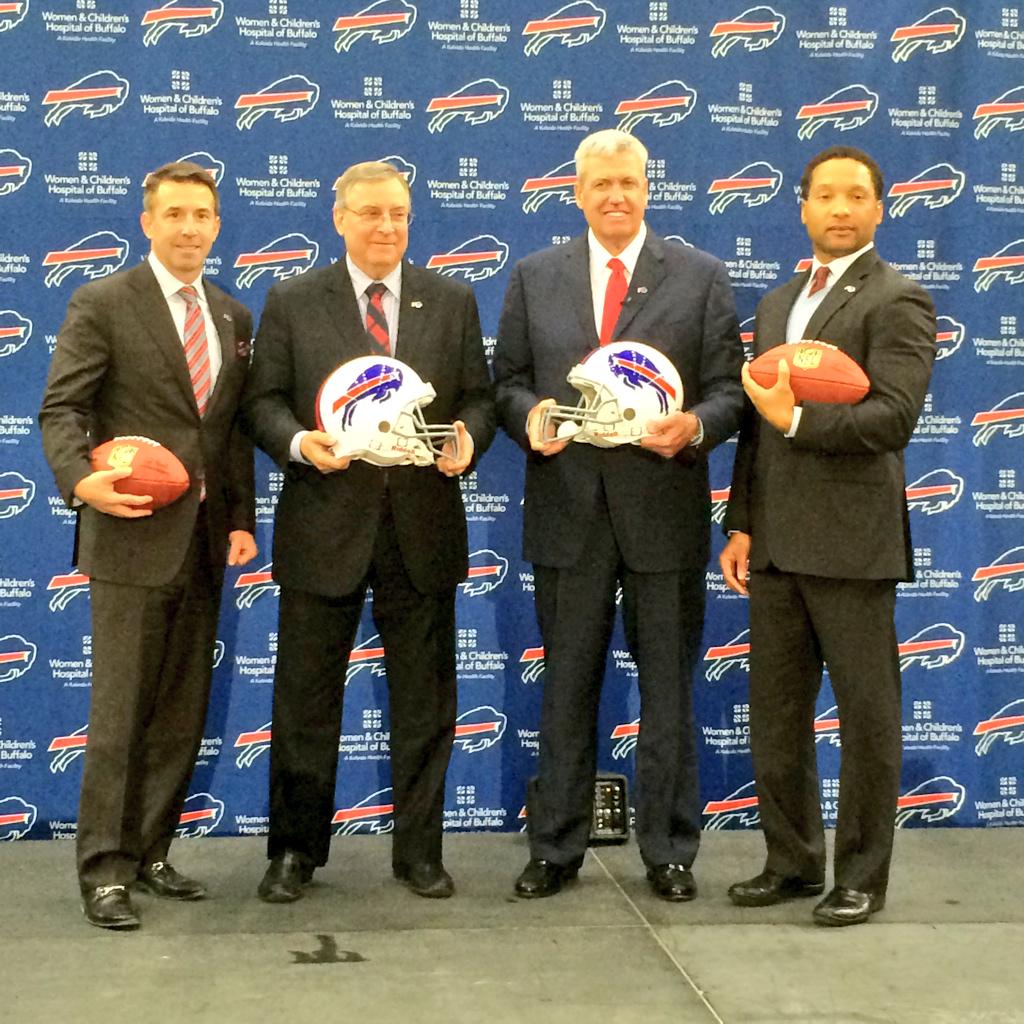 Despite being spurned by Bill Polian, Vic Carucci of the Buffalo News reports the Pegulas are still looking for an advisor to look at the football operations. An NFL source reportedy told the paper that the team isn't looking for someone with Polian's lofty status but someone with experience to advise GM Doug Whaley when evaluating talent. The report says that Cleveland Browns senior player-personnel associate Ron Hill's name has surfaced as someone who is highly recommended by the league. He has 34 years of experience as an NFL scout and player personnel executive. Nathaniel Hackett has a new job with his old boss. Hackett will join Doug Marrone in Jacksonville as the QB coach. He was under consideration for the offensive coordinator's job in St. Louis but backed out to take the job with Marrone who is the OL coach for the Jaguars and the assistant head coach. Rex Ryan introduced offensive coordinator Greg Roman and defensive coordinator Dennis Thurman to the Western New York media Tuesday. Ryan said to enjoy these guys now because they both will be head coaches someday. Thurman was his right hand man with the Jets and the two work together on the play calling. Thurman admitted that Ryan usually comes up with the plays first. He said they are not tied to a system and will run more of a hybrid offense instead of a straight 3-4 or 4-3. Roman said he's committed to the run and that everyone has a clean slate with them. They may do waht they did before or they may be asked to do different things going forward. He likes what he sees from EJ Manuel but he needs to work on his consistency. The team officially announced the hiring of six assistants and the retaining of four assistants from Doug Marrone's staff. More...

---
Latest Reports From Inside Bills Daily

2015 Front Office Page: January 29

New Coaching Hires: Updated January 27

Depth Chart: January 16

Follow us on twitter! Your quickest way to get breaking Bills news!

Thursday January 29
Bills reportedly still looking for an advisor to help Whaley with talent evaluation
Hackett spurns possible job with Rams to join Marrone in Jacksonville as QB coach

Wednesday January 28
Ryan introduces coordinators to Western New York media

Tuesday January 27
Ryan announces six coaches hired and four others retained from previous staff

Monday January 26
Three Bills defensive linemen get the start for Team Carter in the Pro Bowl

Sunday January 25
Pepper Johnson hired by the Jets as their defensive line coach
2014 Players of the Week
(1/9) Graham and Watkins won the award twice.
2014 Final Goats Tally
(1/8) Orton leads the way with five goats.
2014 Final Gameball Tally
(1/8) Hughes, Watkins lead the way with 5 gameballs.
2014 Was A Year To Build On
(1/7) Eventful year brings first winning season in a decade.
What Just Happened?
(1/2) Recent Moves Have Me Dazed and Confused.
Treading Water
(12/30) A Season Ends – Is There Hope?