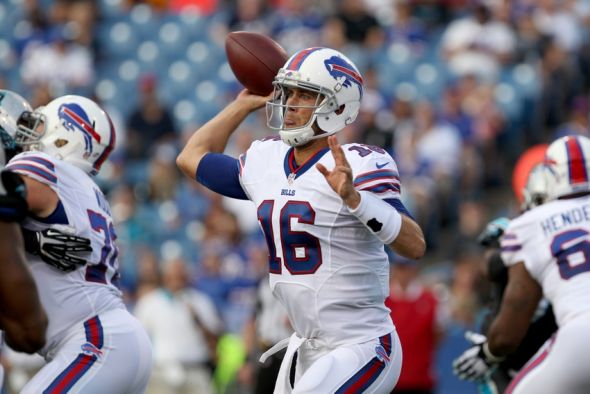 Rex Ryan announced after practice today that EJ Manuel will get the start on Saturday against Pittsburgh. All three quarterbacks will see time with the first team and the starters will play one series into the third quarter. Ryan said Manuel earned the start with his play the first two preseason games calling the winning drive against Cleveland impressive. The coach also stated he loves the competitiveness in him. Regardless of who starts Saturday afternoon's game will be very interesting as the QB job is on the line and very much up in the air. The team practiced at One Bills Drive for the first time since leaving training camp and the players saw a renovated fieldhouse and locker room areas. The team also is getting healthier as Bryce Brown, Parcy Harvin, and Boobie Dixon returned to the field in some capacity while Sammy Watkins and Robert Woods were limited again. It is a longshot than any of these players will play on Saturday. LeSean McCoy was doing some more work on the side along with Watkins. Deonte Thompson left practice early with a foot injury. More...

---
Latest Reports From Inside Bills Daily

Who has to perform in the 3rd preseason game? New AFC East Roundtable Article!


Injury Page: August 25

2015 Front Office Page: August 22

Depth Chart: August 22

Follow us on twitter! Your quickest way to get breaking Bills news throughout camp!

Thursday August 27
Ryan names Manuel the starter for Saturday's preseason game
Brown, Harvin, Dixon all return to practice; Thompson hurts foot

Tuesday August 25
Training camp comes to an end
Which player needs to step up on each side of the ball this week?
Bills wrap up camp with morning practice today at St. Johns Fisher College

Monday August 24
Bills surpass 60,000 season tickets

Sunday August 23
Bills hold final night practice of training camp

Saturday August 22
Bills make a roster move signing a wide receiver
Bills get back to work with six returning to practice

Friday August 21
Bills come from behind to beat the Browns 11-10
Manuel and Taylor making QB decision tougher on Rex Ryan with solid play
Preston Brown struggles in win
Dareus upset over contract negotiations impasse
Who has to perform in the pivotal third preseason game?
(8/25) AFC East Roundtable.
Which player helped themselves or hurt themselves the most?
(8/18) AFC East Roundtable.
Surprises and disappointments so far in training camp
(8/11) AFC East Roundtable.
Biggest Camp Battle For Each Team In The Division
(8/4) AFC East Roundtable.
One player we might not know about on both sides of the ball to watch
(7/28) AFC East Roundtable.