| | | |
| --- | --- | --- |
| | Serving Bills Fans Since 1998 | Home |
---
Bills Blown Out By The Bay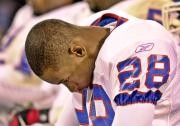 49ers Rout Bills: It was all San Francisco in the game by the bay. The 49ers dominated the Bills thoroughly from start to finish as they shutout the Bills for the first time since 1993 in the 35-0 rout. Alex Van Pelt played very poorly and the Bills defense was on the field for nearly 40 minutes and wore down. The 49ers tallied up 409 yards in total offense to the Bills 191. Complete Review.

Owens Gametime Decision: The best player on the 49ers is wide receiver Terrell Owens. He missed most practices this week with a foot injury. He did return to practice on Friday and is expected to be a gametime decision. 49ers coach Steve Mariucci says he thinks Owens will go. Terrell said it is a wait and see situation.

Gameday Weather: It is a stormy day in San Francisco. It is a good thing this is a night game. Heavy rain today will give way to just Showers tonight during the game as the grass field at 3com Park promises to be a mess. Gametime temperature should be around 53° with winds out of the West Northwest at 11mph.


Friday November 30, 2001


Spoon Should Play: Brandon Spoon returned to practice yesterday and should play Sunday despite being listed as questionable. Shawn Bryson still hasn't practiced this week and remains questionable. The 49ers have changed their injury report upgrading some people and taking two players off the list. Updated Injury Report.

Johnson's Season Over? Rob Johnson finally spoke out about his injury yesterday. He said that it is probably a 6 to 8 week injury and that it actually may require surgery if it doesn't heal properly. This effectively will end his season. He will undergo another x-ray next week and then the possibility exists that he could be placed on IR. Johnson re-iterated that he would like to stay in Buffalo next year and recognizes how well Alex Van Pelt has played in his absence. His return to Buffalo is up in the air since his cap number is over $11 Million.


Thursday November 29, 2001


Flowers Victim Of Size: Erik Flowers has seen his playing time diminish until the point that he was a healthy inactive last week. Coach Williams told the press yesterday that Flowers is in a slump and he expects him to play out of it. Part of Flowers problem is he has lost too much weight. He had to lose weight to play the 4-3 but he can't keep enough weight on to take on offensive linemen. He expects to add strength and weight during the off season.


Wednesday November 28, 2001


OL Shuffle Continues: Jonas Jennings is back on the practice field but surprisingly not at left tackle. He is getting work at right tackle. It appears John Fina is now healthy and will reclaim the left tackle spot. This leaves Jerry Ostroski moving over to right guard and possibly placing Corey Hulsey on the bench. If Jennings doesn't come out of practice in good shape this week, Ostroski would then start at right tackle as he is getting work at both positions. If Jennings does play the Bills will use their original combination on the offensive line for the first time all year. Depth Chart.

Injury Update: Jonas Jennings is listed as questionable however and isn't a sure thing for playing this week. Also listed as questionable with ankle injuries are Shawn Bryson and Brandon Spoon. Injury Report.

Kickoff Duties Shared: Coach Gregg Williams spoke about the kicking move this week during his media day press conference. He said Shayne Graham had a pretty good workout and will share the kickoff duties with Brian Moorman. Williams also said that the team must play physical this week considering there are at their healthiest state since training camp on both lines.

Graham Happy For His Shot: Shayne Graham is very happy to be a member of the Buffalo Bills. It has been a long process for him to get to the NFL. In his inaugural press conference he said he is blessed to play and have a chance at a career. He had a few tryouts during the season after narrowly losing out on the kicking job in Seattle this summer. He said he's confident in himself and is looking forward to the opportunity.

Van Pelt Speaks: Alex Van Pelt addressed the media during media day and admitted that the guys are probably a bit "hungover" from the tough loss to Miami but they have to put it behind them. He said he doesn't think this loss will be harder to come back from than any of the other losses. He said the team played tough and the offensive line getting Jerry Ostroski back was a huge plus for the running game. He feels the team is a whisker away from being good. The biggest thing offensively this week according to Van Pelt is to control the clock.

49ers Preview: This week's matchup against San Francisco doesn't bode well for the Bills. They will play a 49er team that is tied for first place in the NFC West and the best record in the NFL. The Niners have a big matchup with St. Louis next week but probably won't look past a beleagured Bills team coming off a very heartbreaking loss. Complete Preview.


Tuesday November 27, 2001


Bills Name Graham New Kicker: As we previosly reported the Bills have now made it official that Shayne Graham has been tabbed to replace Jake Arians as the Bills Kicker. Graham joins the Bills after spending time in Seahawks camp this past summer and the Saints camp a year ago. Graham played his college ball at Virginia Tech where he was a Big East all-pro four straight years.

Jennings Should Return: Jonas Jennings is expected to return to practice tomorrow and take his place in the starting lineup Sunday against San Francisco. He missed Sunday's game after re-aggravating the arch in his foot. Updated Injury Page.

Graham May Be The Guy: Shayne Graham may be the Bills next kicker according to the Buffalo News. The former Virginia Tech standout is due in town today to tryout and maybe sign a contract. He was with the Seahawks in camp this summer and brought back for a tryout early in the season. He was also in Saints camp in the Summer of 2000. The Bills are expected to make an announcement later today on who will be the kicker.


Monday November 26, 2001


Williams Comments: Coach Williams also commented on other aspects of yesterday's devastating loss. On the final touchdown, Williams said Chambers made a great play and that Ken Irvin had tight coverage on the play. He said that isn't the only reason they lost and went on to talk about the fourth down conversion, not getting a first down on offense to run out the clock, and the out of bounds kick. Williams has no doubt that the team will bounce back from the emotional loss yesterday. He praised the receiving and blocking of Eric Moulds and the performance of the running game against a very tough Miami defense.

Bills To Cut Arians: Coach Williams said in his Monday press conference that the Bills will make a move at kicker by the end of today and announce who will be picked up tomorrow. The missed extra point was the last straw for Jake Arians who struggled mightily as a rookie kicker in the NFL. The Bills will sign someone that was brought in over the past few weeks for auditions. Candidates include Al Del Greco and Doug Brien. Jon Hilbert worked out twice for the team but has since signed with the Cowboys. Williams said the release isn't because of just yesterday's miss or as a scapegoat move. He feels the team has a chance at being better with a new kicker especially since the team has improved at the long snapper position with the signing of Mo Umotoa.

Arians Last Leg: We have been calling for the head of Jake Arians for a few weeks now, and yesterday may have been the last straw. He missed an extra point that changed the complexion of the game. Afterwards, Gregg Williams said he has to hit the kick despite some difficulty spinning the ball by Jay Riemersma. He said he will look at the film and re-evaluate the kicking situation tomorrow. Our guess is that this is the end for Arians career in Buffalo. Arians even admitted if he was the GM he probably would cut himself.

Flowers Inactive: The inactive list had the usual mix of injured players and young players that normally don't play but one name that jumped out was last year's first round pick Erik Flowers. There was no word of any injury to Flowers but he was on the list. He continues to struggle and it appears he is a rare first round bust. Coach Williams said it was a numbers game and that Kendrick Office deserved the playing time.

Injury Update: It appears the Bills may have got out of yesterday's game injury free. John Fina hobbled a bit on his injured leg and left for a series but returned and played well. Jay Foreman and Brandon Spoon also seemed banged up at times but both played throughout the game. Updated Injury Page.

Last Week's News Archives
---
News Archives Index
Archives Library
Latest News Main Page
Back to Bills Daily Homepage