Critical Needs Filled During Draft
The first two picks fell nicely for the Bills.
by Steve Saslow
April 30, 2008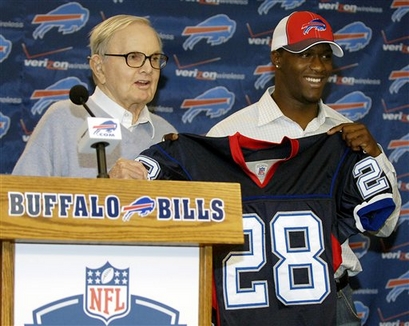 There must have been a lot of smiling faces in the Bills war room the way the first day of the draft worked out. They were able to fill their two biggest needs at cornerback and wide receiver without having to trade away draft picks. In the first round they were very surprised to see that the top corner in the draft was still on the board at number 11. They weren't shocked to see that no wide receiver had been taken. What did raise eyebrows was that no wide receiver was taken at all in the first round.

The way it unfolded they were able to take the coveted player from Troy in the first round with the selection of Leodis McKelvin. They also didn't need to trade back up to get a tall receiver they also needed. They were able to stay firm and have their choice of several top prospects in round two. While three receivers went off the board within four picks at the top of the second round, two of them were players rated behind many other prospects. That gave the Bills the choice of Limas Sweed, Malcolm Kelly, and the player they took, James Hardy.

McKelvin was a player I hoped they would be able to get, he is a solid cover corner that will allow defensive coordinator Perry Fewell some options. If he can play man to man successfully it could free up young safeties Ko Simpson and Donte Whitner to do more than just give help over the top. He can move them around to confuse the defense and get away from the standard cover two more often.

The bonus to the McKelvin pick is that he is considered the premier kick and punt returner in the draft. While the team has two of the best in Roscoe Parrish and Terrence McGee it never hurts to have options back there. Parrish is very small and could get hurt while McGee has done the job for many years and is at a point in his career that he may be ready to step aside and concentrate on his role as the number one corner. Early in the year look for McKelvin and McGee to back on kick returns together so that teams can't just kick away from McGee.

Hardy brings his 6'6" frame to Buffalo and gives Trent Edwards an immediate weapon in the red zone. Hardy is more than just a jump ball receiver, he has decent speed for his size and a good range of motion. If coaches can get him to refine his route running they may have a star on their hands. The character issues that haunted Hardy two years ago appear to be behind him.

While on the surface the day one draftees will pay immediate dividends for the team, the day two picks may need some extra time to develop as is the case with all teams. Third round pick Chris Ellis has the best chance of having an impact this year. He is considered a solid pass rusher who can be used in a rotation to get to the quarterback. As the Giants proved last year it is a benefit to have waves of defensive ends relentlessly going after the passer. Aaron Schobel and Chris Kelsay wore down last year after having to play way too many snaps. A fresher Schobel and Kelsay should help them improve on their down year numbers. A fresh Ellis along with Ryan Denney off the bench can cause havoc for NFL quarterbacks.

The Bills had seven picks in the final four rounds and in many cases they reached for players from small schools that have a lot of potential to develop. One intriguing prospect, who was moving up draft boards, was fourth round pick Reggie Corner. He has a great name for a cornerback and seems to be a solid corner who has played against some tough competition in his college career and has graded out well. He's small but has good leaping ability and has a chance to be a steal like McGee was when he came out of a tiny school to be drafted in the fourth round.

One pick that left me scratching my head was the other fourth round selection, TE Derek Fine. While he is an intelligent player with a high motor he isn't the stretch the field receiving tight end that they needed. He fits the same mold has the other tight ends on the roster although he is considered a solid special teams player. That is where he will make his mark early in his Bills career.

The same can be said for 5th round pick Alvin Bowen. He is in the same mold as Keith Ellison, an undersized linebacker with good aggressiveness and decent, but not great, speed. Bowen is also considered a special teams demon. With the free agent losses of Sam Aiken, Josh Stamer, and Mario Haggan along with the release of Coy Wire the team needs to replenish the coverage and return units.

It was also a surprise that the team would take a running back in the 6th round but Xavier Omon is another intriguing prospect who led division II in rushing and touchdowns last year. He is the only player in NCAA history at any level to have more than 1,500 rushing yards in four straight seasons. The big question is can he make the huge jump to the pros? He will have time to develop behind Marshawn Lynch and Fred Jackson. This pick may also be a sign that the team is not happy with the development of last year's fourth round pick Dwayne Wright.

Of the three seventh round picks, the one with the most upside is WR Steve Johnson. He had over 1,000 yard receiving last year for a pass happy Kentucky team. Like all the seventh round picks he's a bit raw, although less than the other two. He has a chance to develop fairly quickly with the right coaching. OT Demetrius Bell and CB Kennard Cox seem destined for the practice squad as they both have a good amount of developing to do.

In our preview article we spoke about how critical this draft was to the Bills post season hopes. The new Bills need to prove it on the field but on paper at least it appears they may have made the step necessary to end the long eight year drought and finally make it back to playoffs.