Losman Brings New Offensive Style
Inexperience at most important position a big question mark.
by Steve Saslow
July 25, 2005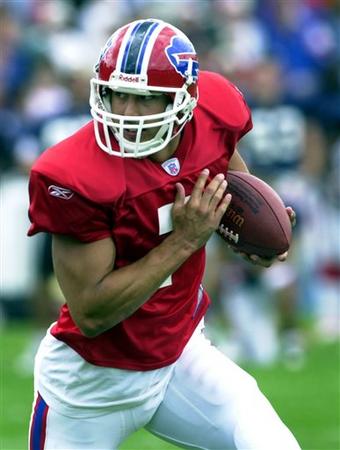 The Bills head into training camp with unbridled optimism about the coming season. They return a fantastic defense almost totally intact and a shining special teams unit. On offense they have many weapons but two big question marks on that side of the ball threaten their goal of making it to the playoffs for the first time in five season.

The offense undoubtedly has many weapons led by Willis McGahee, Eric Moulds, Lee Evans, and exciting rookie Roscoe Parrish. The success or failure of this unit will be centered on a QB that has thrown five passes in his career and a left tackle that was out of football at the end of last season.

The biggest move of the off season was the decision to turn over the reigns at quarterback to 2nd year man J.P. Losman and to send Drew Bledsoe packing. Most fans are on board with the move as Losman brings another dimension to the position that Bledsoe never did, speed and mobility. Losman is expected to make many plays with his feet. The team hopes his movement will make up for lack of experience. Ups and downs are to be expected with a virtual rookie QB at the controls but Tom Donahoe stated at the end of last season that any moves the team would make would not be to take a step back. So the team cannot use Losman's youth as an excuse when things don't go right, he is expected to help improve an offense that ranked 25th in the league last season.

The player being counted on to protect Losman's blind side is free agent signee Mike Gandy. He is a natural guard who has started many games at left tackle in his career. He was out of football late last season and has something to prove. The Bills have him slotted in as the starter there; this is an even bigger gamble then turning to Losman at QB. If Gandy turns out to be a diamond in the rough than the offensive line can show some marked improvement with the addition of Bennie Anderson as a tough run grader at left guard. If Gandy struggles in training camp then the line will undergo a shuffle, and that is not what the team wants. Watching the offensive line is going to be very important for fans this camp. If Trey Teague starts getting reps at left tackle then you know the shuffle has begun. That would leave the center job up for grabs between Ross Tucker, who is coming off of a serious back injury, and rookie Ray Preston.

If the o-line does have some protection problems, they are suppose to be good run blockers thanks to the addition of Anderson, and the toughness on the right side of Chris Villarial and Mike Williams. The former first round selection appears to be rounding into form as a dominant right tackle. The run blocking fits in well with the Bills offensive style. That is to run Willis left, run Willis right, run Willis up the middle. McGahee will get the ball a tremendous amount as the distraction of Travis Henry has gone away. The question remains, who will be his backup? ReShard Lee, Joe Burns, Shaud Williams, and rookie Lionel Gates will be raging what could be the biggest battle in training camp for the backup job. My money is on the former Cowboy Lee. His running style is a good complement to McGahee. Williams will still be around as a change of pace back but his size may limit him as a true backup running back.

Losman has plenty of targets to go to when he drops back to pass. Moulds, Evans, and Parrish could make up a deadly threesome in the passing game. The only question at wide receiver is if Parrish can beat out Josh Reed for the slot receiver spot. Reed has traditionally had good training camps and bad regular seasons. He may be motivated to hold off the rookie but in the long run Parrish will end up taking his place.

Losman will look a lot to his safety valve receivers and those are the tight ends. It will be very interesting to watch how healthy Mark Campbell and Tim Euhus are. If they are struggled with their surgically repaired knees, then the team may need to find another tight end. This position is a vital one in a Mike Mularkey offense as he likes to have two of them on the field in many formations.

There is much to watch on the offensive side of the ball in training camp but while most fans will be paying a keen eye to the development of Losman there is much more to watch on that side of the ball. The development of the O-line, the recuperation of the tight ends, and the success of the backup running backs may have just as much to do with the team success as Losman does in his first year as a starter.