Defense Looks To Dominate
Unit returns 10 starters as they push for elite status.
by Steve Saslow
July 26, 2005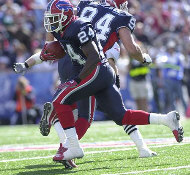 The defensive unit of the Bills has been very solid the past two years as they finished both the 2003 and 2004 season ranked second in the league. The unit will have the same scheme under the tutelage of Jerry Gray for the third year in a row and they return 10 of 11 starters. That is a recipe for continued success but the players are not resting on their laurels.

To a man, they are not satisfied as being a very good to great unit, they want to be an elite unit that goes down in history as one of the best of all time. To do that they need to eliminate the lapses they had from time to time last year when they gave up some big plays and struggled on third downs and red zone defense.

They have one hole to fill at the defensive tackle position that was created when Pat Williams left via free agency for Minnesota. The position next to Sam Adams will be the one to watch in training camp. Veteran Ron Edwards will get the first crack at the job but he will face heavy competition from second year pro Tim Anderson. Edwards has shown flashes of brilliance in his three year career. He is an exceptional pass rusher for a big man in the middle of a defense. He can hold his own against the run as well. His drawback is a lack of consistency, he is known to take plays off and not keep up the intensity. If he can't put it all together this year he won't be in the league much longer. He shouldn't need more incentive than a starting job at his disposal along with a possible big payday in the off season when he becomes an unrestricted free agent.

Anderson was a project coming out of Ohio State last year as a third round draft pick. He had trouble getting playing time with the depth the team has at defensive tackle. He was reportedly a terror on the scout team in practices, giving the Bills offensive line fits in stopping him. He is a non stop motor guy and is the vogue pick to win the starting job. Edwards should be highly motivated and his experience as a sometime starter should give him the edge on winning the job. The team will lose some run stuffing ability with Williams gone, but should gain some pass rush in the middle with Edwards.

Aaron Schobel returns as the main pass rusher from the right defensive end spot, while Chris Kelsay is now firmly entrenched as the starter on the left side. I expect big things from Kelsay this year as he should develop into the total package. His backup, and fellow second round pick, Ryan Denney is a capable backup.

The linebacking corps returns in tact, and it may be the best and most durable crew in the league. London Fletcher, Takeo Spikes, and Jeff Posey bring experience, leadership, and play making abilities that are the heart and soul of this talented defense. They all started every game the last two season making it hard for the backups to crack the lineup. If they are needed though Josh Stamer, Mario Haggan, and Angelo Crowell have been with the team long enough to step in and do an admirable job if pressed into service.

The secondary should be even stronger this year as Lawyer Milloy should be healthy for the full season and Troy Vincent should be better at free safety with a training camp under his belt at that position. The two starting cornerbacks return after pro bowl seasons last year as Nate Clements and Terrence McGee are playing for big pay days in the off season.

The big battle will be for the nickel cornerback spot. The team rotated players last year but all indications are they want to settle on one player for that spot this year. The leading candidate is Kevin Thomas who is coming off of a knee injury. His main challenge will come from Jabari Greer and rookie fifth round pick Eric King. Thomas should be able to hold on to the job as he has the most experience and did a solid job last season.

As far as training camp viewing is concerned, there really isn't that much to look at besides the battle at defensive tackle and for the nickel corner spot. This unit is so deep there aren't even many backup jobs up for grabs. It is a good thing that the unit is set because they will be counted on to be even stronger this year as J.P. Losman gets his feet wet at quarterback. If everyone stays healthy, and they cut down on the few mistakes from last year, this unit can truly be dominant.